Joined

May 29, 2009
Messages

30,418
Likes

63,821
Date:
Saturday, October 17th
Game Time:
12:00 pm ET
Venue:
Neyland Stadium, Knoxville, TN
Network:
SEC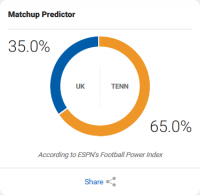 Tennessee returns from Athens with their first loss in nearly a calendar year, a little more humbled, and a lot more aware of where they stand in the grand standing of the SEC. Unfortunately, rumors of Tennessee's "back"ness were greatly exaggerated and reality hits home. Fortunately, the Vols have a chance to get that taste out of their mouth with one of their time honored traditions... disappointing Wildcat fans. Let's take a look at the match-up.
Keys to Victory:
1. Run Defense:
Kentucky is not quite as one dimensional as last season, but there is no mistake that they intend to run their offense on the ground. They do a good job of it too. With a talented offensive line and well distributed carries between 3 talented RB's and their QB who can't throw, Terry Wilson. Those 4 are averaging an inpressive 5.87 yards per carry. This is the good news... Ole Miss is dead last in run defense nationally and Auburn is not packing much beef their either. In fact, 408 yards came against Ole Miss. Mississippi State is surprisingly strong in their run defense, and Kentucky couldn't do much against them, in spite of getting the win (6 INT's helped). Wilson had the curious statline of 50 yards rushing on 13 carries with a long run of 51 yards. That means he got loose once but couldn't do much else. Smoke did not play. Rodriguez and Rose averaged a yawn inspiring 4.1 yards per carry, which isn't bad if you are running a balance offense, but when you only 73 generate 73 yards of passing offense, that won't win many games... unless one were to acquire 6 interceptions including a pick six, which Kentucky did. Needless to say, the Vols need to ground the Kentucky ground game. Fortunately, this has been a strength of the Tennessee defense this season and I think we are up to the challenge.
2. Double Up:
Tennessee's strength on offense is not the passing game, but they will need to prove they can do something through the air or Kentucky will load the box like Georgia did and absolutely shut down the running game. Whatever Kentucky throws for (they average 154), Tennessee would like to get close to doubling it. This sounds like a tall order given JG's clear limitations, and maybe it is, but Kentucky has given up an average of 276 yards passing per game. Pass happy Mississippi State was held in check mostly because of interceptions and their lack of a running game. If Tennessee can be balanced in their attack, they should find success in both areas of the game. Ultimately, the Vols should hope to throw for 240 while keeping Kentucky below 120.
3. Redemption:
After falling for their own hype and embracing "TVA" honors throughout the week, the Tennessee offensive line got obliterated by one of the most talented defenses we've seen since not-too-distant Bama teams. It's on them to see how they respond. Either they have given the opponents a blueprint for whipping them, or they have given themselves a blueprint for how to improve as a unit. One thing is for sure. If they turn in the same type of performance, there will not be any hope of winning this game. Much like every game, we need to win the line of scrimmage.
Prediction:
I didn't think we would beat Georgia which is why I didn't kick any buckets of lightbulbs over the weekend. It sucked, especially when the wheels came off, but I kind of saw it coming. Kentucky fans are following the Tennessee fan template this week. Today, they are thinking, they can probably be "right in this thing." In a couple of days, they will continue to revel in their victory over Mississippi State and think about how badly Georgia exposed us, convinced they are probably about as good as Georgia on their best day. Come Friday and Saturday, the bourbon is sinking in deep, and they've convinced themselves that with a win, which is almost assured at this point, analysis be danged, they are ready to start pushing for the East. Then Saturday around noon time, Tennessee gets to play the role reversal, reminds Kentucky of who is who and how talent on the field still matters. Tennessee does Tennessee things, and Kentucky does Kentucky things.
TN 34
KY 17