Joined

Jan 1, 2016
Messages

811
Likes

3,628
UPDATE 11/28/2018:
Some significant changes from two weeks ago. At my last update, we were coming of a win versus Kentucky and had a lot of momentum with some big time recruits. A lot of that momentum has waned and this update reflects that.
I also added another document for everyone to take a look at. It is what I call the Most Likely Outcome. It shows takes our highest % sign players and puts them in a class of 25. I then took that class of 25 and used the Class Calculator at 247 to compare the composite score to previous years.
Disclaimer: This info is to put together to the best of my knowledge and the % sign are my own personal opinion of how likely we are to sign that player.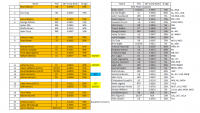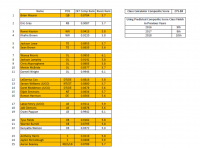 From what I can tell, it still looks like Pruitt an Co. are set on taking another RB and another WR. Other than those two positions, I feel as though we are in Best Player Available mode with an emphasis on the DL and LB. If we are able to sign a full class of 25, that only leaves 3 spots available spots for BPA. Obviously we could have some Gitshirts passed out and add a few more off the Best Player Available Board. However I am going to ignore that possibility, as it would get way to circumstantial to try to predict an outcome.
QB - I think the staff is set on rolling with Maurer as our only QB for the class. That is unless Tagovailoa decided he wants in, (5% Chance, down from 10% from last update). It appears that the Helton incident has had no effect on Maurer. He is solid.
RB - I feel as though, our recent offers are a sign that the staff has decided it NEEDS a true RB in this class. And they are hoping to find a "Diamond in the Rough" player to fall back on in case we are not successful with Gray. I think we will continue to see new names pop up until we find our guy or Gray hops in the boat. Getting Gray on board seems to be increasingly more important by the day (75% chance).
WR - Big change here from the last update. Haselwood now seems to be a long shot. Payton committed to MSST. We are swinging for the fences with George Pickens, but the uncertainty in the plains (Auburn) appears to have left that door wide open. We will be fighting off the big boys to sign Pickens (15 % chance). An old familiar name has resurfaced in Jaylen Ellis. We have the last OV before the dead period with Baylor Commit, which is always influential. Odds are it looks like Ellis (30%) or Brown (40%) will be our 2nd WR of the class.
TE - Appears as though we are locked in with Lowe and Brown. No other targets. Both seem to be solid. Holding off Florida for Lowe.
OL - I feel as though Wright is all but locked in (80%). Reminds me alot of the Nigel Warrior recruitment. We will continue to sweat over it until the ink dries. The only other OL on the board is EJ Ndoma-Ogar (15%), and if he jumps in along with Wright then Mcbride may get the git shirt.
DL - Alot of movement from the last update on the DL. We have been swinging for some big fish, most of which were currently committed. It looks as if we may come up empty handed in that attempt. But hey it was worth a try. The one big name recruit we may still have a shot on is Eboigbe (20%). We have and I believe will continue to pursue some CC or GT help on the DL. One new name to watch is Nick Figueroa.
LB - The gloomier it gets down on the plains the brighter it looks over on Rocky Top for Pappoe. I think he signs with UT on early signing day. Other than Wright, he is the target I feel most confident on (75% chance he signs). We are still in on some solid LB. Trezman Marshall is the next most likely blue chipper in my opinion (40%). I have him as a more likely get than To'o'oto (20%) or Crouch (25%). VQ has hinted that if we are able to grab 2 of the above then Henry and/or Clemons may get the git shirt. Another name that has recently joined the board is Chris Russell (15%), low rated recruit but has picked up offers from ARK and AU lately. He may be a prime candidate for a blueshirt. I feel that the LB commit list will look drastically different come February.
DB - Kenyatta Watson is the most legitimate big name target left on our DB board (40%, up from 30% in the last update). Jammie Robinson is another name to watch on the DB board (15%).
Of our current commits it seems we only have Anthony Harris with grade concerns. I believe there are 5 of our current commits that have atleast a 15% of higher chance of not signing with UT. Those commits are Mcbride, Cox, Henry, Clemons, and Beasley. Although I was borderline on Beasley. He is the one I am most confident will sign of that group of 5.
The amout of turnover versus a Butch Jones class has been one of the most drastic differences I notice with Pruitt. He seems to target tough minded individuals that are not scared of a fight, or run from adversity. They commit and stay committed. I like it. I also like that most of recruiting battles have been against the SEC Elite, compared to the Memphis and Louisville battles we had with Jones.
Hope you enjoy the update and lets hear your thoughts.
Last edited: