Imagine if UGA had hired Tennessee's OC away from us. I can guarantee you that if you went to one of their boards, you'd read NOTHING but unicorns and sunshine about what a HOME RUN the hire was, and the ABSOLUTE MISERY it had inflicted on Vol fans. Them, 45 agreements with each post in this vein, with insults and snide comments thrown in.
What you would NOT see EVER, is a buttsniffer defending Tennessee, stating that the OC in question wasn;t long for the job, and UGA hadn't really accomplished anything anyway.
Why, then, is their a sizable contingent on these boards who feel the need to make UGAs case for them? Let them come on here, spew that BS themselves, and get engaged and ridiculed........like a fan site is SUPPOSED to work. For pete's sake, why carry the water for another fanbase.
I understand most UGA fans are incapable of debate beyond something infantile like "Georgia: Great Team, or GREATEST TEAM EVER?", but still, let them try for themselves.
In the end, Chaney was going to be their OC this coming season. There was no plan to replace him. Now he is gone. Hence, he LEFT that school for us. The reason(s)? Many, I'm sure, but in the end, UGA lost an OC. Period.
For our UGA lurkers, I offer the following: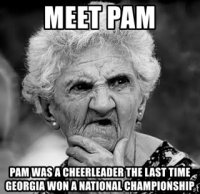 Last edited: