1/16th Cherokee... probably
Joined

May 29, 2009
Messages

32,947
Likes

85,833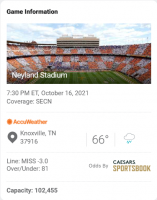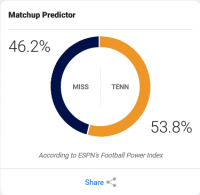 Tennessee remains at home this week and will host the Ole Miss... whatever they are these days... in what promises to be one of the more entertaining shoot-outs of the season in college football. Both teams feature high octane offenses that should keep the scoreboard burning through electricity all night long. Let's see who wins the day.
Keys to Victory:
1. ... Always be, Home Sweet Home to Me:
It has been awhile since Neyland Stadium has offered a tangible home field advantage in a game that mattered. This week, the fans will get their say. With the Vols riding a white hot offense the last two weeks against SEC opponents, excitement is building and hosting a night game against Lane Kiffin while checkering Neyland will see the house rattling more than before the wheels fell off with Butch. Look for the crowd to be rowdy all night long as a high scoring affair will keep fan intensity high througout the game.
2. Step for Step:
Ole Miss will score their points. They are averaging 46 points per game with over 560 yards of offense. This includes games against ranked Bama and Arkansas, so that's really impressive. Tennessee, on the other hand, averages a paltry 41 points per game and hasn't beaten a ranked team. Tennessee needs to answer the bell time and time again and keep up without falling too far behind, or they will not be able to catch up.
3. Turnovers:
This game will specifically hinge on turnovers, and especially points generated from turnovers. Matt Corral has not thrown an INT this season in 146 pass attempts so you would hope he is due for one.
4. Mindset:
Tennessee shut it down after a half against USCe last week, resting key players across the board. Ole Miss needed every ounce of what they had to hold on for a victory against Arkansas in a 52-51 slugfest. How does this affect each team? It can go either way and it's impossible to predict if TN is ready to fire on all cylinders again or if Ole Miss will be ready for a let-down or in their prime state. Let's see...
5. The Edge:
Aside from the homefield advantage, Tennessee has a clear edge in defense. The Vols are 45th in total defense and Ole Miss is 102nd. This will be Tim Banks biggest test of the year, and probably the most important game for the year, especially with the next few games, it would be really nice to put a stamp on this one. Ole Miss will not be able to stop us... can we stop them? Alabama laid out a pretty good template, holding them to 21 and a bag of popcorn.
Prediciton:
There is a lot of familiarity here. Kiffin, Heupel and Ole Miss OC Jeff Lebby are very familiar with each other. Heupel has beaten Lane head to head twice, IIRC. Ultimately, the house is absolutely rocking and Tennessee has a hard time stopping Ole Miss, but does it enough. Turnovers are the key stat, and I'll go with TN +1 on the night. With enough stops and enough offense, TN wins this one in a classic.
TN 52
Ole 44