Can you pass the mustard?
Joined

May 29, 2009
Messages

34,672
Likes

102,685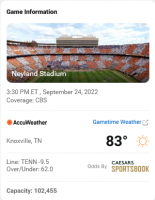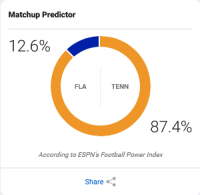 The Vols remain at home this week after a more physical than appreciated affair against the Akron Zips. The Zips took their pound of flesh but Tennessee took the victory with an easy 63-6 win. Now... it's time. This is the game that is circled on kitchen and office calendars around Knoxville, year after year. Florida has won 16 of 17, with probably 20% of those games with what would be considered an inferior team. This year is an anomaly. Not only are the Vols favored... they are CLEARLY favored and it has moved beyond hope to expectation. That's a dangerous place to be as a fan when you've been on the sad end of the win column so often. So what can we expect on Saturday? Let's take a look at some of the keys to victory.
Keys to Victory:
1. Heal Up:
The Vols have some key players who are banged up from the Akron game. Cedric Tillman, Jabari Small, Dylan Sampson and Tyler Baron are key contributors... or more, and Heupel will be hoping to be playing with a full deck. Whatever the outcome is, he will hold his cards till late in the week so Florida has less information to plan with. It Tillman can't go, look for Bru McCoy to continue to be worked into the offense and who would start in Tillman's place is a big question mark. If the Vols are down two running backs, that will be a terrible situation and it will fall on Jaylen Wright who is having a solid season, leading the team in rushing, but you never want to be down to one experienced RB. Tyler Baron will likely be fine.
2. Wrap Up:
Tennessee has been maddeningly close to beating Florida often in the last 20 years. So often, it has come down to a single busted play. The Vols need to wrap up QB Anthony Richardson and make him beat you with his arm. Akron gave Tennessee the greatest gift of showing them a talented QB who could run and throw, and the Vols did a great job containing Irons on the ground, with only 4 yards after accounting for sacks, and a fair job through the air, as he made some excellent throws. The good news is this... Anthony Richardson has run for a grand total of 28 yards after torching Utah for 106 and having Heisman voters salivating. He also cannot throw the football. He's posted QB ratings of 3.9 and 11.6 in the last two weeks. Kentucky and USF have given DC Tim Banks plenty of film to replicate. They just need to wrap him up and do their jobs.
What Florida can do well is run the football. Montrell Johnson who came from LA with Napier and Trevor Etienne will make you pay if you are not wrapping up and they have big play potential, which we cannot afford to give up.
3. Speed it Up:
Tennessee has the edge in that Napier has never faced Heupel's offense. You can try to plan for it, but nothing beats the real deal. More important than that... Paxton Brooks has to speed up his punt. It's like he catches the ball and is counting laces before he let's it boom. He cannot do this. If there is a block and return, that could be the error that turns this game in Florida's favor.
4. Turn it Up:
Neyland Stadium is a special place, and in the best of times, it is beyond special... is is spectacular. Here is a truth... these Florida players will NEVER experience an atmosphere again like what they are walking into on Saturday. If Tennessee scores early and keeps the lead, the fans will never relent. It will be like a checkered blanket woven of hate, joy, Jack Daniels and noise... pure noise, such as these players have never heard, nor will they ever hear again. Take note college football world... this is what we are capable of, and we will not relent.
5. Run it Up:
Another two-fold key. Should the Vols have the opportunity, they should score eleventy billion points. Assert your dominance, demoralize them, and send your message. Speaking of running, Tennessee will lean heavily on the running game, making the presence of Small and Dylan Sampson so important. Florida gives up a healthy 193 points per game rushing. USF torched them for 286 with their QB picking up over 100 on 15 carries. This should give Hooker plenty of opportunities to extend drives, especially without the presence of star linebacker Ventrell Miller. Look for the Vols to try to rush for over 250.
Prediction:
I have a fundamental flaw. In spite of being what I consider to be a balanced realist, I've probably picked Tennessee to win 7 of the last 10 games. So here I sit, having analyzed the teams, trying to figure out what we've got here. Florida has played the stronger schedule so far, with an average opponent ranking of 46.40. Tennessee has had an easier route, with an average ranking of 89.40. You can't just look at statistics in a vaccum and ignore the bigger picture. Yes, the Vols average 200 yards more per game and 27 more points. Tennessee's defense averages 12 points less per game yielded than the Florida defense, who is now missing their best player. Really, I'm just trying to talk myself out of the obvious this year where I am normally trying to find reasons to believe in the exception to the rule. Vols win, cover, and we begin to get our hopes way too high
TN 41
FL 20