Joined

May 29, 2009
Messages

30,203
Likes

62,192
Date:
Saturday, September 7th
Game Time:
7:00 pm ET
Venue:
Neyland Stadium, Knoxville, TN
Network:
ESPN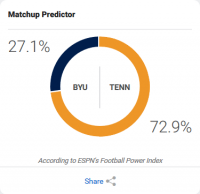 Coming off of the possibly the worst loss in program history, the Vols look to respond against the BYU Cougars in a night game in Neyland. It's nearly impossible to tell what to expect, given the shocking loss the Vols just experienced and the question of how good the team actually is. Let's have a quick look at the match-up
Keys to Victory:
1. Non-Musical Chairs:
The coaches employed a clownish rotation of offensive and defensive linemen last week that made little sense in an actual game. Players often seemed to have no idea where to be and were often misalligned. The OL was not awful, but consider the opponet, but the defensive line was bad... and consider the opponent. Hopefully, the coaches will settle in with a crew they think will give them their best effort and have a traditional rotation scheme that doesn't end up being a clown show.
2. Better JG:
Guarantano has to do a better job making the plays that win ball games and not just checking down to his easiest option. He lacked touch, self-awareness and seemed generally passive in his demeanor on Saturday, despite throwing for 311 yards. For Tennessee to win, they need much bigger play out of their junior QB.
3. Bread and Butter:
Chaney has a tendency to abandon certain aspects of the offense in the course of a game. Ty Chandler was terribly underused and Callaway and Palmer were undertargeted. This offense needs a steady dose of Chandler, Jennings, Palmer and Callaway with DWA getting 4 catches a game. Eric Gray needs touches but is a liability in pass protection. Tim Jordan is fine, but Chandler is the dude and needs to be fed.
4. Intensity:
Tennessee had an incredible lack of intensity for a first game... one which they clearly weren't taking seriously enough. To make matters worse, the general response to the loss was apathy, though the media has framed some quotes to fit their negative narrative. The Vols need to come out with an intensity on Saturday because I can promise you BYU would love to travel across the country and take a win from Tennessee in the House of Neyland. Does Tennessee value a win in the same way? Whether they do or not, Pruitt desperately needs this team to get it.
Prediction:
I've had a hard time picking a lot of games, and this is probably one of the more difficult ones. I really don't know what we have. I thought I did a week ago, but now, I have no idea. I think the Vols rebound and take the victory. They don't look like world beaters, but they do enough and play football the right way and have enough talent to get it done.
TN 34
BYU 24