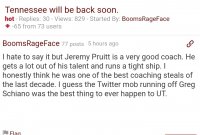 Always interesting to see other fans perspectives.
I have to live in South Carolina, in a perpetual state of misery bc the only fans I see are Clemson fans with national championship shirts on or S.Carolina fans talking about how Muschamp can't lose to Tennessee. 🙄
Hopefully Pruitt can hand the dirt peckers the azz whoopin of their lives this season.