Joined

Feb 22, 2016
Messages

8,381
Likes

9,851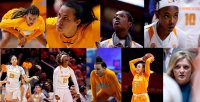 That "Look",,,Let's get it back!
Provided by HOOPS CENTRAL:
KNOXVILLE, Tenn. --
Tennessee (17-9, 7-6 SEC), which is receiving votes in this week's AP and USA TODAY Coaches Polls, returns home to host in-state foe Vanderbilt (13-13, 3-10 SEC) on Sunday in a 12:02 p.m. ET matinee at Thompson-Boling Arena. The Lady Vols face their final three games of the regular season vs. teams that aren't ranked after falling to top 25 schools in four of their past five games. Two of those foes were ranked in the top 10. Tennessee enters Sunday's contest in seventh place in the SEC standings, two games ahead of eighth-place Alabama, Georgia and Florida. VU comes to Rocky Top occupying the No. 13 spot in the standings.
LIVE PINK, BLEED ORANGE GAME
Sunday is the annual "Live Pink, Bleed Orange" game, in conjunction with the national Play4Kay initiative, at Thompson-Boling Arena, as Lady Vol basketball tries to increase awareness in the fight against breast cancer.
The first 5,500 fans will receive a free "Live Pink, Bleed Orange" T-shirt upon entry.
A mobile mammography unit, provided by UT Medical Center, will be available to fans for screenings beginning at 9:45 a.m. on Phillip Fulmer Way near the G-10 parking garage.
The Lady Vols will wear pink uniforms that feature the Play4Kay ribbon on the back.
There will be an online pink jersey auction benefiting the Kay Yow Cancer Fund.
The Lady Vols' only losses this season are to nine teams that appear destined for NCAA Tournament bids. Seven of those teams were ranked, including four that were top-10 ranked teams, when UT played them.
While UT beat Notre Dame when the Irish carried a No. 15/14 ranking, the most appealing win on the résumé currently appears to be the home triumph over LSU on Jan. 26. The Tigers are continuing to receive votes in both polls.
UT has a two-point loss to #16/18 Texas A&M, a four-point setback at #RV/RV LSU and a six-point loss to Texas among its "Ls".
In the Feb. 18 edition of Bracketology, Charlie Creme has the Lady Vols listed as a No. 9 seed, playing eighth-seeded Drake in the NCAA First Round in Eugene, Oregon, as part of the Portland Regional. The winner would meet No. 16 UC Davis or No. 1 Oregon in the second round.
Tennessee's Rennia Davis is averaging 18.1 ppg. in all games and 19.9 ppg. in SEC play, shooting 51.1 percent (94-184) from the field and 83.0 (39-47) percent at the charity stripe vs. league foes.
Sophomore Rae Burrell is UT's only other active double-figure scorer, contributing 10.7 per game.
In SEC play, Burrell also averages 10.7 ppg., and is joined by freshman Jordan Horston (10.1 ppg.) in double figures.
After facing Vandy, the Lady Vols have one home game remaining in the regular season. They face Ole Miss at 7 p.m. ET on Feb. 27 (SECN+) in the Senior Night contest for Lou Brown and Kamera Harris.
Tennessee will close out the regular season on March 1 at Auburn (3:05 p.m. ET/2:05 CT). That date features whip-around coverage on the SEC Network.
The SEC Tournament will be held at Bon Secours Wellness Arena in Greenville, S.C., on March 4-8.
Rae Burrell poured in 15 points in the fourth quarter to pull UT within four in the final minutes, but it wasn't enough to overcome No. 22/25 Arkansas on road in an 83-75 setback Thursday night at Bud Walton Arena.
Burrell led Tennessee (17-9, 7-6 SEC) in scoring and rebounding with 21 points and nine boards, narrowly missing a double-double. Rennia Davis was also in double digits, finishing with 18 points and eight rebounds.
Starting Suits Her: In her four career starts, Rae Burrell is averaging 15.5 ppg. and 7.3 rpg. She led the team in both scoring and rebounding in three of those contests.
Rennie Sniping: Freshman Jessie Rennie hit three of four 3-point attempts against Arkansas. She is averaging 62.1 percent from behind the arc over her last 17 games, and her season average of 47.7 leads the team.
Davis Climbing The Charts: Rennia Davis' 18 points against Arkansas moved her career points total to 1,312, passing Tonya Edwards (1,309 pts) to rank 30th among Lady Vol scorers. She is closing in quickly on No. 29 Alexis Hornbuckle at 1,333 career points.
UT had a 10-game series winning streak snapped last season, when Vandy won for the first time ever in Knoxville.
Vanderbilt's Last 3 game recaps:
Missouri:
NASHVILLE, Tenn.
— Vanderbilt women's basketball held a fourth-quarter lead over Missouri, but the Tigers escaped Memorial Gymnasium with a 78-66 win Thursday night. The Commodores dropped to 13-13 overall and 3-10 in SEC play. Three Commodores finished in double figures led by junior Chelsie Hall's 15 points, fifth-year senior
Mariella Fasoula's
14 points and six rebounds, and 10 points and eight boards from freshman
Koi Love
.
How it Happened
Missouri scored 12 points off turnovers in the first 10 minutes, buried a trio of threes and jumped out to a 21-13 lead after the first quarter. Missouri's lead grew to 24-15 at the 8:17 mark of the second quarter, but Vanderbilt battled back with a 10-0 run that was capped by a long jumper from Hall. The run expanded to 14-2 and the Commodores led 29-26 when Hall buried another jumper with 3:01 left in the half. Vanderbilt took the second quarter, 20-10, and led 33-31 at the break. The teams traded buckets throughout the third quarter. No team led by more than five and it was a dead heat, 52-52, heading into the final 10 minutes. Fasoula's three-point play to start the fourth quarter gave the Commodores their largest lead of the game, 55-52. But the Tigers responded with a 13-2 run and led 65-57 with under five minutes remaining. Missouri's lead grew to 69-59 with 3:40 to go. Hall hit a three to pull within 69-62, but the Tigers scored the next seven and never looked back.
South Carolina:
COLUMBIA, S.C.
— No. 1 South Carolina proved it's worth its ranking with a 95-44 win over Vanderbilt women's basketball Monday night in Colonial Life Arena. Vanderbilt is now 13-12 overall and is 3-9 in SEC play with six of those conference losses to top 25 opponents. Fifth-year senior
Mariella Fasoula
led the Commodores with 11 points on 5 of 11 shooting in 28 minutes. Junior
Chelsie Hall
added eight points and junior
Autumn Newby
led Vanderbilt with eight rebounds.
How it Happened
At the start, Vanderbilt traded punches with the top-ranked team in the nation. Midway through the opening quarter, Hall pushed the ball up the floor and calmly buried a jumper to pull Vandy within 13-10. But South Carolina (25-1, 12-0), which won its 19th in a row overall and improved to 13-0 at home this season, ended the quarter on a 17-0 run for a 30-10 advantage. That lead grew to 52-21 at halftime and 79-35 through three.
TX-AM
COLLEGE STATION, Texas
— Freshman
Koi Love
led Vanderbilt women's basketball with 13 points and sophomore
Jordyn Cambridge
finished with a near double-double in a 74-53 defeat at No. 16 Texas A&M on Thursday night at Reed Arena. Vanderbilt, which is just one win shy of doubling its win total from a year ago, fell to 13-11 overall and is 3-8 in SEC play with five of those conference losses to top 25 opponents. Cambridge finished with 11 points, a team-high eight rebounds, a team-high four assists and increased her SEC-leading steals total by four.
How it Happened
Texas A&M (19-5, 7-4 SEC) shot 85 percent in the first quarter and never looked back. The Aggies led 28-10 after the opening period. Though the early deficit ultimately proved to be too much, Vanderbilt did not stand down. The Commodores won the second quarter and a quick 9-3 run at the end of the half closed the halftime gap to 42-27. Both teams exchanged baskets throughout the third quarter where the Aggies held a 54-38 lead heading into the final frame. Texas A&M scored the first six points of the fourth quarter and the Commodores were never able to get within 16 in the final 10 minutes.
By the Numbers:
PPG…UT 71.0 opp 59.5 Vandy 67.3 opp 67.1
FG%...UT 45% Vandy 42%
3pt…UT 125/380 = 33% Vandy 68/228 = 30%
FT's…UT 276/419 = 66% Vandy 275-417 = 66%
Reb's PG…UT 46.3 opp 35.5 Vandy 41.4 opp 36.9
Asst/TO's PG …UT 16.6/17.4 = 0.95 to 1.00 Vandy 13.0/19.1 = .068 to 1.00
Stl's…UT 144 = 5.5 pg Vandy 239 – 9.0 pg
Blk's…UT 186 = 7.1 pg Vandy 89 = 3.6 pg
Our last game against Vandy was Jan 30 we won 78-69
Vandy is on a 3 game losing streak and has lost 9 of its last 10

Predictions:
Realtime.RPI: UT 75 Vandy 59
Masse: UT 71 Vandy 62