Joined

Feb 22, 2016
Messages

7,594
Likes

8,430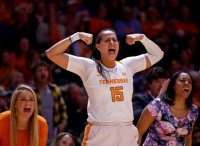 Jaiden McCoy: "Tennessee Strong"
Watch Live (SEC Network)
Listen (Lady Vol Network)
Live Stats
No. 22/22 Tennessee (16-4, 6-1 SEC) hits the road for the first of three away games in its next four outings, playing Vanderbilt (12-8, 2-5 SEC) at Memorial Gymnasium in Nashville on Thursday at 8:05 p.m. CT (9:05 ET).
This will mark the 83rd contest in a rivalry that began in 1976. UT leads the series, 72-10, and has won 10 of the past 11, with Vandy picking up its first-ever victory in Knoxville last season. The Lady Vols are currently tied for second place in the league standings with Mississippi State at 6-1. South Carolina is in the catbird's seat with a 7-0 league mark. Kentucky and Texas A&M are a game behind UT at 5-2. Vandy, meanwhile, is tied for ninth with Alabama, Florida and Missouri at 2-5.
Tennessee features two players from the Volunteer State, including
Jazmine Massengill
(Chattanooga) and
Jaiden McCoy
(Knoxville), plus a head coach from Sparta (Kellie [Jolly] Harper) who played at Tennessee as well. Vanderbilt has five players from in-state.
Tennessee enters Thursday night having won five of its last six and eight of its last 10.
UT has won five straight SEC games and is 2-1 in road league contests, dropping an 80-76 decision vs. Kentucky on Jan. 5.
Rennia Davis is averaging 19.4 over her last five games, shooting 56.9 percent from the field, 46.7 on threes and 76.2 at the charity stripe.
Vanderbilt is 1-4 over its last five but won at Georgia and was quite competitive vs. Mississippi State.
VU is coming off a 98-61 loss at Alabama on Sunday, while UT beat Alabama on Jan. 20, 65-63, with Rennia Davis hitting a long-range, step-back three before the buzzer.
Tennessee is in the midst of a four-game swing where it plays three of four away from home. The next two following the Vandy game are top-10 match-ups at No. 1/2 South Carolina and vs. No. 9/8 Mississippi State on Feb. 2 and 6, respectively, followed by a rematch at #RV/RV LSU on Feb. 13.
University of Tennessee junior forward Rennia Davis was named the SEC Women's Basketball Player of the Week, the league office announced on Tuesday. The honor is the second of the season for Davis and the fifth of her career.
The 6-foot-2 Lady Vol standout ran her streak of scoring in double figures to 18 consecutive games, averaging 23.0 points, 8.0 rebounds and 2.0 steals last week in No. 22/22 UT's split with #3/5 UConn and #RV/RV LSU. Davis finished 16 of 27 from the field for 59.3 percent accuracy. She was four of nine from three-point range (44.4) and went 10 of 11 from the free-throw line (90.9).
NOTES FROM THE LAST GAME
Rennia In The Record Books: Junior Rennia Davis turned in 30 points against LSU, making it the 11th time she's scored at least 20 points and the third time she's hit 30. She's now tied for 11th all-time in career 20+ point performances by Lady Vols. Additionally, she went a perfect 10 of 10 from the line to tie for fourth all-time in free-throw percentage for a single game.
Shot Swatting: Freshman Tamari Key blocked four shots against the Tigers, putting her average in SEC play at 4.7 bpg. Key currently leads the conference, while South Carolina's Aliyah Boston is second in conference play, averaging 2.3 bpg.
Defense Wins Games: Coming into the contest, LSU was averaging 61.1 ppg. off a .448 shooting percentage from the floor. Tennessee held them below their averages in both points and shooting percentage at 58 points on .333 shooting.
Horston Dropping Dimes: Freshman Jordan Horston dished out a career-high-tying nine assists against the Tigers, moving her average to 5.2 apg. If the season ended today that average would be first all-time among Lady Vol freshmen.
ABOUT VANDERBILT
Vanderbilt returned four starters and seven total letterwinners from last season's squad which finished 7-23 overall and 2-14 (14th) in the SEC. VU was picked to finish 14th by the media and 12th by the coaches in the 2019-20 preseason poll.
The Commodores are led by redshirt senior forward Mariella Fasoula, who averages 14.0 points and 7.1 rebounds per contest. VU also gets 13.4 ppg. from sophomore Brinae Alexander and freshman Koi Love.
Vanderbilt last three game recaps
Vandy v Ala
TUSCALOOSA, Ala.
— Alabama was not a gracious host Sunday as the Crimson Tide used a dominant first quarter to knock off a shorthanded Vanderbilt women's basketball team 98-61 at Coleman Coliseum. Fifth-year senior and leading scorer
Mariella Fasoula
attempted to play through illness, but was held scoreless in just nine minutes for the Commodores who were already without starters
Brinae Alexander
and
Autumn Newby
due to injury. Junior guard
Chelsie Hall
tied a career high with five steals, freshman
Kiara Pearl
tallied a career-best 11 points, sophomore guard
Jordyn Cambridge
finished with a career-best three blocks and senior
LeaLea Carter
led four Commodores in double figures with 15 points. Vanderbilt fell on the road for just the second time this season and dropped to 12-8 overall and 2-5 in SEC play.
Vandy v Miss St
NASHVILLE, Tenn. —
Vanderbilt nearly knocked off the No. 9 team in the country Thursday, but visiting Mississippi State owned the fourth quarter in a 68-52 win at Memorial Gymnasium. The Commodores took a 50-46 lead into the final period thanks to an enthused and aggressive start to the second half. But Mississippi State scored the first six of the fourth to nudge ahead 52-50. Aliyah Matharu's layup at the 4:53 mark completed a 12-2 run and forced a Vandy timeout. Vanderbilt never quite recovered from there as it was outscored 22-2 in the final frame while shooting 1 of 11 from the field. Freshman Koi Love had 19 points and nine rebounds for Vandy (12-7, 2-4 SEC). The Dores as a team, however, had 26 turnovers and shot just 32 percent from the field.
Vandy v Arkansas
NASHVILLE, Tenn. —
No. 23 Arkansas made 14 3s Sunday inside Memorial Gymnasium and raced past Vanderbilt 100-66. "We talked about it all week – defending the 3-point line and not giving them uncontested shots because when they get hot they get hot," Vanderbilt head coach
Stephanie White
said. "I felt like our transition defense was poor. It's very difficult to simulate how fast they are in transition and we didn't quite recover from that.
"And we were very sluggish. We had four of our guards that were 4 of 29 from the floor and we're not going to position ourselves to win ballgames when that happens." Vanderbilt (12-6, 2-3 SEC) turned the ball over 17 times, shot 37.5 percent from the floor and finished 1-for-7 from the 3-point line.
By the Numbers:
FG%...UT 45
opp 31
Vandy 44 opp 39
3PT…
UT 102/309
for 33% Vandy 54/171 for 31%
PPG…
UT 72.8 opp 55.3
Vandy 69.6 opp 65.7
REBs…
48.2
opp 35.1 Vandy 42.8 opp 36
Asst to TO's…
UT 355 to 341
Vandy 266 to 392
Steals…
UT 120
Vandy 188
Blocks…
UT 146
Vandy 80
Coach Jumpers predicton: UT 100 Vandy 66