8/17/2022 UPDATE LINK
--- Updated based on feedback in this thread, practice reports, podcasts, and scrimmages. Updated w/
green highlights
for positions that are locked down or 90%+ confident;
orange highlights
for major position battles. Continued feedback encouraged!
8/5/2022 UPDATE LINK
--- Updated based on feedback in this thread, practice reports, podcasts, and Dixon addition.
vvv ORIGINAL POST vvv
I took a shot at a depth chart today based on practice reports and prior year observations. Please give corrections/modifications. I plan to update this as we approach kickoff. The defensive secondary is complete spitballing at this point.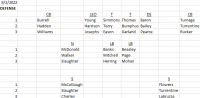 Last edited: