Southern Miss released its notice of allegations from the NCAA on Friday. According to the document, former Tennessee coach Donnie Tyndall committed multiple violations while at Southern Miss.
Ben Frederickson wrote on knoxnews.com, "The NCAA says Tyndall, along with members of his former Southern Miss staff, committed multiple violations, including arranging fraudulent academic credit for prospective student athletes, providing impermissible financial aid and refusing to cooperate in the NCAA investigation. Tyndall coached the Golden Eagles for two seasons before coming to UT, and was fired after one season in March as a result of the ongoing investigation into his former program."
There are seven alleged Level I violations in the notice, according to ESPN.
Here's the link entire 46-page document from the NCAA, if anyone needs bedtime reading material.
UPDATE: 6:45pm Jason Munz of the Hattiesburg American, received this statement from Tyndall.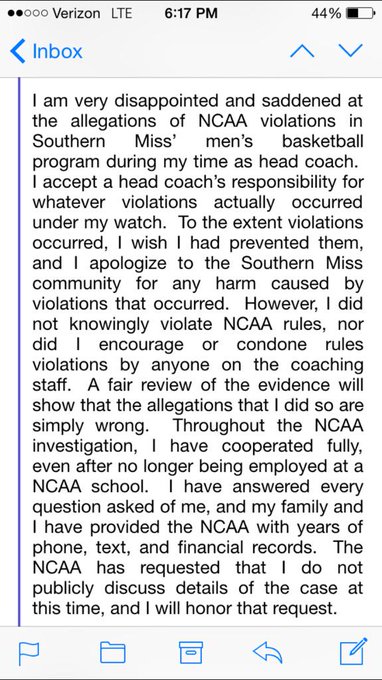 Forum discussion: Southern Miss to receive notice of allegations next week