This is pretty simple. Most people get it already. But there are some who might benefit from this visual portrayal of Why It Is Smart To Be An Optimist in Tennessee Volunteer football (and most other things):
Let's set a scale. Let's say
green
is nice, feels good, is comfortable ...
yellow
is middle ground ...
red
is unpleasant, even painful.
And let's pick a fictional month. In this fictional month, the Vols lose on the first Saturday, but then win on the 2nd and 3rd Saturdays.
An optimist's calendar would look like this: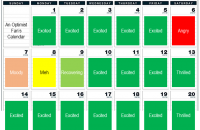 Meanwhile, the pessimist has to suffer through this: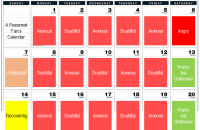 And there you have it. Be an optimist, folks, it's a much more pleasant life. Don't be a Volador.
Go Vols!