VIDEO CLIPS
RTI
RTI
Beacon
RTI
VIDEOS
NOTES
Guarantano completed all 10 passes — slants, outs, in-routes, corners and arrow routes — even showing some better touch on shorter throws. Only one time did a receiver have to really make a nice grab, too.

Conversely, Chryst was erratic Thursday. He took two more reps than JG, jumping back in line following a poor throw or drop. He finished the routes on air period 7-for-12. He did have two balls dropped (Marquez Callaway and Tyler Byrd), but Chryst also threw high once and had two more worm burners into the ground for incompletions.
After a couple poor technique efforts from Dominick Wood-Anderson and James Brown, Niedermeyer made his entire unit do up-downs.
...during one rep, Chris Rumph was giving Dillon Bates the business. He made Bates redo the rep and was all over him about his effort.
Jennings did not participate in any routes on air today.
The group was working on ripping through blocks, with Matthew Butler, Alexis Johnson and Kyle Phillips all eliciting compliments from Rocker. "There you go! I like it," Rocker shouted. While Mincey didn't receive the same praise, the freshman is having a solid camp and looks to be a potential contributor early for the Vols.
-Jesse Simonton
...the most notable thing we saw is Trey Smith going through a couple of individual drills with the offensive line. One time he about threw the medicine ball/blocking pad out of Ryan Johnson's hands and and the next time he nearly knocked Jahmir Johnson on his backside. Chance Hall also was going through individual drills and continues to work at right tackle.
-Patrick Brown
I like what they have with Dominick Wood-Anderson and Eli Wolf, but I'm not sure about the rest of the unit. I think they have some good fullback/H-back options with Ja'Quain Blakely and Austin Pope, but as far as true tight ends go, the depth concerns me.
Marquez Callaway had a drop, but he corrected that mistake on his next route. UT's quarterbacks looked more consistent in what I got to see, and both Chryst and Guarantano made smooth throws on crossing routes. I'm still impressed by J.T. Shrout's ability as a true freshman, but he's still clearly the third option in the quarterback room. But he should see the field this year because of the new redshirt rule.
-Nathanael Rutherford
The most notable sight from Tennessee's practice was star offensive lineman Trey Smith wearing full pads and going through some light contact work during positional drills. ... On one rep he nearly jarred the medicine ball-like blocking bag out of Ryan Johnson's hands, and later he nearly knocked junior college transfer tackle Jahmir Johnson onto his backside, such was the ferocity of Smith's rep.
Jarrett Guarantano was sharper than Keller Chryst, who had a couple of erratic throws, including one in the dirt to Marquez Callaway. Callaway dropped another one that wasn't the most accurate throw from Chryst, but Latrell Williams made a really nice one-handed catch on an out route, bringing the ball in and turning upfield in one swift motion.
Shy Tuttle was back working at the nose alongside Alexis Johnson and Kyle Phillips at the defensive end spots. Emmit Gooden manned another group and was flanked by Kingston Harris and Kivon Bennett.
Rocker continues to push Harris and fellow freshman John Mincey during drills.
-Patrick Brown
PHOTOS
Ja'Quain Blakely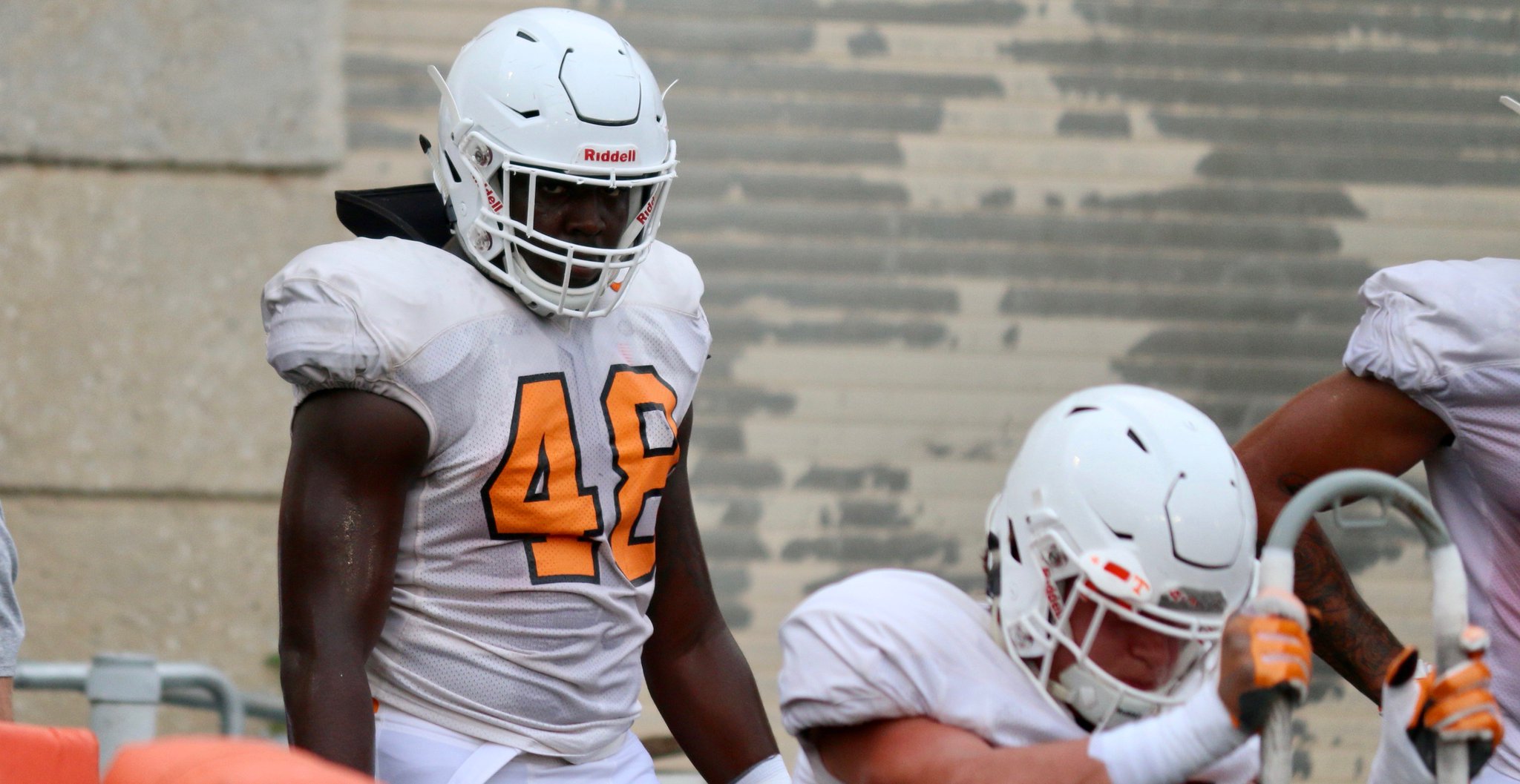 Last edited: