One of my all-time favorite Vols, no doubt...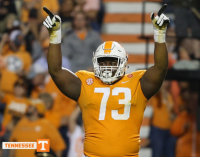 On the field, Trey Smith enjoys putting opponents on the ground. Tennessee's ultra-competitive junior offensive lineman from Jackson, Tenn., loves nothing more than a good old fashioned "pancake" or "knockdown" when he's battling a defensive lineman in a game. "I dominated you and knocked you on your back," Smith says with a grin. "There really is no better feeling, honestly, than taking your man from Point A to Point B and putting him on his back."
Smith has put a lot of opponents on their back during his three-year career that has included Freshman All-America and All-SEC Second Team honors. He recently recorded 11 knockdowns against Mississippi State, spearheading a 20-10 Tennessee victory at Neyland Stadium and collecting SEC Offensive Lineman of the Week accolades.

...Smith is a Tennessee kid and he is determined to get the Vols back to being one of the nation's top programs. He takes pride in playing for his home state, wearing the Power T, running through the T and being an ambassador in the community. "It means everything to me to put on the Orange and White every week, coming from the Jackson area and having several greats that have played here before me like Al Wilson, Trey Teague and Jabari Greer," Smith said. "(Fellow Jackson native) Greg Emerson and I talked about leaving our legacy here and creating a 'Jackson Pipeline.'"
Knock Them Down and Pick Them Up: Trey Smith Overcomes Adversity to Excel On and Off the Field - University of Tennessee Athletics