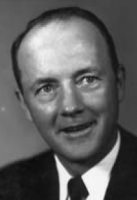 #14 - Harvey Leigh Robinson, 1953 & 1954
Who wants to be the man to follow a legend? No one, of course. It is almost sure to be a thankless task with limited job security. Harvey Robinson can tell you all about that. The fellow won, and won big, everywhere he went until that one time he tried to stand in the General's shoes.
Born in a small town in the mountainous west end of North Carolina, not too far outside of Asheville, Harvey first played football at the JUCO level, enrolling in Weaverville Junior College in his home town. He was quite the local star halfback, chosen all-state and captain of his team, guiding the squad to back-to-back state JUCO championships in 1927 and 1928. Robinson scored more than he weighed: only 140 pounds, he tallied more than 150 points. Each season.
From Weaverville, Harvey initially chose to go on to the University of North Carolina, but the Tarheels coach insisted he change position to guard...so Harvey came to Tennessee instead. He played quarterback for the General in 1931 and 1932--he wanted to remain at halfback, but a couple of All-Americans named Gene McEver and Beattie Feathers had those spots locked down. So quarterback it was, along with punt return duties. And what a run he and the lads had: 20-0-2 in two undefeated seasons, including the conference crown in 1932 and a famous "battle in the rain" kicking duel against Alabama on the Third Saturday of October that year. Here's how one source* described the game:
In the last quarter the Crimson Tide was leading 3-0 when Feathers kicked a soggy ball 70 yards to the Alabama 13. Alabama's John Cain punted 46 yards on the first down and Robinson ran the kick back 15 yards to the Tide 45. On the muddy field, three plays gained five yards then Feathers punted the ball dead on the Alabama 1-yard line. Van Rayburn blocked Cain's punt and Feathers scored the only touchdown of the game on third down. The Volunteers won 7-3....
That run by Robinson mentioned in the recap? That was our man, Harvey.
After graduation, Robinson went north to get a master's degree from Michigan in '33, and then coached for nine years at the high school level back in Tennessee ('33-'35 at Ducktown, then '35-'41 at Knoxville Central High). His time at Central was particularly impressive: a 56-5-5 record and six state championships in seven years.
That was more than enough to get him an offer from his old coach, the General, to return to the college coaching ranks in '46.** And so Harvey took over first the freshmen, then the backfield, as a Neyland assistant, culminating in the two national championship seasons in '50 and '51. And when Neyland transitioned from coach to athletic director in early '53, he chose Harvey to fill his shoes.
We know that Coach Robinson's head coaching record was less than stellar: 6-4-1 in 1953, followed by an even worse 4-6 in 1954 (.500 overall). What we don't know is that the coach's lack of on-field success was hiding a truly exceptional off-field performance in recruiting and development. It was Harvey who brought in the talent--like young phenom Johnny Majors--that would win another SEC championship just a couple of years after Robinson was shown the door.
After the '54 season, Robinson left Tennessee to assistant-coach the Florida Gators for Bob Woodruff. He did return to Knoxville, to serve (again) as backfield coach for the man who replaced him (about whom, more in the next installment of this series), then went pro as a scout for the Dallas Cowboys for most of the rest of his life. Harvey died in 1979.
Yeah. Never follow a legend.
~ ~ ~
I'm thinking maybe just one coach at a time from here on out. Historic sources are more plentiful and robust for these men, and we're getting into the time period where some folks might have living memory of the subjects. So I'd like to have room to get into more depth. Let me know if you'd prefer I went faster.
Go Vols!
* https://tnalpha-wpengine.netdna-ssl.com/wp-content/uploads/2013/02/SpringSpiel2013.pdf
** we don't know what Harvey did from '42 to '45, the years of WW II...the sources are silent there ... which means he likely helped with the war effort stateside as a civilian ... but that's just a guess. *shrug*
Last edited: