I promise we will circle back to finish up on the General ("part 4-B"). And we'll even get started on that in this entry, down at the end.
But it seemed poetic to interrupt our discussion of Neyland with the stories of the two men who temporarily coached the Vols in his stead, William Britton and John Barnhill. You know, interrupted coaching explained by interrupted sequencing of the series ... Neyland-Britton-Neyland-Barnhill-Neyland mirrored in a 4A - 5 - 4B order. Heh, okay, well, it seemed fitting to me, anyway.
Here goes: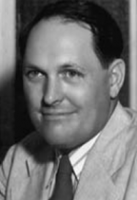 #12 -- William Hamilton "W.H." Britton, 1935
When the Army reassigned Major Neyland from Tennessee to the Panama Canal Zone in early 1935, it left the University in a pinch. Sure, the deployment was only for one year, but there was still a football season that needed to be played. Step up one of Neyland's assistant coaches, his friend and West Point classmate, William Britton of Iowa. Britton arrived in Knoxville (already out of the Army) within a year of Neyland, in 1926. When he got there, W.H. took over the duties as basketball coach from Pops Banks, Neyland's predecessor as football head coach. This left Neyland free to focus on football, to the extent the Army would allow.* Britton also assisted Neyland on the gridiron, as ends coach, before standing in Robert's shoes for the 1935 season.
Sadly, Britton's one year at the head of the football squad while Neyland served our nation in Central America did not go swimmingly. His record was 4-5, 2-3 in SEC** play (.444), with losses to North Carolina, Bama, Duke, Vandy and Kentucky. And curiously, I could not find much about Britton after his one year standing in for Neyland. Did he return to assistant coaching duties? Did he leave Knoxville? It seems a bit of a mystery. He had already resigned his commission in the U.S. Army, in 1920, so that was not pulling him away. And he outlived Neyland, dying in Georgia at the age of 90 in 1982. But...where did he go? The only data points I found were that he worked at Oak Ridge after World War II, and that he may have been recalled to active duty during the war, as Neyland was.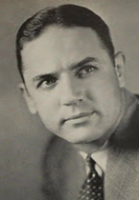 #13 -- John Henry "Barnie" Barnhill, 1941-1945
If you think the number 13 is unlucky, this account of our 13th head coach is going to prove you wrong.
When then-Major Neyland was deployed to Panama in 1935, everyone knew it was for just one year. When he was recalled to active duty in 1941, no one knew how long it might last. So it is perhaps safe to assume that the selection of John Barnhill as interim head coach had a much less temporary feel than was the case for W.H. Britton a half-decade earlier.
John Barnhill, a Tennessee native from Savannah (Hardin County, location of the Civil War Battle of Shiloh), played lineman for Robert Neyland. He was an all-conference player, and a member of the 1927 Southern Conference championship team. After graduating, he coached the freshmen a few years, then assistant-coached the linemen for Neyland. In his four seasons as head coach ('41, '42, '44 and '45; we fielded no team in '43), Barnie compiled a 32-5-2 record (15-3-1 in SEC play), a .846 career mark at the university that no one else, not even Neyland himself (.829), could match. Of course, Neyland sustained greatness for a far longer period. Nonetheless, Barnhill proved himself an excellent head coach.
After Neyland's return, Barnhill was hired by the Arkansas Razorbacks, and coached another four years (22-17-3 overall, 10-13-1 in the Southwest Conference) before being diagnosed with multiple sclerosis and resigning the job. He did stay on as the Razorbacks' Athletic Director, and was the man who hired the legendary Frank Broyles--that program's closest equivalent to the General. Barnhill is an inductee in both the Tennessee and Arkansas Sports Halls of Fame.
--------------------------------------------
break/break
--------------------------------------------
I found a new primary source of information on the General. And from it, I learned some things that help shed light on that "demotion" mentioned by Andy Kozar in Neyland's World War I experience. Here are some key dates and events:
13 June 1916 - graduated from US Military Academy and commissioned as 2nd Lieutenant of the Corps of Engineers
1 July 1916 (nineteen days later) - promoted to 1st Lieutenant
16 September 1916 - reported for duty to the 1st Engineer Battalion in Brownsville, Texas -- the next seven months are the time period when he would have been busy helping build levees, roads and bridges in support of Pershing's offensive against Pancho Villa in northern Mexico
4 April 1917 - deployed from Texas to Washington Barracks (now the U.S. Marine Barracks), in Washington, D.C., in preparation for deployment to Europe. Here, the battalion was expanded to regimental size, and attached to the 1st Infantry Division. As part of this expansion,
15 May 1917 - Neyland was promoted to captain. He then, on
7 August 1917 - set sail for France with his regiment. Upon arrival in France,
12 October to 24 November 1917 - Robert was an instructor at a newly-created Engineer School of the 1st US Corps in Gondrecourt-le-Chateau, France, then
24 November 1917 to 20 August 1918 - instructor at the 1st Army Engineer School in Langres, France. While here, on
30 July 1918 - temporary promotion to Major (remember I mentioned earlier that some promotions were temporary to meet war-time needs and could be reversed after the war ended? this was one of that type). Curiously, this particular record's next entry is
20 August 1918 - relieved of instructor duties and
4 to 18 September 1918 - en route to the United States, arriving ultimately in
4 October to (no end date) El Paso, Texas, commanding the 8th Engineers (Mounted)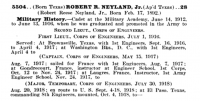 This source answers some questions, but raises others. For sure, we can now say that Robert did receive a temporary promotion (to major) only to have it later reversed and his lower, permanent rank (of captain) restored. This was a common occurrence, and does not in any way reflect badly on Neyland; it was simply a case of sudden need for more officers and an equally sudden end to that need as the Army rapidly expanded and later contracted around wartime.
We can also confirm now that Robert did, apparently for a very brief time, command the 8th Engineer Battalion (or Regiment?) as a major...perhaps only to get the unit back to the U.S. In plainer terms, it seems plausible that Robert was given command and the temporary promotion with the express duty of shepherding the unit home, spending his time in command moving his troops and equipment from the front lines to a port, then on a troop transport ship and a series of trains to El Paso. Whether the unit was then disbanded, or downsized from regiment back to battalion, or simply handed off to a more senior officer for more permanent command, this record does not say.
But now we are left wondering exactly what Neyland did in the Meuse-Argonne Campaign. This officious (if not official) record mentions nothing of company command or direct combat. But Andy Kozar told us he was a company commander in the offensive. The two accounts don't seem to match up. Instructor, or combat commander? We are left wishing badly that we could talk directly with the General, get the whole story right.
Okay, more on the General to come. Part 4-B is the next stop of the series.
Go Vols!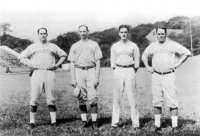 Neyland on the far left, Britton on the far right -- the uniform for football coaches at that time was...baseball uniforms
* as we have already seen in this series, prior to 1926 the strong tendency was for one man to head coach all three of the most popular sports: football, baseball and basketball. Neyland's arrival ended that. Perhaps because Neyland was kept pretty busy by his first employer, the U.S. Army, running the ROTC program of the university and, beginning in 1930 or 1931, serving as district engineer for the Chattanooga District (and later assistant District Engineer in Nashville). One assumes Britton and the other assistant coaches helped cover for Neyland when he was pulled in the Army direction in those years.
** by this point the SEC had split off from the Southern Conference. The split happened in December, 1932, after a meeting in Knoxville of what would become the SEC's founding members: Tennessee, Sewanee, Vanderbilt, Kentucky, Georgia, Georgia Tech, Florida, LSU, Tulane, Alabama, Auburn, Ole Miss, and Mississippi State. The teams left behind in the Southern Conference--Clemson, Maryland, North Carolina, NC State, Duke, Virginia, Va Tech, VMI, and Washington & Lee--are recognized today mostly as members of the Atlantic Coast Conference (ACC).
Sources:
Biographical Register of the Officers and Graduates of the U.S. Military Academy at West Point, N.Y.: 1-6810
Robert Neyland was a winner from the word go
W. H. Britton - Wikipedia
John Barnhill (American football) - Wikipedia
Football as a War Game: The Annotated Journals of General R.R. Neyland
, by Andy Kozar, (c) 2002, Falcon Press
Last edited: