Let's continue with the General.
In the previous thread, I failed to include one very important aspect of Robert Neyland's earlier years: meeting the love of his life, his future bride, the upcoming Mrs. Robert Neyland: a young lady named Ada Fitch, who went by Peggy.
The historical record doesn't tell us much about Peggy. We know she met Robert at West Point (his second tour there) when she arrived from her home in Grand Rapids, Michigan, to visit friends at the academy. We know they married in the summer of 1923, her age 25 and him a captain of 31. We know with Robert she raised two sons, Robert Jr. and Lewis. And finally, we know she had to have been a strong person, as life-long military spouses always seem to be ("we can do our job, and yours too if we need to while you're gone," was how my wife once put it). Peggy is buried beside the General in the Knoxville National Cemetery.
Oh, and we know that Mrs. Neyland was no shrinking violet; she could stand her ground, and was fiercely proud and protective of her husband and sons, of her family and their legacy. One humorous and minor example of that comes to us as a pronunciation guide: in a meeting with a gentleman who would help set up the Neyland Scholarship, Peggy corrected the way he said her family name: "The name is KNEE-land," she said, "just like my knee." And she patted her knee to be sure the man was following. He was. We are, too. Got it, Peggy. Knee-land.
~ ~ ~
Here's a second interesting fact I could have mentioned in the earlier thread, as it belongs to Neyland's two tours at West Point (first as student/cadet, then as a captain).
As already mentioned, Neyland learned a great deal from his West Point coach, Charles Daly. Neyland borrowed ideas freely from the man, then made them his own. Some of those concepts are familiar to us all. Look at the "Game Axioms" from this 1921 book written by Daly: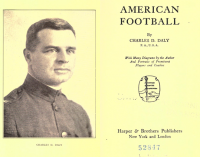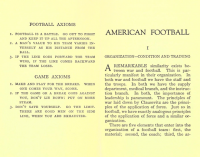 In fact, of Neyland's 38 maxims (yes, there are actually more than the famous seven that hang on the locker room wall), at least six came almost word for word from the the football philosophy of Charles Daly.
We owe a debt of gratitude to Coach Daly and West Point for giving us Robert Neyland. But no, it is not plagiarism when you respect your coach so much that you absorb his philosophy into your own. It was Neyland who continued to apply those maxims over four decades, who made the ideas as strong as values, who so deeply ingrained them into a program that they lived on beyond him. In short, thanks Charles Daly but those are now and always will be Neyland's Maxims.
~ ~ ~
On to Neyland's return to active duty for the Second World War. Contrary to what some might think, he did not immediately deploy overseas. Instead, he was sent to Norfolk, Virginia, to take over District Engineer duties so that the active duty commander of the district might be sent off to command troops. That is common in the early months of a war-time build-up, sending the active troops forward and back-filling their stateside duties with new recruits and old retirees. So that's what Robert did first: District Engineer, the same sort of job he'd already held in Chattanooga in the early 1930s.
The thing is, he did it so well--good leadership is good leadership, and will succeed whether coaching 20-year olds in sport or commanding a mixture of soldiers and civilian engineers in civil works projects--that he was promoted to full bird colonel and sent down to Dallas to take over an Engineer Division. Where he again succeeded admirably. He was awarded the Legion of Merit, not once but twice for his work on the home front. And then in 1944 they needed him forward.
Neyland wasn't sent to join his college teammates Dwight Eisenhower and Omar Bradley in Europe. And he wasn't sent to serve under his old West Point boss, Douglas MacArthur, in the Pacific. No, he was shipped off to the third front, the one relatively few Americans know much about: the China-Burma-India (CBI) theater of war.
This was the land of Pappy Boyington and the Flying Tigers, the theater with "The Hump". It was what the military calls an "economy of force" effort, which means that its leaders and troops have to get on with little in the way of materiel or reinforcements. Make do, don't lose, hold out until the main effort is won--that was the CBI. That's where Robert Neyland was sent in 1944 and given the single star of a brigadier general.
So what did he do? Well, at the top end, at the strategic level, engineering begins to look a whole lot like logistics. Building ports and keeping them open and running, designing and building road and railroad networks, overseeing the trans-shipment of war supplies from ship to shore and on to the troops who need them. That's where Robert Neyland's considerable organizational talents were put to use, only this time as the Commanding General of his outfit. And he did it well, winning the Distinguished Service Cross (as well as some top-end British and Indian awards) at war's end.
~ ~ ~
When he returned to Knoxville and took off his Army uniform for the last time, some said Robert Neyland's best coaching days were behind him, that the game had passed him by. A couple of his campaigns in the latter 40s were the basis for these rumblings. But then 1950. And 1951. National titles, two years running--depending on which polls and ratings systems you followed. The General went out with a bang.
His health on the decline, Neyland hung up his coach's whistle after the 1952 season. He was elected to the Hall of Fame the very next year, then continued to serve UT as Athletic Director until his death in 1962.
~ ~ ~
Let's finish up the Neyland chapter of this series by talking legacy.
Sure, there were the games: 173 wins, to only 31 losses and 12 ties; a .829 mark, second-highest in Vols history (bonus points if you can name--without looking--the one coach whose mark was higher; we have already talked about him).
There were the undefeated streaks (streaks, plural!) of 33, 28, 23, 19, and 14 games. Nine of his twenty-one squads went undefeated in the regular season.
There were the shutouts: 112 of his 216 games ended with an opponent score of -0...that's over half of the games he coached. When Sports Illustrated in 1999 put together its "Best of the 20th Century" edition, it named Robert Neyland as defensive coordinator for its All-Century college football team--a position he, naturally, never held in life. But appropriate recognition nonetheless for his defensive genius.
There was, and is, the stadium, which he designed and oversaw in its growth. Neyland's plans for the venue that now carries his name were so forward-thinking that they are still being followed today.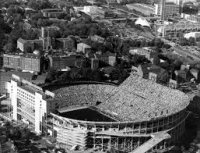 But once you lift your gaze outside of the Volunteer State, more than any of this, perhaps, is his coaching legacy, his "coaching tree." A whopping 175 men who played for or coached with Robert Neyland went on to head coaching positions themselves. One hundred and seventy five.
Some of these numbers are so astounding that it takes a bit of reflection to fully comprehend their scope. Again: 175 head coaches across the United States and Canada, all from Robert Neyland's tutelage.
Perhaps Bear Bryant described Robert Neyland's impact on college football best when he said, "I know all there is to know about Tennessee football, except how to beat 'em." Everyone was learning from the General. He raised the level of the sport, especially in the southeastern states. His impact spread over most of a century, from his first coaching job in 1920 to the retirement of the last coach from Neyland's 'tree,' probably somewhere around the year 2000.
Thank you, God, for Brigadier General Robert Reese Neyland, and his lifetime of service to our nation and to the University of Tennessee.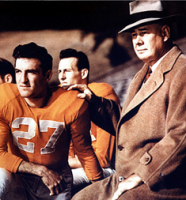 Last edited: