Joined

Sep 7, 2004
Messages

1,648
Likes

6,709
Tennessee vs The Maxims vs South Carolina​
DATE: 19 November 2022
PLACE: Williams-Bryce Stadium, Columbia, SC

ATTENDANCE: 79,041
FINAL SCORE: Tennessee 38 South Carolina 63
It was a different time and a different opponent but the result was the same:
Friday …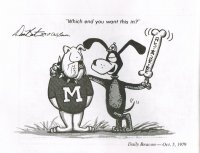 Saturday ...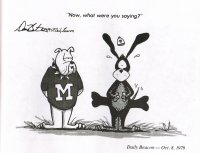 From last week's musings: "Now Coach Heupel takes his high-flying riflemen to visit Shane Beamer's poultry farm. Expect the feathers to fly and Tennessee to dine on fried chicken on the ride back to Knoxville."
Crow, no matter how well prepared, is still ghastly.
Many questions were answered in Columbia on Saturday night and the answers were resounding "NO's!"
NO national championship.
NO playoffs.
NO 11-1 regular season.
NO Heisman for Hendon Hooker,
Vol fans went from avidly watching games featuring other schools such as Ohio State, Michigan and TCU to a collective, "Meh, who cares?.
At about 11 pm Saturday night KPD set up check points at both ends of the Gay St. Bridge to insure that Vol fans approaching the structure actually intended to cross it.
It was one of those games that brought to mind Gen Stilwell's remarks upon emerging in India after a massive defeat by the Japanese in Burma, "I claim we got a hell of a beating. We got run out of there and it is as humiliating as hell."
You know what? I don't even want to talk about it.
I'd much rather discuss my trip last week to Green Bay. Younger Son&Heir is a huge Titans fan and I , of course, am a dedicated Packer fan. So when the 2022 NFL schedule emerged and showed a visit by the Titans to Lambeau Field, tickets were purchased, flights were booked and lodging arranged for the entire family to make the pilgrimage to The Frozen Tundra.
First off, I you ever get the chance to go there, do so. Lambeau Field is a destination, much like Notre Dame. It's a place you go just to say you've been there, And beeleeyoume, those people know how to football!
First opened in 1957, Lambeau is as old as Your Humble Scribe. Over the years it has gone from a Spartan, utilitarian venue to what can only be described as a modern shrine to the sport of football,
As you first come upon the stadium, which fittingly fronts on Lombardi Ave., you notice the clock on the wall. It is set to "Lombardi Standard Time" - fifteen minutes fast. As players from that era will tell you, Vince expected you to live by that time. If you were ten minutes early in real time, you were five minutes late!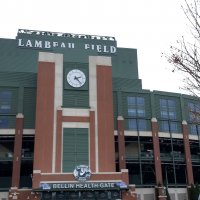 Coming in to the atrium you meet a fifty-foot replica of the Lombardi Trophy. Through the atrium you can access the seats, eat, or go to the Pro Shop. It also hosts the Packer Hall of Fame. There are guided tours of the stadium on non-game days and, for a premium, your tour guide can be a retired Packer. Our tour guide asked if there were any owners in the group, myself and three or four others raised our hands. Indeed, I do own "A Piece of The Pack!" Next month, the tour guide is our own Chad Clifton from the 1998 National Championship team.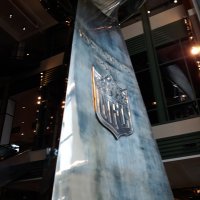 We had excellent seats. Where we sat was part of the original stadium.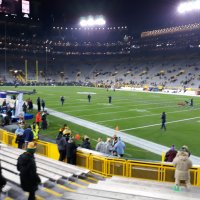 At halftime, they honored LeRoy Butler who was admitted to the NFL Hall of Fame this year. Packer fans know that, more importantly, Mr. Butler was the inventor of the "Lambeau Leap!" He even did one at the end of the ceremony.
They have a statue out front where you can do your own Lambeau Leap so naturally ...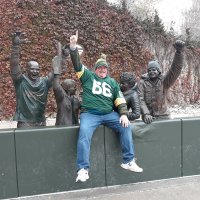 But, friends and neighbors, it was COLD! It was in the 20s with a light snow when we got off the plane. It never got above freezing the entire time we were there and it snowed, not a lot, but enough to see a thin coating on the ground. And the wind blew constantly.
BRRRRR!!
However, if one is going to attend a game at Lambeau Field, it is only fitting that it be colder'n hell!
The game itself foreshadowed the events of Saturday night. A journeyman quarterback shredded the Packer defense and the Green Bay's all-world quarterback couldn't make up the difference.
Again, let me reiterate, if you ever get a chance to go to a game at Lambeau, do it!
End of 1st Quarter
Score: Tennessee 7 South Carolina 21
End of 2nd Quarter
Score: Tennessee 24 South Carolina 35
End of 3rd Quarter
Score: Tennessee 31 South Carolina 42
Final Score
Score: Tennessee 38 South Carolina 63
(I told you I didn't want to talk about it!)
********​
In the Spring of 1916 during budget hearings before Congress, the United States Army, in the form of the Ordnance Department, testified that it could foresee no set of circumstances that would require a force larger than 500,000 men. Several Congressmen questioned this in view of the mass armies that were doing battle in Europe. The Army stuck to its guns and repeated that 500,000 was the maximum number they were planning to equip.
At very nearly the same time, on March 9, 1916 a force of Mexican
banditos
following the rebel Pancho Villa crossed the border and attacked the small town of Columbus, New Mexico. Columbus was a tiny flyblown collection of shacks and wood buildings and was also home to a small detachment of the 13th Cavalry. After a firefight lasting several hours, seventeen Americans (eight soldiers and nine civilians) lay dead as did roughly 100
Villistas.
A hue and cry went up demanding that the U.S. Government "do something" about Villa and other Mexican leaders taking advantage of chaos in Mexico to cause chaos on the north side of the border. Stiff diplomatic notes were dispatched to the Mexican government who denied any knowledge of or control over, Villa, or anyone else for that matter. The US Army was mustered and sent to the border.
A plan emerged, the regulars would be sent into northern Mexico to find, catch and kill Villa and as many of his men as possible. This "Punitive Expedition" would be under the command of a hitherto little-known general named John J. Pershing. One of Pershing's staff officers was a brash young cavalry officer from California, George Smith Patton, Jr. Meanwhile the National Guard units of Texas, New Mexico and Arizona would be activated and federalized. The Guardsmen would take over responsibility for patrolling the American side of the border and seeing to the security of the towns and settlements there. Unfortunately for the plan, the three states mustered only about 3500 men to control well over 1500 miles of border.
Secretary of War Newton Baker then ordered more states' national guard units activated for service. Among those Guardsmen were the men of Tennessee. The Second and Third Tennessee Infantry and the Tennessee Cavalry regiments left for service in Texas. Once there, they learned why, when asked after he was stationed there following the Civil War chasing Confederate holdouts and Apache Indians, General Phillip Sheridan famously remarked that if given the choice between living in Hell or Texas, he would, "live in Hell and rent out Texas." It was hot. It was dusty. It was miserable. When it rained, it did so in buckets. Then howling winds from the north would blow in and drop temperatures sixty degrees in a matter of hours. The one thing the guardsmen did accomplish was they learned how to be soldiers.
That would soon come in handy.
Many of those guardsmen came from Tennessee and the Carolinas. Proud units such as the 1st South Carolina and the 3rd Tennessee were mustered into Federal service and left for the Mexican Border. During their time there, the cavalry units were attached to regular regiments and schooled in the ways of the Lewis gun and the Army's Benet machine gun.
Military service is never without some risk. It is known that a soldier of the 1st Tennessee Cavalry, one Bugler Tomlinson was accidentally shot and died of his wounds on 28 February, ten days before the Guard left Texas and returned to Tennessee.
Sunburnt, bone-tired and thoroughly sick of it all, the boys came home in March, 1917 and were quickly mustered out.
After a series of provocations, a few weeks later, the United States declared war on Germany and Austria-Hungary joining the Allies in the Great War. The Guard was again called up, however, men who had served on the border were given the option to not go and accept an honorable discharge. Few took the discharge.
World War I did not require National Guard units, it required professionals to leaven the vast numbers of draftees soon to join them. As the Army considered what it needed to fight a massive ground war on the European mainland, they soon realized that there would be a need for far more generals than were available or could even be created in time. The Army decided to make its divisions bigger than the European average. A German, French or British division generally mustered about 12,000 to 16,000 men. The U.S. Army saw an eventual force of well over two million combat soldiers in France by the spring of 1919. Using the Euro-model, this would translate into something over 150 divisions. There simply were not enough candidates for one- and two-star rank to command that many. Therefore the American divisions would be organized in a "square" formation. Each division would be split into two brigades which would contain two regiments and a machine-gun battalion. Each battalion would be comprised of four companies. There would also be an artillery brigade and support troops. All told, an American division would muster over 28,000 men, most of whom were combat troops.
As the men of the Tennessee, North Carolina and South Carolina guard gathered at Camp Sevier, South Carolina to begin training, they were told that their proud regiments, some of who could trace their lineage to outfits that had fought in the American Revolution, would be no more. Instead they would become part of the 30th Division, nicknamed the 'Old Hickory" division in honor of Andrew Jackson who had been born in the Carolinas before moving to Tennessee and going on to the White House.
The 3rd Tennessee Infantry became the 117th Infantry Regiment. The 1st South Carolina Infantry would become the 118th Infantry and The Tennessee Cavalry Regiment, centered on Chattanooga and southeast Tennessee, would become the 114th Machine Gun battalion. The 117th and 118th Infantry Regiments together with the 114th Machine Gun Battalion would become the 59th Brigade. The 119th and 120th Infantry Regiments made up of troops from the Carolinas would become the 60th Brigade. All of the regiments received large numbers of draftees to bring them to full strength which watered down the regional differences and many men were transferred from regiment to regiment as needed.
Camp Sevier, where all this was taking place, can be charitably described as "rustic." More accurately, it would be described as a vast mudhole dotted with tents and shacks around which soldiers drilled and marched often with fake wooden rifles as sergeants and officers yelled themselves hoarse trying to bring some semblance of order out of confusion. When the 2000 Tennesseans arrived, it was actually a forest and the first job the guardsmen tackled was to clear the woods for their camp. 1676 draftees then arrived and 300 other men were sent to specialist schools leaving the 117th Infantry at its full strength of 3316 officers and men.
Camp Sevier was merely one of dozens of such outposts that sprang up across the country. The primitive living conditions led to disease and sickness. Indeed, the Great War was the last time in American military history that military deaths from disease outnumbered those from enemy action. The fact that as time went on, the great 1918 influenza pandemic hit in the middle of all this did not help matters at all. Fifty-six of Knoxville's sons are listed in Captain Amis' book as dying of disease, however there are also fourteen men listed as having died in service. One entry is particularly poignant. Herman H.Winfrey, was inducted into the Army on 13 May 1918 and sent to Fort Thomas, Kentucky. He arrived there safely, but suffered an attack of appendicitis. The emergency surgery was unsuccessful and he died on the 17th. His total time in service: four days.
The first Knoxvillian to die in combat was Lilliard Earle Ailor, who was a five-year veteran of the Field Artillery. Ailor had served in the Philippines and had seen action in Mexico in 1916. He sailed for France in December, 1917 and was with the 15th Field Artillery when he was killed in action near Verdun on April 8, 1918.
All that aside, the needs of war won out and in early May, 1918, the Old Hickory Division boarded trains for Hoboken, NJ where they boarded ships and sailed to France. On 24 May, the 30th Division, US Army, landed at Calais and moved into new quarters at the Eperloques training center. There, they became aware of yet another change.
The overall commander of US forces, known as the American Expeditionary Force or AEF, in France was General John J. Pershing. Pershing was one of those true leaders who could earn the respect of his soldiers without shoving his bars, leaves, birds or stars down their throats. Many officers in the Frontier Army could not seem to handle troops of a different race or culture. Pershing had no such difficulty. Natural leaders rarely do. Pershing was also one of those rare creatures who can project "command presence" through a photograph.
He treated soldiers the same whether they were Sioux Indian Scouts, the Buffalo Soldiers of the 10th Cavalry, Moro warriors on Mindanao, or Doughboys in France. His men may not have "loved" him but they respected him and would carry out his orders or die trying. His service with the all-black 10th Cavalry had earned him the derisive nickname "Ni**er Jack" which, once he pinned on stars, was cleaned up to "Black Jack" by the press.
Black Jack Pershing's first major fight was with his erstwhile Allies, the British and French. Neither the French commander, Marshal Philippe Petain, nor the British Field Marshal Sir Douglas Haig could see the need for a separate, American, army. They argued such a force would needlessly duplicate logistics chains and so forth. Worse, there was a usually unspoken, but sometimes not, view that American troops and commanders simply weren't "up to scratch" and needed firm guidance from those with real battle experience, etc., etc. Both "Allies" demanded that the American army be broken up to provide replacements for their own depleted formations. In effect, the allies wanted to reduce Pershing to the command of a replacement depot - feeding American soldiers to Allied commanders who (in the view of Wilson, Baker and Pershing) had already wasted the lives of millions of their
own
countrymen in fruitless attacks since 1914. To his credit, Pershing hit the ceiling and said absolutely not. In fact, during one particularly acrimonious meeting in May during a German offensive, Pershing was asked if he would risk the loss of Paris rather than break up his army. With a cool gaze at his British and French counterparts, Pershing said, "Yes." The American Army would fight in France and would do so under American command.
As a sop to the offended feelings of Sir Douglas Haig, Pershing agreed to provide two divisions for service in the British sector which ran from the English Channel to the Somme River. The choice fell on the 27th Division which was based on Guard units from New York and New Jersey and on the 30th "Old Hickory" Division. In another change, the British had plenty of artillery, so the artillery brigades, including the 114th FA were detached to serve with the AEF. On the Fourth of July, the 30th Division entered Belgium and began serious training with the British. On 17 August they went into line replacing the British 33rd Division. The first real combat operation was a attack made on 31 August by the 27th Division on the right, the 30th in the center, with the 60th Brigade in front and the 117th Infantry following, and the British 14th Division on the left on Mamet Ridge. The attack resulted in an advance of 1500 yards with minimal casualties.
The 30th Division was withdrawn on 4 September and sent for further training. Unbeknownst to the Doughboys, plans were already in progress for a new attack to be launched against the main German defensive line known as the Hindenburg Line. The attack would be made across the St. Quentin Canal in the general direction of the small town of Bellicourt.
The 117th was finally in the War.
*******​
We all know the way forward. The Gen'rul shows the way. Indeed, as I have oft stated, when the Vols actually bother to follow these Game Maxims, they are d*mn near unbeatable.
1.
The team that makes the fewest mistakes will win.
2.
Play for and make the breaks. When one comes your way … SCORE!
3.
If at first the game – or the breaks – go against you, don't let up … PUT ON MORE STEAM!
4.
Protect our kickers, our quarterback, our lead and our ballgame.
5.
Ball! Oskie! Cover, block, cut and slice, pursue and gang tackle … THIS IS THE WINNING EDGE.
6.
Press the kicking game. Here is where the breaks are made.
7.
Carry the fight to South Carolina and keep it there for sixty minutes,
Let me state that I sincerely hope that young Mr. Hooker's rehabilitation is completely successful and we Vol fans can proudly watch him on Sundays.
Of Tennessee's upcoming opponent I will only say this: If there is one program I detest more than Kentucky it is Vanderbilt.
Suggested Reading:
Capt. Reese Amis,
Knox County in the World War
Ernest West,
Chattanooga's Battery B
Mitchell A. Yockelson,
Borrowed Soldiers
German Prisoners taken by the 30th Division at Bellicourt (Tennessee State Library and Archives)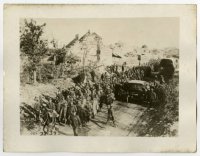 Last edited: