Lived through Night of the Living Mad Cow
Joined

May 29, 2009
Messages

29,910
Likes

59,562
Date:
Saturday, October 5th
Game Time:
7:00 pm ET
Venue:
Neyland Stadium, Knoxville, TN
Network:
ESPN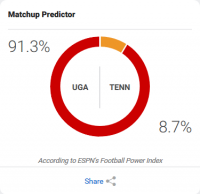 Tennessee returns from their road trip to Gainesville 1-3 for the first time since 2008. The season is off the rails. Absolutely best case scenario, the team can rally to make a bowl game against the odds, but let's not try to put too much lipstick on a pig. I'll be short and sweet and just get right into it...
Keys to Victory:
1. Improved QB Play:
JG will likely get the start, but I expect Maurer to get a few planned series to prove he can unseat JG, which apparently his practice play has not done enough to do as of now. The likely scenario is JG is still the best option, which is awful. The coaches need to simplify the game for JG, because he is not making good decisions with all the options open. Take away half the field, give him one or two reads and hope for the best. Regardless, we have to have near flawless QB play.
2. Score more Points:
The only stat that matters is far out of reach. UGA is giving up 10 points per game. Tennessee is scoring a paltry 19.6 points vs teams not from Chattanooga. This game has 7-10 points for the Vols written all over it. Chaney has to be creative and shake up the playbook to look for big plays from the weirdest places because they are not going to be able to put together sustained drives against this stingy defense.
3. Create Turnovers:
Georgia averages over 500 yards of offense per game, and that's including a game vs a solid Notre Dame team. Their strength is in the running game, with 6.93 yards per carry and a stable of running backs who can do whatever they want. Tennessee is 66th in rushing defense, but we've not even played a team who can run the ball, which is so concerning I don't even know where to start. Fromm is not prone to interceptions, but they are going to need them... and fumbles... plenty of fumbles... preferably laying around the goal line with lots of Orange closing in. Without turnovers, Georgia is going to run all over the Tennessee defense and there will be just enough passing to bring our linebackers out into coverage to keep that ground game moving smoothly. If you want to have a shot, you have to create turnovers.
Prediction:
That's it. I'm not going to put too much into this because the deeper I dig, the worse it looks. There may be a point in this season in which this team begins to turn the corner but until I see it, I'm going with what I've seen week in and week out.
TN 7
UGA 51