Lived through Night of the Living Mad Cow
Joined

May 29, 2009
Messages

29,924
Likes

59,669
Date:
Saturday, November 2nd
Game Time:
7:00 pm ET
Venue:
Neyland Stadium, Knoxville, TN
Network:
ESPNU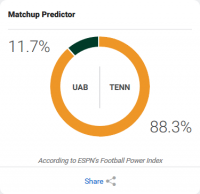 Tennessee remains at home after a thorough thrashing of the South Carolina Gamecocks as the Vols begin the task of restoring their dominance over the traditional bottom half of the SEC East. A win over an unranked South Carolina team would usually not move the needle much but given where this proud program had fallen to, it was a confirmation that the recent strong showings were not aberrations, but trends of growth. This week, Tennessee gets the opportunity to beat Alabama... maybe not the Alabama we would prefer to beat, but let's take it one step at a time. We are beating Alabama... don't try to talk me out of it.
Keys to Victory:
1. Don't Relax:
In the Pruitt era, the team has shown a disturbing trend of playing down to... or below their opponent. Charlotte could have easily been a loss last year, Georgia State WAS a loss, and BYU should have been a win too. If Tennessee is feeling too good about themselves and are ready to loosen up a bit this week after putting together some nice performances, they are making a mistake they may not be able to recover from. There is plenty of time to focus on closing out SEC play on a winning streak but first things first.
2. Know Your Enemy:
UAB is an interesting team. They roll in to K-town 6-1 with a rushing defense ranking of 8th 88.3 YPG. That must mean they give up a ton of passing yards, right? Not quite. They rank 7th with 160.3 YPG yielded. They give up 15.7 PPG which is stingy. Now, before you start thinking this is the best team in Alabama it's important to note that their strength of schedule is 129 out of 130. They basically play sacks of potatoes on roller skates. Incidentally, UMASS is 1-6 and has the worst strength of schedule. How bad is that? I don't have the exact numbers in front of me, so feel free to plug those in after the OP, but their opponents don't have many wins between them.
So who is this team? Are they simply a decent team playing terrible teams or are they a good team playing terrible teams? We will likely find out on Saturday.
3. Pass Defense:
UAB is not bad in the run game, but their offense flows through the passing game. QB TJ Johnston has a tendency to throw picks 2-1 TD/INT ratio, but also is difficult to pin down, only being sacked 5 times on the year. There are three players at WR with big play potential. They account for a massive 86% of the receiving yards at an eye popping 20.43 yards per touch. The Tennessee secondary needs to come ready to play and cannot afford to be caught napping like they were for the first play vs. SCAR. The Vol DL will need to keep pressure on Johnston and hopefully bring him to the turf early and often. UAB's own loss came at the hands of the mighty Fighting Tyson Heltons and can be mostly attributed to the 4 INT's Johnston threw because they could barely manage 200 yards of offense. The Tennessee secondary needs to be likewise opportunistic.
4. Find the Way Forward:
This is where the coaches earn their coin. With both the passing and defense looking equally formidable, Jim Chaney needs to be able to look for the holes in their defense where the Vols are able to consistently find yards and be able to set up the big play because everything about this looks to be a grinding game. They have the edge in net punting average too, so field position will be a thing to keep your eye on. UAB gets 8.6 TFL per game and 3.71 sacks per game so the OL really needs to be at their best to give the RB's enough daylight to gain some yards and keep our QB's from continually getting injured.
Prediction:
I can't overstate how important it is for this team to have a winning mentality walking into this game. They absolutely cannot afford to sleepwalk through this and come away with the win. Let's assume they come ready to play. I think the offense will struggle to generate consistent drives but will find enough big plays to keep threatening with Jennings and Callaway coming up big when they are needed. The running backs struggle to get enough space to do much better than 3.5 yards per carry resulting in a lot of punts. I think the defense holds UAB pretty much in check with the WR's breaking free occassionaly... essentially what I expect to see from the Tennessee offense. Ultimately, we have more dudes and Tennessee pulls away with an ugly win.
Tennessee 24
UAB 10