Joined

May 29, 2009
Messages

31,396
Likes

72,616
Date:
Saturday, November 13th
Game Time:
3:30 pm ET
Venue:
Neyland Stadium, Knoxville, TN
Network:
ESPN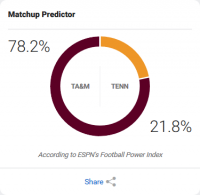 The Vols continue to slide through the 2020 season with a visit from Texas A&M coming up this week. The Aggies are playing good football this season and will be the 3rd team the Vols will play so far that are ranked in the Top 10. How will Tennessee fare? Probably not very well. I don't have a lot of time this week, so I'm not going to try to dress this pig up too much. The fact is I cannot find a single statistic that Tennessee outperforms A&M.
Keys to Victory:
1. Offensive Rhythm:
The Vols continue to struggle offensively, having run down Arkansas' throat in the first half before completely falling apart in the second half. Texas A&M has the 17th ranked rushing defense in the nation, so this won't be fun. JG played fine before he was injured. Brian Maurer was awful. Harrison Bailey didn't do much wrong but got very little leash. If the Vols don't trust their QB, there is no chance at a victory.
2. Pass Defense:
Texas A&M puts up a decent amount of yards on the ground and in the air. Tennessee still cannot defend the middle of the field, in spite of all logic. A&M will have a field day.
3. Coach to Win:
There was a time when Tennessee would gamble, go for it on 4th down, throw in a trick play and have a random onside kick. The Coach was Jeremy Pruitt. Now, we seem to go through basic motions whether they are working or not, as if it was a script that could not be altered. The coaches need to play to win, not play for the sake of playing, and they need to call the game that way.
VN Guest Key to Victory, provided by
@Bassmaster_Vol
4. Hire Hugh Freeze:
Do it.
Prediction:
Another week, another painful loss and deteriorating hope that Pruitt can get this program straightened out. Gird thy loins.
TN 20
A&M 38