1/16th Cherokee... probably
Joined

May 29, 2009
Messages

32,694
Likes

83,114
Date:
Saturday, September 11th
Game Time:
12:00 pm ET
Venue:
Neyland Stadium, Knoxville TN
Network:
ESPN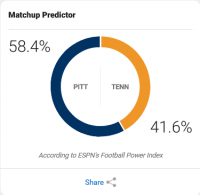 Tennessee hosts the Pittsburgh Panthers this week, fresh off of an inconsistent, yet dominant performance against Bowling Green. Pittsburgh did to UMASS what Vol fans hoped we would we do to Bowling Green, crushing them 51-7, like the peasants they are. Of course Pitt has the benefit of a long-term starting QB and a system that has been in place since before anyone on campus arrived. The Tennessee staff has less than a year under it's belt and our starting QB has been here just long enough to get his glazed fresh off the belt at Krispy Kreme. Let's see how the match-up looks.
Keys to Victory:
1. Week 2 Growth Spurt:
While it is often said that the most growth happens between game 1 and 2, it is probably more so the case with a new coach. With the Tennessee players getting a true feel of what a game-day with Heupel feels like and the coaching staff having a better idea of who shines under the lights, look for Tennessee to look sharper than they did a week before.

2. QB Protection:
Joe Milton had a laughable amount of time to throw last week and took full advantage of every second. It didn't typically work out great as receivers completed their routes and then had to make a backyard football scramble to get open when the ball was still sitting behind the LOS. Pitt has some beefcakes at LB and will bring a crap ton of pressure to see if Milton will continue to hold the ball as long as he did or if they can pressure him into some poor throws. The OL and RB's need to pick up the blitzes and Milton will need to have great pocket presence to feel the heat and make the right decisions quick.
3. Battle of the Brains:
While it will be the first time many in the SEC have face a Heupel offense (except for those around for his Mizzou OC days), Pitt coach Pat Narduzzi has faced him in 2018 and 2019, splitting the two games between them. While Narduzzi is a defensive mastermind, Heupel is his antithesis. It will be really interesting to see how each coach has learned from the other's tendencies from their previous encounters and who can out coach the other with a similar talent level on each sideline (don't talk to me about recruiting stars.... talkin' real world).
4. Stop Shocky Jacques-Louis:
I'll be honest, I don't know how to say his name, but if it is not "Shocky Jocky Louie" a piece of me will die inside. Truthfully, Pitt gave the ball to just about everyone last week with no player getting more than 8 touches with a total of 41 rushing attempts. As a team they had 223 rushing yards, but UMASS is awful... like Bowling Green awful, so they may not be as formidable as it seems. Our linebackers should be tested to see if they can hold up. The seemingly greatly improved TN DL will look to get push and blur the LOS to shut that down. On offense, the real threat is much more QB Kenny Pickett who was probably good enough to be drafted last year but returned for another year. Dude-man has thrown for a crap ton of yards but not the most TD's and he can be prone to an interception or two along the way. Speaking of which, Pitt put it on the ground 4 times last week.
5. Turnovers:
This will likely be a tightly contested game and the Vols want to be on the right side of this equation. End a drive or two with a turnover and get a quick score and the Vols can get this game out of hand quickly if they take advantage.
Prediction:
The Vols lean heavy on the run game as Milton is inconsistent and has issues picking up the blitz. Tennessee is forced to live with a shorter passing game, utilizing the RB's out of the backfield, screens and out patterns. The Vols have a hard time getting pressure on the Pitt QB and he has a really good day. However, the Vols make enough plays and turnovers end up being the story of this game as Tennessee ends +3 and capitalize enough to shift things to the boys in orange.
TN 34
Pitt 31