Can you pass the mustard?
Joined

May 29, 2009
Messages

34,305
Likes

98,646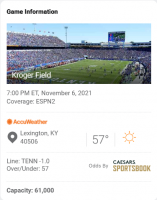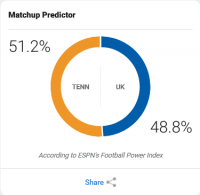 Tennessee travels up to the Lexington this week to take on the fighting Krogers of Kentucky. Both teams are coming off of back-to-back losses, though the Vols have a bye-week in between. This is a rivalry game, mainly because Kentucky wants to beat Tennessee more than anything, and Tennessee wants to continue to keep Kentucky under their foot... a timeless tradition. Let's see how the matchup looks.
Keys to Victory:
1. Trick or Treat?:
Ok... it's a few days late, but give it to me. Kentucky has rolled off to a 6-2 start and has a legitimate shot at finishing with two losses. They have been media darlings all year long but are they as good as they think they are? First of all, they've not beaten many teams with a pulse. The Florida win is nice, but it hasn't aged well and they did not outperform Florida at ALL. Looking at this following boxscore, you would choose Florida as the winner 100/100 times... but Kentucky got the win.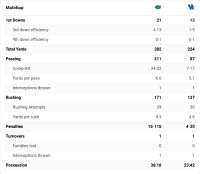 Aside from that, they beat a fired coached LSU team, should have lost to Chattanooga and have wins over sacks of potatoes. I'm not impressed and I'm calling a farce here.
2. Nickle and dime:
Mike Leach dissected the Kentucky defense with quick throws that allowed his QB to be blisteringly efficient and actually threw them off balance with more running than he normally would use. In short, it's a perfect gameplan for a Josh Heupel offense. Look for Tennessee to essentially follow the standard script of quick patterns and screens to set up the long-ball and to get creative in the run game with fresh legs.
3. Neutralize the Defensive Front:
Kentucky is beat up along a talented front 7 but the Vols need their OL to play strong this week. The game plan should allow for Hooker to have the ball out of his hand quick to avoid defensive pressure and allow the OL to hold their ground.
4. QB Contain:
Will Levis is not as good as advertised... I mean, not even close. He's yet to throw for over 200 yards vs a conference opponent and has 9 interceptions. When pressured he makes terrible decisions and Tennessee is either going to have multiple interceptions and/or coverage sacks. The key is to keep him from picking up 3rd down conversions with his legs which has been a weak point in the Tennessee defense this season.
Key numbers for the Vols: Levis below 200 passing, 1 INT, <50 yards rushing.
5. Hit them early:
Kentucky is not built for a track meet. If the Vols get up by 14 in the first quarter, the crowd will be too deep in bourbon to care anymore and Kentucky won't be able to catch up. If Tennessee struggles early, their chances of getting the victory will decline.
6. Run Defense:
Chris Rodriguez is a solid running back who has had a rough couple of weeks. One concerning thing is the total of 15 carries the last two weeks, and 31 in the past 3. He's got fresh legs and may be a problem. Kentucky needs for him to be a problem because if they don't run, they don't win. A quick start for the Vols is a key to removing him from the game plan.
Key numbers for the Vols: Rodriguez <20 carries 100 yards.
Prediction:
I think Tennessee stacks up very nicely against Kentucky. The Vols ability to play fast and efficient football should be able to wear the defense down. The ability to force 3 and outs will be a key in keeping the pressure on the Kentucky defense that is starting to wear down at this point in the season. Tennessee makes plays early, Kentucky struggles with adversity after their hot start to the season and recently dashed dreams and things get uglier as the game progresses.
TN 40
KY 20