Joined

Feb 22, 2016
Messages

11,992
Likes

18,007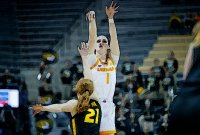 Coach Jumper's prediction: Lady Vols 74-65
@Volfaninfl2
73-71
@mudcat1973
80-70
@VolBalls33
81-79
@Volfan2012
73-69
@Orange Maniac
67-66
@travis929
73-68
@Raebo
72-68
@chuckiepoo
74-73
Massey: (No losing predictions included)
@Rixxx
81-79
@J-Dog 1313
75-64
@dapeak
73-65
@sisaq
83-71
@Ladyvol777
76-72
@Nute Gunray
82-60
@VolBall09
58-56 (I thought about this but ended up reversing the Massey projection)
from
: HOOPS CENTRAL
GAMEDAY TIMES & BROADCAST INFO
Women's Basketball January 24, 2023
KNOXVILLE, Tenn. --
Tennessee (16-6, 8-0 SEC), which is receiving votes in both major polls this week, steps outside conference play to meet old rival #5/4 UConn (18-2, 11-0 BIG EAST) on Thursday at 8:03 p.m. ET inside Thompson-Boling Arena in Knoxville.
UT and UConn will meet for the 26th time in a series that dates back to 1995, with the Huskies holding a 16-9 advantage and winning the past three meetings between the programs since the series resumed in 2020 after a 13-year hiatus.
Kellie Harper
's squad enters on a nine-game winning streak and has been victorious in 14 of its past 16 contests, with its only two losses coming vs. (then) No. 9/9 Virginia Tech (59-56) on Dec. 4 and at No. 2/2 Stanford on Dec. 18 (77-70). A UT win vs. UConn would make for the longest winning streak by the Lady Vols since a 15-game string from Nov. 12, 2017, to Jan. 11, 2018. It also would be the longest win spree of the
Kellie Harper
era, supplanting a pair of nine-game runs a year ago.
Through eight games in league play, UT remains tied atop the SEC standings along with No. 1/1 South Carolina and No. 4/3 LSU at 8-0. It is the Lady Vols' best conference start since they went 13-0 in 2014-15 en route to a 15-1 league record and regular-season title.
With
Jordan Horston
out sick on Sunday in Columbia, Tennessee managed to remain perfect in SEC play by getting a layup from
Jordan Walker
, a three-pointer from
Sara Puckett
and a turn-around jumper "and-1" from
Rickea Jackson
over the final minute to secure a 68-65 victory. Jackson's bucket and free throw came with a second remaining.
Despite a season plagued with injuries, UConn rolls in to Rocky Top on an 11-game winning streak, with its only losses on the year coming at home to #7/7 Notre Dame (74-60) on Dec. 4 and at #20/21 Maryland (85-78) on Dec. 11. The Huskies had no trouble at home with DePaul on Monday night, crushing the Blue Demons, 94-51, with four players scoring in double figures.
The only common foe on the teams' schedules is South Carolina, which UConn hosts on Feb. 5 and Tennessee welcomes to T-BA on Feb. 23.
RELATED LINKS
Buy Tickets
Walk-Through Metal Detectors In Use
Clear Bag Policy
Gameday Info
Follow @LadyVol_Hoops
TENNESSEE
Roster
Schedule
Game Notes (PDF)
UCONN
Roster
Schedule
Game Notes (PDF)
THE LATEST FROM THE LADY VOLS
Fan Information For Thursday's Tennessee Versus UConn Game
Lady Vols Win Thriller At Missouri, 68-65
Lady Vols Win Big Over Gators, 74-56
Lady Vols Best Georgia, 68-55, To Extend Win Streak To Seven
Lady Vols Stay Perfect In SEC Play With 62-50 Win At A&M
Horston Named TSWA Women's Basketball Player Of The Week
ESPN's College GameDay Headed To Rocky Top For Lady Vols Vs. UConn Matchup
Lady Vols Sink Commodores, 84-71
Horston Double-Double Seals UT Win Over Mississippi State, 80-69
Jackson Earns First-Ever SEC Player of the Week Nod
We Back Pat Week
The 12th annual "We Back Pat" Week, a week-long initiative focused on bringing awareness and recognition to the Pat Summitt Foundation, a fund of East Tennessee Foundation, and its fight against Alzheimer's disease is set for Jan. 19-26.
SEC member institutions will support The Pat Summitt Foundation during their home basketball games. During the women's games slated for the week, various efforts will be made to increase awareness of The Pat Summitt Foundation.
The Lady Vols wore their "We Back Pat" edition uniforms for the Florida game at home (UT's "We Back Pat" Game) and the Missouri contest on the road. They'll wear their traditional home whites vs. UConn but will be donning their "We Back Pat" shooting shirts.
Broadcast Information
Thursday night's game will be televised on ESPN, with Ryan Ruocco (PxP), Rebecca Lobo (Analyst) and Holly Rowe (Reporter) on the call.
All of the games included in the ESPN package (ESPN, ESPN2, ESPNU) will be available through WatchESPN, accessible online at WatchESPN.com, on smartphones and tablets via the WatchESPN app, and streamed on televisions through Amazon Fire TV, Apple TV, Chromecast, Roku, Xbox 360 or Xbox One to fans who receive their video subscription from an affiliated provider.
The contest also can be heard on Lady Vol Network stations and by audio stream, with Brian Rice on the call and Andy Brock serving as studio host.
A link to the live audio stream can be found on the Hoops Central page or the schedule on UTSports.com.
For a list of Lady Vol Network affiliates, please click on the Fans tab at the top of UTSports.com, select Vol Network and then click on the Vol Network Affiliates tab.
Air time for games on the Lady Vol Radio Network generally occurs 30 minutes prior to tip-off.
The Lady Vol Network broadcast also can be heard frequently on satellite radio via SiriusXM and the SXM App. but will not be available this game.
Lady Vols' Third Gameday Appearance
ESPN's College GameDay Covered by State Farm® is in Knoxville for the first of three women's college basketball shows this season. The one-hour program will air at 7 p.m. ET on ESPN, preceding the storied rivalry of No. 5 UConn and Tennessee that tips at 8 ET.
Elle Duncan will host the show from inside Thompson-Boling Arena, alongside commentators Andraya Carter, Rebecca Lobo, Carolyn Peck and Holly Rowe. Lobo and Rowe will join play-by-play voice Ryan Ruocco on the call for the game. Carter played for the Lady Vols from 2012-16, Lobo starred at UConn from 1991-95 and Peck was an assistant coach under Summitt from 1993-95.
This will mark the third consecutive time Tennessee has been involved in the four occasions where ESPN's College GameDay has been on site for a women's basketball game and the second time the show has visited The Summitt for a Lady Vol contest. Both of those occurrences are the most of any school.
On Feb. 20, 2022, College GameDay visited Columbia, S.C., as South Carolina hosted the Big Orange. The previous visit to a campus for women's hoops came on Jan. 15, 2011, when Rocky Top was the site for GameDay as Tennessee hosted Vanderbilt on a day in which the Vols and Lady Vols played at noon and 8 p.m., respectively. It marked the first men's and women's doubleheader show for the network. The year before, ESPN was on hand for the Notre Dame at UConn game in Storrs, Conn., for the inaugural women's GameDay on Jan. 16, 2010.
Vols To Host Gameday On Saturday
ESPN announced that College GameDay Covered by State Farm® will originate live from Thompson-Boling Arena Saturday in advance of Tennessee's sold-out SEC/Big 12 Challenge men's hoops clash with Texas.
Tennessee is the only school to have hosted ESPN College GameDay for football, men's basketball and women's basketball.
It also is the only one to host in all three sports during the same school year.
Unranked Lady Vols vs. Ranked Teams
Tennessee is 15-16 all-time as an unranked team playing against a ranked squad, dating back to 1976-77 when polls began, including 7-7 vs. top-10 teams and 2-5 vs. top-five squads through the Dec. 18 contest at No. 2/2 Stanford (L, 77-70).
UT's highest ranked win as an unranked team came on Feb. 26, 2017, as a Big Orange squad receiving votes took down No. 3/2 Mississippi St. in Starkville, 82-64.
Jaime Nared (30), Diamond DeShields (20) and Jordan Reynolds (17) combined for 67 points to send a sellout crowd of 10,500 at Humphrey Coliseum home unhappy on Senior Day and prevent the Bulldogs from earning a share of their first SEC women's hoops title.
Kellie Harper is 3-4 as head coach of Tennessee playing while unranked and facing a ranked squad, including 0-2 vs. top-five teams. Her teams fell to No. 1/1 Notre Dame (1/24/19) and No. 2/2 Stanford
She went 1-2 in 2019-20 and 2-0 in 2020-21, with No. 13/13 Arkansas (1/7/21, 88-73, Knoxville) the highest ranked outfit her Lady Vols have beaten while outside the poll. She is 0-2 in that role in 2022-23.
Harper History vs. UConn
Kellie Harper is 0-3 vs. UConn as a head coach, but she was 4-1 vs. the Huskies in games played as a Lady Vol.
Those scores as a player were 53-59 in Knoxville on Jan. 6, 1996; 88-83 in Charlotte (OT/NCAA FF Semis) on March 29, 1996; 91-81 in Iowa City on March 24, 1997 (MW Reg. Final); 84-69 in Knoxville on Jan. 3, 1998; and 92-81 in Storrs on Jan. 10, 1999.
The Lady Vol point guard did not play in a Jan. 5, 1997, loss at UConn due to a torn ACL suffered in a pick-up game on Oct. 6. Amazingly, though, she rehabbed and returned to action on Jan. 12 vs. Kentucky and played the rest of the season, including a second meeting vs. the Huskies.
Harper (then Jolly) had 19 points and three assists vs. UConn in that contest, which was a victory in the 1997 Midwest Regional Final in Iowa City that sent her team to the Final Four and ultimately an NCAA championship in Cincinnati.
Looking Back At The Missouri Game
Tennessee used an 8-0 run over the last minute to erase a five-point deficit and seize a 68-65 win over Missouri on Sunday afternoon at Mizzou Arena, keeping its conference record perfect at 8-0 and winning its ninth-straight game.
The 8-0 record in league play is UT's best start to the SEC schedule since the Lady Vols opened at 13-0 in 2014-15 en route to a 15-1 league record and regular-season title.
Sophomore Sara Puckett was 7-of-9 on the day in Mizzou Arena and went a perfect 3-for-3 from behind the arc, hitting a game-tying trey with 39.1 seconds on the clock to finish with a season-high 17 points for Tennessee (16-6, 8-0 SEC). Senior Rickea Jackson was also in double figures with 15 on the day, pushing her team ahead with 1.1 seconds left by scoring inside, drawing a foul and sinking the free throw for the final margin.
Missouri (14-6, 3-4 SEC) was led by Hayley Frank, who posted a game-high 26 points and Jayla Kelly who finished with 14.
1K For Franklin
With 2:17 left in the game against Missouri, Jasmine Franklin pulled down an offensive rebound to bring her career total to 1,000.
She closed out the day with four rebounds, moving her total to 1,001.
Cleaning Up The Paint
After being out-rebounded on the offensive glass 8-2 by Mizzou and giving up 10 second-chance points in the first half, the Lady Vols flipped the script, winning the offensive rebounding battle 8-2 in the second half without giving up a single second-chance point.
A Look At The Huskies
UConn has four active players averaging double figures in points, including forward Aaliyah Edwards (17.2), wing Lou Lopez Sénéchal (16.9), forward Dorka Juhász (14.8) and guard Aubrey Griffin (13.6).
Leading scorer Azzi Fudd (17.9) is out with an injury.
Juhász (10.5) and Edwards (9.4) are dominant on the glass for the Huskies.
Sénéchal has hit 51 threes, shooting 49 percent.
UConn ranks No. 1 nationally in FG pct. (52.3) and asst. per game (21.1), No. 4 in reb. margin (13.6) and scoring margin (23.2), No. 6 in 3FG pct. (39.8) and No. 10 in FG pct. defense (34.5).
UConn's Last Game
Aaliyah Edwards, a 6-3 junior, had 23 points and 10 rebounds, leading No. 5 UConn to its 11th straight win, a 94-51 home rout over DePaul on Monday night.
Lou Lopez Sénéchal scored 20 points and Dorka Juhász had 19 for the Huskies (18-2, 11-0 Big East), who remained undefeated in conference play. Aubrey Griffin registered her fourth double-double of the season, scoring 18 points and grabbing 11 rebounds.
The Huskies outscored DePaul 58-18 in the paint and outrebounded the Blue Demons 59-32.
Tennessee/UConn Notes
UT is 7-11 vs. the Huskies during the regular-season and 2-5 during the postseason.
The Lady Vols are 4-6 on the road, 3-5 at home and 2-5 at neutral sites vs. the Huskies.
The Lady Vols are 2-5 in games played in Hartford and 2-1 on campus in Storrs.
The late Pat Summitt won eight NCAA titles while at Tennessee, and UConn's Geno Auriemma has claimed 11, making them the most successful coaches in NCAA Division I women's basketball.
Tennessee won NCAA titles in 1987, 1989, 1991, 1996, 1997, 1998, 2007 and 2008.
UConn won NCAA crowns in 1995, 2000, 2002, 2003, 2004, 2009, 2010, 2013, 2014, 2015, 2016.
Last Meeting Between UT, UConn
Jordan Horston scored a game-high 26 points, but No. 7/7 Tennessee came up short vs. No. 10/9 UConn, 75-56, in the XL Center on Feb. 6, 2022.
UConn (15-4, 9-0 Big East) was led by Azzi Fudd with 25 points, while Aaliyah Edwards had 14.
Last Time In Knoxville
The No. 25/RV Lady Vols took a four-point lead into the final quarter but couldn't hold on, falling 67-61 to No. 3/5 UConn in Thompson-Boling Arena on Jan. 21, 2021, in front of a restricted-capacity crowd of 3,553 due to the COVID pandemic.
UT (9-3, 3-1 SEC) was led by junior Rae Burrell with 18 points, while Christyn Williams paced UConn (9-0, 7-0 BIG EAST) with 20.
Upcoming Games
Tennessee will play its second straight top-five opponent and face its ninth currently-ranked foe when it travels to Baton Rouge to take on #4/3 LSU on Monday, Jan. 30, at 6 p.m. CT (7 ET) on ESPN2.
UT is back home on Feb. 2 vs. Ole Miss at 6:30 p.m. ET.
Last edited: