Joined

Feb 22, 2016
Messages

7,576
Likes

8,419
Tip-off is slated for 4:02 p.m. ET.
Scouting Notes: KY:
After watching SCvKY:
..We should play a lot of "2-1-1-1 half court trap" against them, attack their guards out on the floor, and especially when they get one step inside the HC line (right at that moment,,sick em)....They set up late, and, outside of the Protected-Zone, when taking charges(but they will try to take them)...SC by their length and aggressive trapping created most of the 8 TO's that KY had in the first 10 mins,...KY is "Rhyne Howard" right now, the book on her;
She has no "attacking" left dribble. she only uses the LH for show or to get out of trouble and then she immediately goes back to the RH (blindside her right then)...If she gets forward momentum towards the goal, trying to swat at her is not going to work (you'll just get a foul and she, a foul shot), it will take either "standing in her path" or a Jordan Rules foul to stop her...Double her immediately on any possession within the arc. she can be single guarded beyond the arc...Never give her an easy reception/open look, she will make you pay for it...If guarding RH and she crosses over to her left, she will undoubtedly cross back to her right within a dribble, the defender has to drop-step-fake to her left and be ready to drop-step back into a strong-side stance...Don't leave her, off the ball, smother her,,,she hates it.
KNOXVILLE, Tenn.
-- No. 22/23 Tennessee (11-2, 1-0 SEC) makes the trip up I-75 for its first SEC road contest of the season, a Sunday matinee in Lexington at Memorial Coliseum vs. No. 13/13 Kentucky (11-2, 0-1 SEC). Tip-off is slated for 4:02 p.m. ET. This will mark the 68th meeting between these programs, with the Lady Vols leading the series, 55-12. Tennessee popped the top on the SEC portion of its schedule on Thursday night, overcoming a five-point, first-quarter deficit to topple Missouri, 77-66, at Thompson-Boling Arena in Knoxville. UT led by as many as 18 points in the contest. The win provided first-year Lady Vol head coach
Kellie Harper
a victory in her SEC debut.
Kentucky opened the season 10-0 but has suffered defeats in two of its last three games. On Thursday night, UK opened SEC play in Columbia, S.C., falling 99-76 to the No. 4/5 Gamecocks in a contest that was all Garnet and Black from the outset. Prior to winter break, Kentucky had fallen, 67-66, to No. 7 Louisville and won at California, 63-61. Following Sunday's match-up, Tennessee has a date at Ole Miss (7 CT/SECN+) on Thursday night, while Kentucky is at Alabama (7 CT/SECN+) that evening.
RECAPPING OUR LAST GAME
The Lady Vols lived up to their reputation as one of the nation's top teams on the boards, out-rebounding the Tigers, 43-22. Tennessee pulled down 18 offensive boards and enjoyed a 19-4 edge in second-chance points.
Lady Vol junior Rennia Davis recorded her seventh double-double of the season and the 25th of her career Thursday, finishing with 19 team-high points and a game-high 12 rebounds. Jazmine Massengill handed out a career-high 12 assists and also added seven points and six rebounds.
Tamari Key totaled 16 points on 8-of-11 shooting, and fellow freshman Jordan Horston scored 13.
NOTES FROM THE LAST GAME
Massengill Dishing: Sophomore point guard Jazmine Massengill doled out a career-high 12 assists while committing only one turnover against Mizzou to make her way into the record book, tying for the sixth-most single-game assists in Lady Vol history. She has managed double-digit assists in two of the last three games, averaging 8.0 apg. during that span while turning the ball over only three times.
Hot Hands: Tennessee shot 50.0% from the floor against Missouri, marking the fourth time this season the team has hit at least half of its shots.
Key Settling In: Freshman Tamari Key set a new career high of 16 points in her first SEC action. After scoring in double figures in just two of the first six games, she has now made her way into double digits in four of the last seven contests.
Davis Climbing The Charts: Tennessee junior Rennia Davis posted her 25th career double-double (seventh this season) against Missouri with 19 points and 12 rebounds. She currently ranks 11th all-time for career double-doubles and third in the SEC among active players behind Unique Thompson (Auburn) and Ayana Mitchell (LSU) who have each recorded 31 in their careers. Her 19 points on the game moved her career total to 1,076, passing Isabelle Harrison and Cierra Burdick and tying with Peggy Evans for 40th all-time among Lady Vol scorers.
UT-UK SERIES NOTES
This marks the 68th edition of UT vs. UK, with the Lady Vols leading the series, 55-12.
UT has faced only two other teams as many times as the Wildcats – Vanderbilt in 82 meetings and Georgia in 68 games.
Tennessee is 21-8 vs. UK in Lexington and 10-0 at neutral sites. The Lady Vols are 9-0 in postseason games.
Tennessee is 20-6 all-time at Memorial Coliseum and 1-2 in Rupp Arena.
The Lady Vols own a 24-4 mark against UK in games played in Knoxville, with the Wildcats winning on Rocky Top in 1983, 1985, 2014 and 2019.
UT is 3-1 in overtime games vs. Kentucky, including 3-0 in Lexington and 0-1 in Knoxville, with the last OT contest in the series coming in 1994.
Since Feb. 16, 2014, a four-point Tennessee win in Knoxville, five of the past nine meetings have been decided by four or fewer points.
The Lady Vols' last two trips to Memorial Coliseum resulted in one-point outcomes, a 73-72 Tennessee win on Jan. 29, 2015, and a 64-63 setback on Jan. 25, 2016.
ABOUT KENTUCKY
Kentucky was picked by the media and the SEC coaches to finish fourth in their preseason polls.
The Wildcats returned three starters, including consensus national freshman of the year Rhyne Howard, plus eight other players.
UK was 25-8 a year ago, finishing fourth in the SEC with an 11-5 mark.
Sophomore Rhyne Howard (21.5 ppg.) and transfers Chasity Patterson (12.0 ppg.) and Sabrina Haines (10.1 ppg.) pace the Big Blue attack. Patterson came from Texas and Haines from Arizona State.
RECAPPING UK'S LAST GAME
Rhyne Howard scored 28 points, but the 13th-ranked Kentucky women's basketball team fell to No. 4 South Carolina, 99-72, on Tuesday night at Colonial Life Arena in Columbia, S.C.
Howard's 28 points are the most she has ever scored in a Southeastern Conference game. Thursday was also the third straight game in which the sophomore from Cleveland, Tennessee had scored at least 25 points.
Kentucky (11-2, 0-1 SEC) got a career-high 15 points from Chasity Patterson and 13 points from Amanda Paschal. The Cats, however, faced a significant disadvantage in height, and the Gamecocks took advantage, outscoring UK, 60-24, in the paint and winning the rebounding battle, 40-20.
THE LAST TIME WE MET THE CATS
The No. 13-ranked Tennessee Lady Vols fell, 73-71, to the 16th-ranked Kentucky Wildcats on Jan. 10. 2019, at Thompson-Boling Arena.
The Lady Vols (12-3, 1-2 SEC) trailed by two points after a pair of free throws from Meme Jackson with one minute remaining, but a three-pointer from Wildcats guard Jaida Roper put the game out of reach for the Big Orange.
Sophomore Rennia Davis added 12 points for Tennessee, while senior Cheridene Green dominated the glass with a career-high 15 rebounds.
Kentucky (15-2, 2-1 SEC) was propelled by a 27-point night from senior guard Maci Morris.
LAST TIME IN LEXINGTON
No. 7/7 Tennessee improved to 13-0 overall and 1-0 in the SEC on Dec. 31, 2017, defeating Kentucky (8-7, 0-1 SEC) 63-49 in front of 8,921 at Rupp Arena.
The victory was UT's first in the venue in three tries. The Big Orange women lost to the Wildcats during the 2005-06 season and fell to USC there in the 1986 NCAA Final Four semifinals.
Senior Jaime Nared recorded her sixth double-double of the season, contributing 11 points, 10 rebounds and six assists. Mercedes Russell added 16 points, seven rebounds and four blocked shots, while freshman Rennia Davis just missed a double-double with 11 rebounds and nine points.
A poster posted:
RAVOL said:
Coach Jumper this question is for you. I have watched the Lady Vols for years through all their championship years. This year I have not watched as much since they our not on TV like they used to. Please give me your expertise f to what you see now and where this team ends up by year ends and if Zaye would have played all year what could this team have achieved?
Zaay
…I am a "next man up" coach…She will be evaluated when she is active. I don't estimate success, nor lack of it, based on a player what a player was, only what she is. I try not to ever let it factor in (what if) since she is not playing.!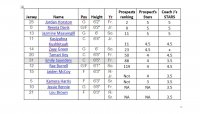 Present

:

Longer "time on the floor as units" for both starters and subs and longer duration's for the for mass substitutions would have given me a better idea of how the units could play in extended play. All I have to go on right now is how they play when frequently subbed…Some are playing above their initial prospect-star assessments, some aren't...This is a fairly young team and with youth you get inconsistency, so we could beat anybody and lose to anybody and it wouldn't shock me (As long as doing so is the exception, not the rule)....The game-play is consistent for the most part, with expected growing pains...Like their predecessors, they have yet to show consistency and domination with the Nationally ranked teams...Coaching mistakes are minimal and coaching with regards to progress of players is very good for most of the players...Emily should be further along; Harris began strong but has regressed a little; Lou: healthy would be a beast; Jessie took entirely too long to appear...the rest are on schedule or ahead of it.​
End of the season/year
: This is a top 4 SEC caliber team with a chance to surprise anyone at any time. And could sneak up and win it all. They will lose 5-8 games this season (including season and both tourneys losses) but that is all I could see as an achievement,,,more than that is to fall short...I think this team ends up the year : 3rd or 4th in the SEC conference standings with a final four in the SEC tourney....E8 or FF in the NCAA tourney...Final poll ranking in the top 7-10...
Kentucky, like us, has handled the cupcakes, but couldn't handle the entree's.,, Both teams lost their games with ranked opponents. Masse has KY at 20 and us at 40…The polls has KY at 13 us at 22. This game will go a long way in determining if either was ranked wrong.
My prediction: UT 70 KY 64 (Final UT 76 KY 80)
Last edited: