Here is a view of Bama's average coaching position tenure since Saban took over in 2007.
He brought in a whole new staff with him in 2007, so the average tenure was 1 year in 2007.
The yearly averages include all positions except the head coach, so it does not include Saban's tenure in each year's average.
If a coach was promoted from within from one position to a higher position, then that was treated as year#1 for that position.
Tenure peaked in 2015 and has steadily decreased since then.
As a comparison, as of the 2018 season, Clemson's average coaching tenure is 6.5 years (excluding Dabo).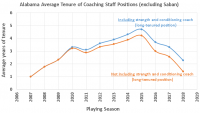 Last edited: