Coach Butch Jones, quarterback Joshua Dobbs, and linebacker Jalen Reeves-Maybin spoke to the media on Monday
Oct. 5, 2015
KNOXVILLE, Tenn. — The Tennessee football program set Georgia week underway with #MediaMonday — the weekly press conference held at the Ray & Lucy Hand Digital Studio. Monday's session featured head coach Butch Jones, quarterback Joshua Dobbs, and linebacker Jalen Reeves-Maybin.
(Opening statement)
"Going back to Arkansas then moving on to Georgia, after going back and thoroughly watching the video and dissecting it, it's the same things we spoke about in the postgame press conference. I thought there were time and series throughout the course of the game that we played well enough to win. The thing right now is just the overall high level of consistency from series to series and from play to play, especially on extended drives, when we are on offense or defense, and it's play three, play four, play five or play seven of a drive. We play well, but then, we may have a mental error. That will be a point of contention all week long. We have to maintain focus as an entire football team. When you look at us offensively, we need to have more splash plays. We need to have more big plays. It's hard to play perfect in this conference. It's hard to drive the ball for an extended period of plays or length without big plays. We need to manufacture more big plays. Defensively, it's our eye discipline, especially when you're playing a play-action football team. I don't think it's any secret; we have to do a much better job of tackling, especially in the open field. We need all 11 [players] playing together.
"Tough times challenge you, but I truly believe that they form who you are. You find out a lot about yourself. Our players have been resilient. They have done a good job, and they understand what needs to happen moving forward, and so does our coaches. Football is like life but just sped up a lot faster. We are going to rely on these experiences. It's going to make us better, but we do have to own it. It's going to make us better. It starts with me, first and foremost, and then we have to go and get better and change it. To sit here and look at where we are, when you take the emotion out of it, I still see us improving as a football team. I still see us getting better week in and week out. There are three things I look for if a football team has lost their edge or competitive character, and those three things have not occurred. First is turnover margin. We are taking care of the football offensively. We are taking the football away defensively, but we still need to create more turnovers. You look at the performance of our special teams. I think the special teams tell you the dynamics of a football team. Right now, we are excelling in the game of special teams. Those are individuals who are really embracing their roles in our football program. Then, you look at our penalties. We have been a disciplined football team. This football team is comprised of good character individuals, and we will go back to work today and work to improve. I know everybody hurts. I hurt along with everyone, but just like in life, you have to get up. In these times, you really find out who is with you and who is against you. You just write it down, put it in your back pocket and file it away for future reference. We are going to be fine. We have a resilient group of kids. We are going to continue to make progress and move forward.
"Georgia comes in as a very, very talented and complete football team. When you look at them defensively, they play a number of guys up front. Really, that is what you look at when you look at a program. How many guys do they play on the defensive line? They play a number of individuals. They have the luxury of being very, very deep there. They have a great line backing core. That is shown with the top prospects in our conference, and then they have a very talented secondary that gives you multiple looks, so they do a great job schematically. Offensively, we understand the depth that they have at running back in Nick Chubb and the entire running back core. They have very big, strong, veteran offensive lineman. They have good receivers. All the quarterback has to do is manage the football game. It is going to be a great challenge against a great football team coming in here on Saturday. As of right now, if we do get all of the helmets in, I want to announce that it will be a Smokey Grey game, so we will debut our Smokey Grey uniforms, which does not help you win a football game, but I know everyone has been looking forward to that and starting this week off today."
(On making adjustments)
"You say it right from the get-go. We have a checklist and I watch both sides of the ball. I have cutups made but I also like the continuous game. You spend a lot of time dissecting it. You dissect it; is it scheme, is it fundamentals and details, is it personnel. We do it all the time. That is never changed. I think if you were to come in and watch video in the eyes of a coach it would really change your perspective. You sit there and it's a team sport, a lot of timesSaturday, in all three phases we are one player, one execution, one detail, and one fundamental away. That's usually the case, the thing is getting all eleven individuals. We talk about that, we look at that in every stage of the game, even braking down third downs and first downs so a lot goes into that."
(On Saturday meeting with upperclassmen)
"Very encouraged; this is a very resilient group, it's a prideful group. They are very realistic, they understand. The message was very, very simple, I always talk the truth, I speak the truth. The truth of the matter is we are a good football team. We've lost to three very, very good opponents. We're seeing that now, over a period of time we're seeing that. What are we 11 points away, but what are we doing to gain those 11 points. It's the consistency in performance, it's the focus, the fundamentals, the eye-discipline. All those things we can control. I want our players to understand that we are a good football team and it's a long football season ahead of us. It's making us better. I told them they're going to refer back to this whether it's this year, whether it's next year, whether its three years from now, maybe it's 10 years from now in their life. They're going to refer back to this moment in time. This is forging us, it's making us closer, it's making us who we are, we have to own it and move on. Our kids were outstanding, they've been outstanding all year."
(On creating big plays)
"You look at all big games or great wins and you point to a moment in that game where someone steps up and makes a play. That's what we spoke to our football team about; making plays at critical moments in the game and wanting to be that guy who wants the ball in his hands or wants the ball thrown at him. You can go back to even some games this year at critical moments of the game where we made and it made a major impact in the outcome, or last year. Obviously, sometimes its schemes based on what you're seeing, because each week is a new challenge, not just from personnel, but the different personnel you're going to see. So it puts different individuals on one-on-one matchups. Football is a game made up of one-on-one matchups across the board. Every position group is a one-on-one matchup. A three-technique against an offensive guard, that's a one-on-one matchup. There are so many things that go into that, but it's really making critical plays at critical stages of the game."
(On use of the zone-read)
"I am trying to go back. I believe we called the zone-read 15 or 16 times. Again, remember maybe to the naked eye there are different nuances off of the zone-read. A couple times we threw the ball out on the perimeter. That's a zone-read, it's based on the defense's look. This week we arc-released the tight end a little bit because of the drop-down safety in quarters coverage. We did call a lot of the zone-read, sometimes we spit the ball out on quick screens. Sometimes it's a run-pass option with a throw down the field. A couple completions down the field were off the zone-read scheme. Do we just blindly call the zone-read and just call one play with it, I think we did that probably three or four times."
(On Dobbs' running and injuries)
"Some of the things with Arkansas are different with them being safety activated the way they were. The way they play their linebackers, we did have some designed runs called for him, then a lot of them were run-pass options like we have every week. There were some different nuances in the gameplan, but a lot of it dictates on the looks that he sees whether it's front, whether its coverage, whether it's a lineman on the linebackers."
(On injury update)
"Dylan Wiesman, we'll see. We got great news. It is not a high ankle sprain. It is just in his foot, so he will be available for practice. We will see how that goes. Kyle Phillipswill be out this week. Marquez North–that was a game time decision. He had stiffness in his lower back. He wasn't able to go unfortunately, but we fully anticipate him being back, ready to go. Pig (Howard) has had a lot of nagging injuries. He had an ankle, an elbow and a concussion that occurred in the Western Carolina game. He is still suffering the effects of the concussion. He did not pass his imPACT test, his concussion test last week, so that is why you have not seen him."
(On Dobbs' aggressiveness in passing game and ability to see field)
"I do think he is being aggressive. I think he is making good decisions with the football. The aggressiveness hasn't really been an issue. He knows where he is going with the football. He has done a very good job with that. I think he is seeing the field. Whether it is being a high vision or low vision when the pocket collapses, when you take off and run, you aren't seeing it. I think he has done a fairly good job of that. There are a couple plays, like every game, that we would like to have back, particularly the second play of the game. I thought he did a very good job Saturday of really getting the ball down to his second or third reads in the progression when they weren't there. That is where you saw a bunch of swing routes to our backs and really creating space for them. A lot of times, that was his third read in the progression. Do we need to continue to progress and get better? Absolutely. But, I see him being aggressive, but we have to continue to execute as well. I have been pleased with that part of it."
(On accuracy being a learned trait or natural)
"You can improve your accuracy every single day. You throw with your feet, your lower body. It's all about lower body mechanics, your lead foot, plant foot and the bend in your knees. We practice it all the time. We throw in the nets. Even when we warm up, we throw what we call strike points. In every pass concept, there is what we call a reception area. So, the quarterback knows that if we call this route concept, the reception area should occur here. There are also strike points on the receiver, where the ball needs to be, so we can turn them into a runner. That all goes in part to understanding everything that goes into the throw game. There are about 40 things that a quarterback has in a pre-snap checklist that can overwhelm you. That is part of playing that position. Accuracy is something I think you can improve on all thew time."
(On tackling Georgia RB Nick Chubb)
"It's a challenge because he possesses so many traits of being a great running back. He can get the tough yards, he can put his shoulder down. He has great burst, acceleration and pad level. He can also make the second-level defender miss. It really challenges your discipline. It challenges with your eyes on your thighs and shrinking your base and coming to balance but not stopping your feet. We ran into some issues Saturday night because we had a core base and stopped our feet. You kind of have to work toward the defender with your eye discipline, never stopping your feet and running through contact. That is why we say drive for five. He challenges you because he can do all the things that a great back can do."
(On the balance around the SEC)
"Absolutely. That's part of being in this football conference. We talked about it with our football team. This is what we all signed up for, is to compete in the toughest football conference in America. I think you see that week in and week out. There are no easy games on our schedule. Every game is a challenge in and of itself, from parity in this league, from the quality from the top to bottom. Anybody can win on any given game day, and that's what you have to focus on each and every day. It takes a special individual to be able to compete at this level because of the mental toughness that is required from you, and a physical toughness, as well as a grind of a long season playing quality opponents week in and week out, and the amount of effort and energy that goes into preparing for your opponent on a week-to-week basis."
(On Kahlil McKenzie and Shy Tuttle)
"I was very encouraged. I thought Shy played the best game he's played all year. When you see 300-plus pounds, I thought his effort was outstanding. He was able to win some one-on-one matchups in the pass protection area against the offensive linemen. I thought Kahlil did some very good things of holding his gap and being active. When we watched the film, we were very, very encouraged with those two individuals. They did a very, very good job."
(On how the coaching staff can improve)
"I think, first of all, it's holding our players responsible to a high level, a high standard of excellence in terms of fundamentals and the small details of what it takes to play winning football consistently. It all starts with fundamentals. The fundamentals of the game of football never change. Blocking, tackling, executing our systems. That's on us as coaches, to make sure that we hold them accountable. We practice it, and they understand that from day one. Our players will do that. They want to learn. They want to get better.
"First and foremost, it starts with me being very detail driven. Right now I think we lack, if you said, `What's the major improvement [needed] in our football team?' it's the small details. It's doing the little things correctly that add up to the big things. It may just [be] your eye discipline, understanding down and distance, communication, understanding splits, understanding stances of a defensive lineman. Those are all small things that add up to the execution of big things. We just have to make sure that we continue to stress those like we have, and continue to work to put our players in situations to be successful. And then, for me, keeping this football team and this football program on the right track, which we will do that, and keeping the positivity. I see us making progress. Unfortunately it's not showing on the scoreboard, but eventually it will."
(On the effects of Dylan Wiesman's injury and keeping Quinten Dormady involved)
"Well we'll continue to have competition there. Mack Crowder did some good things when he entered the game. I thought Jack Jones continues to get better. He's really, really worked in terms of his pass protection skills. He's done a very good job with that. So, we'll continue to have competition for those spots. And all those individuals get valuable repetitions throughout the course of the week. So that's one thing we feel very comfortable with, but you know, I thought our offensive line in general did some very very good things Saturday. I thought we protected the passer. But again, we need to continue to build that depth and there'll be competition there. And you know I think the health of Jashon (Robertson) too. You know, Jashon hasn't been able to finish a game yet and so I give him a lot of credit. He's gutting through it and does continue to get better on the health front. So I see him getting better there, it's just a matter of time of healing up. But there's an individual who, you know, you talk about true grit – that'sJashon Robertson. He brings it every day in practice, and he grinds his way through. I'm really appreciative of him and his leadership. Dormady? Yeah we would still like to continue to progress and get him in. Quinten has done some very good things, and just his overall command like I've talked about before of the offense. A lot of times it's just where the game is and how it dictates but he has earned our trust."
(On meeting with the Hawkins County football team)
"You know what, I really really appreciate you bringing that up. And that's probably, I don't want to get emotional, but that's probably one of the rewarding days I've had as a football coach. To be able to spend time with that football team, with that family, and put my arms around them and see the joy in their eyes of being here but also the pain in their eyes. That's what life is all about. For me, it put everything back into perspective about what life is supposed to be about. You know, it's about caring, it's about giving and it's about being there for people. That was therapeutic for me, but it was very rewarding and I appreciate you bringing that up."
(On getting Alvin Kamara more touches per game)
"Yes, in all facets. In the return game, in the throw game, in the run game. So what we've seen is Alvin (Kamara) does a great job when we create space but also he can run the ball inside the tackles as well. He's been a great team player and he's been one of those vocal individuals as well. So we would like to get him his hands on the ball as much as possible."
(On playing Kahlil McKenzie and Shy Tuttle next to each other)
"Well, first of all we're still young. Really if you talk veterans, Owen Williams is in his second year and so is [Kendal Vickers], so really we're still youthful there. I'll tell you this,Owen Williams and the way he's playing right now, he's playing his best football. I talked about him last night as he had a play, an effort play that was remarkable that he would've never played a year ago that he would've made and how far he's come in our football program. I've been very proud of him. But you know I think Shy and Kahlil's skill sets complement each other just like Vickers' and Owens' skill set as well. We need to still continue to develop depth there and recruit depth there because we're still not there yet, but I think it was the first time where we didn't have to move them around with not playing an up tempo offense, so we were able to do some different things that we ask of them in the run game and the throw game."
(Addressing recent rumors regarding a team altercation)
"Yeah, absolutely ridiculous."
(On Kyle Philips and Pig Howard injury status)
"On Kyle Philips, we're anticipating, we're hoping that he could be back for Alabama. It was a shoulder, it's something that he's had issues with in the past, but we anticipate right now with having this week off and the bye week that he would be available for Alabama. On Howard's [Pig] status, when it's a concussion, you know it's a matter of time. It's seeing how that goes, so I will not know. He will have to take his impact test again and there is a lot of testing that goes into that before we put an individual back on the field. Alright, thank you."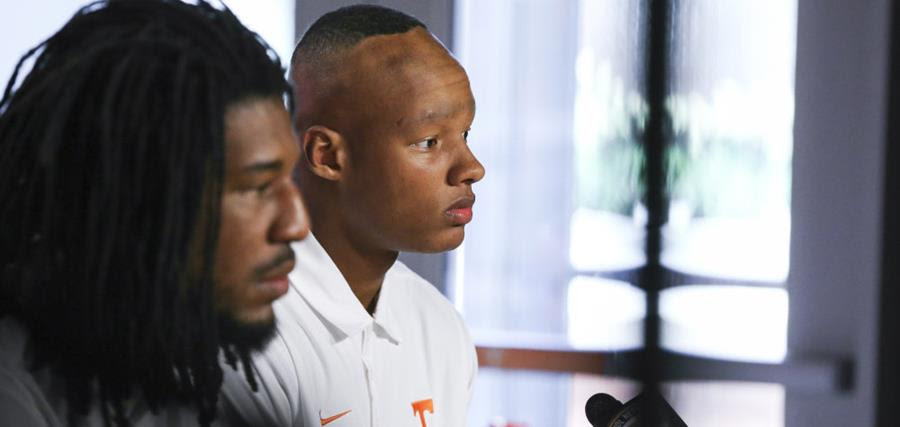 SOUND BITES
QB Joshua Dobbs
(On what he saw in the second half vs. Arkansas)
"As I said after the game, Arkansas did a great job of holding time of possession. It came down to us making the most of our opportunities we had in the second half. Defense did a great job of getting stops when needed. When we have the ball in those situations we have to do a better job o making plays and making the most of those opportunities."
(On Georgia's defense)
"Georgia's defense is a good SEC defense as expected. Week in and week out your going to play good defenses. We have to be on our A-game. We have to have a great week or preparation this week. Understand the game plan, understand schemes, understand what their defensive philosophy is in order to be successful."
(On turning the next page)
"Snap-and-clear mentality. We are a mentally tough team. We know our capabilities, and the talents we have on offense, defense, and special teams, and we know that we can make plays. We just have to do that, we have to execute. I wouldn't say its difficult to turn the page because if you don't turn the page then we have another good team coming in this Saturday and they don't really care what happened last Saturday. They're coming to win. We have to snap-and-clear last weekend and come ready to play this weekend."
(On the team's focus)
"It's not like we are looking back on the past like bad things are going to happen.That's not how we operate. We all have faith in each other. We all have trust in each other. We love each other. We are going to keep grinding and end up having a great season."
(On Shy Tuttle and Kahlil McKenzie's development)
"It's been big, especially seeing Shy from the spring until now. He's starting to develop into the type of player we want in the program. He's playing hard and giving great effort. They're both progressing. Kahlil played a lot this week against Arkansas with bigger guys. That's his type of game. They'll both be great players."
(On playing against productive tight ends)
"It's the SEC. It's going to be a good player. This is the best conference in the country. You're going to play against good players every week. You can't have anyone changing your mentality of playing defense."