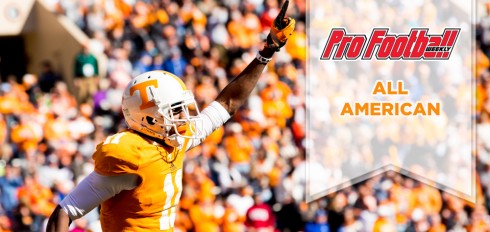 Vols wide receiver Justin Hunter has been named to the Pro Football Weekly All-American Team. Hunter earned a spot as an Honorable Mention pick. The All-SEC pick continues to garner accolades.
Hunter led the Vols and finished third in the SEC with 73 catches for 1,083 yards. His total for catches ranked second-most in a season in Tennessee history and his yardage total was third all-time in a season. Hunter scored nine receiving touchdowns, including a school-record tying three TDs in two different games this season. He scored three touchdowns against both Georgia State and Troy. Hunter had four 100-yard receiving games as a junior including a career-high 181 vs. Troy. He became the eighth Vol with a 1,000-yard receiving season.
He was named a second-team All-SEC selection by the league coaches and the Associated Press.
PFW's All-America team annually honors college football's most talented players and is determined based on extensive evaluation and considerable feedback from NFL evaluators, taking into consideration how players grade out both in their assignments and by the quality of critical playing traits. PFW honors are distinguished by the premium placed on skill, football temperament and instincts and seek to recognize players we expect will become outstanding pros. Players are expected to have contributed for the bulk of the season to qualify. Production is considered, but not weighed nearly as heavily as how much of an impact players make on their teams. Extra attention is paid to traits such as toughness, intelligence and competitiveness, all traits that we believe correlate heavily to future NFL success.