By Franz Beard.
Gatorcountry.com Managing Editor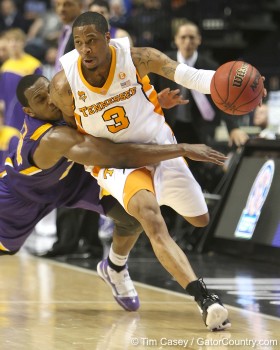 NASHVILLE, TN — There was nothing pretty about Tennessee's 59-49 win over LSU in the first round of the Southeastern Conference Basketball Tournament Thursday afternoon, but the Vols aren't about aesthetics these days. In the post-Tyler Smith era, they've had to adapt their style of play and right now, winning ugly seems to be a good fit.
"We can't do the same things offensively, we can't press and turn people over like we did … there's a lot of things that are different without him [Smith]," Tennessee coach Bruce Pearl said. "He did a lot of things for us, but we've done what teams do. We've adapted to what we've got and it may not be pretty, but we're getting the job done."
Getting the job done was what Thursday was all about for Tennessee (24-7). The Vols had to grind out a 59-49 win over outmanned LSU (11-20), the difference in the game Tennessee's superior size and depth along with a healthy dose of defense.
"We're not the same offensively now as we were so we have to win by rebounding the basketball and playing great defense," Pearl said. "If we can't do those things, we can't win games. When we win, maybe it doesn't look so pretty, but the name of the game is to win. We did that."
The 13th-ranked Vols turned the ball over 17 times, missed their first seven three-pointers and were a horrendous 4-23 on their threes for the game, yet none of that mattered in the final 16 minutes of the game when they simply wore down the Tigers.
For the game, Tennessee shot 37.3 percent overall and that was bolstered by a 12-24 second half effort when the Vols hit nine of their 11 two-point shots while knocking down only 3-14 from the three-point line. The shots wouldn't fall for Tennessee, but they wouldn't fall for LSU either because Tennessee was in its lock down mode on the defensive end. LSU hit 10-28 (35.7 percent) in each half but only 3-16 from the three-point line.
Once Tennessee's size, strength and superior depth began to take a toll, LSU was at a distinct disadvantage and it really didn't matter if the game lacked curb appeal.
"Ugly," said Tennessee's Steven Pearl, who gave the Vols 12 minutes off the bench, most as an undersized power forward in relief of Wayne Chism and Brian Williams. "Nothing pretty about that one but right now, you don't care if you win pretty or ugly, long as you win. You take a win any way you can get it."
The closest the Vols came to getting into an offensive rhythm was during a nine minute stretch in the second half when they broke a 30-30 deadlock to take a 46-34 lead. They scored eight straight points to bolt to a 38-30 lead before Storm Warren stopped the bleeding for LSU with a jumper in the lane with 9:21 to go but the Vols scored eight of the next 10, taking a 46-34 lead J.P. Prince dunked after a terrific feed by Scotty Hopson with 6:17 to go in the game.
To LSU"s credit, the Tigers didn't roll over and die. They had a mini-run left in them, chopping the deficit to five points after Tasmin Mitchell hit back to back threes, the second with 1:08 remaining to cut Tennessee's lead to 54-49.
But that was as close as it got. The Tigers fouled to extend the game but the Vols hit their free throws and extended the lead back to double figures.
LSU got the game going at a pace it could handle in the first half and that got Tennessee totally out of synch. The Tigers built a lead of seven points (17-10) when Eddie Ludwig managed to find an opening between 6-11, 270-pound Brian Williams and 6-9, 250-pound Wayne Chism to sneak in a layup with 4:55 left in the half.
That seemed to wake up Tennessee, which went on an 11-4 run to end the half tied at 21-21. The Vols managed to go into halftime even up with the Tigers only because Chism got fouled going to the rack with one second left and he hit both free throws.
Pretty, it wasn't, but Tennessee got a win and a second round matchup with Ole Miss. The Vols are a lock to make the NCAA Tournament but they're playing for seeding now.
"It's all about the seeding now," Pearl said. "You get a good seed, you've got a chance to move on in the NCAA Tournament. Last year the SEC had an eight, a nine and a 13. This year, Kentucky's going to be a one, Vanderbilt should get a really high seed and we should get a fairly high seed. We're playing to make sure we get a higher seed. Every win helps us."
GAME NOTES: Chism led Tennessee with 17 points and 11 rebounds. Williams finished with 14 rebounds. Bobby Maze had 14 points and Prince had 11 … LSU was led by Warren with 18 and Mitchell had 10 in his final collegiate game … Tennessee won the rebounding battle 41-34. The Vols hit 17-24 from the foul line while LSU managed only 6-12.
Read more: http://www.gatorcountry.com/basketball/article/sec_tournament_ut_beats_lsu/8593#ixzz0huuASlt