By Tom Luginbill
Scouts Inc.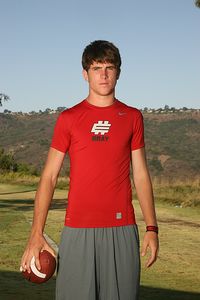 The key word for the 2010 class of quarterbacks is upside.
In many ways, this group of signal-callers is in the developmental stages — I do not mean for this to take on a negative connotation. The reality is that although some prospects could find their way onto the field early given the right circumstances, most of these prospects would really benefit from redshirting. That circumstance would give these raw prospects a chance to get acclimated to the next level physically and mentally.
There is a high ceiling for development with both the pocket-passers and dual-threat players in this group, but many are green and have yet to come into their own. We get the sense that many college programs recruiting the prospects in this class feel the same way we do about the lack of top-end talent in this class — kids in this class were locked up and verbally committed earlier than ever. In essence, coaches are taking the approach that it is better to jump on a guy because there aren't as many to choose from in the class as a whole. In fact, 37 of our top 40 rated quarterbacks have already made their college choice as it stands now.
In the first installment of our positional superlatives series, we have examined the prospects we feel are the most well-versed at a specific trait or skill. This doesn't mean that there are not many players who fit the bill in these categories, but a few have stood out to some degree.
One trend remains true to this position — athletic quarterbacks are a hot commodity and will continue to be as long as the spread offense remains prevalent in college football.
Most upside
What Scouts Inc. looks for: Simply put, will the prospect be the same player four years from now he is today? Is there still growth potential, both physically and mentally, for this prospect to develop into a better player down the road?
Blake Bell (Wichita, Kan./Bishop Carroll); committed to Oklahoma: While Bell can be somewhat mechanical in his methods, his physical measurables and tools are outstanding. He has only played quarterback for two complete seasons, but there are not many 6-foot-6 prospects who can move and throw like he can. With Landry Jones firmly entrenched as the Sooners' starter, Bell will be able to redshirt and blossom without having to see the field right away.
Tyler Bray (Kingsburg, Calif.); committed to Tennessee: Bray reminds us of a right-handed Matt Leinart coming out of high school. This future Vol, however, possesses a deceptive athleticism the former USC standout lacked. Time in the weight room and the opportunity for him to grow into his tall, lanky frame provide for a high ceiling of development. He has the arm and size. Also, his overall accuracy and timing are very impressive. Tennessee may have lucked out in landing this talent at a need position.
Tyler Smith (Easton, Pa./Wilson Area); committed to Maryland: It's really surprising that Smith isn't garnering more attention. He has a lightning-quick release and is a better athlete than his physical stature would lead you to believe. He has a live arm, can make all the throws and could play in the spread running the zone read-option as well as the pro set multiple scheme. Reminds us a bit of Tony Pike at Cincy, only with better wheels.
Most accurate
What Scouts Inc. looks for: These signal-callers have the ability to consistently place the ball within the strike zone in all areas of the field, even when they have to throw with defenders in their faces. Accuracy is far more important than arm strength. When coupled with an understanding of timing, accuracy can make a passer with a marginal arm a lethal weapon.
Jesse Scroggins (Long Beach, Calif.); committed to USC: One of the reasons Scroggins has been so accurate is because he maintains balance and remains calm in the pocket. His feet are underneath him and he does not rush throws. Scroggins throws a very catchable ball, knows how to change ball speeds and leads receivers to a spot very well. He also is one of the better play-action passers in this class.
Jake Heaps (Sammamish, Wash./Skyline); committed to BYU: Fundamentally, Heaps is ahead of the curve in this class. He is sound in his overall mechanics, which provides consistency in his accuracy to all areas of the field. What he may lack in pure arm strength, Heaps makes up for with timing, footwork and a consistent delivery. He is one of the most accurate short-to-intermediate throwers we have seen the past couple of years.
Brett Nottingham (Danville, Calif./Monte Vista); committed to UCLA: Nottingham is the Ty Detmer of the group; he may lack great zip and strength to all areas of the field, but his timing, soft touch and ability to place the ball where he wants it gives him an edge. He is sound mechanically and, once again, footwork is the key to his overall productivity level. He can't afford to be late on throws, but Nottingham is a sound rhythm thrower who knows where to go with the ball.

Strongest arm
What Scouts Inc. looks for: The ability to make spectacular throws into tight spots with arm strength alone. These players display the skills to drive the ball vertically with power and are able to consistently throw the deep comeback route to the sideline from the opposite wide hash.
Andrew Hendrix (Cincinnati, Ohio/Moeller); committed to Notre Dame: Hendrix is the fastball thrower of this class (he plays baseball at a high level); he displays a tremendous downfield arm. His ability to stretch the seam or fit the ball down the sideline between a Cover 2 safety and corner sets him apart from others in the group. He could also fit right into the upside category. A player with his arm and ceiling for development is a hot commodity. With Jimmy Clausen a candidate to leave early, Notre Dame is most definitely hoping to hold on to Hendrix.

Phillip Sims (Chesapeake, Va./Oscar Smith); committed to Alabama: The ball pops out of Sims' hand with tremendous zip and authority. He also plays in a scheme in which he gets to drive the ball deep several times a game. Playing for one of the nation's top high school programs Sims has had to make many throws in the intermediate and deep passing game along the sidelines from the opposite hashmark. He has also learned to take down his velocity when he needs to for certain throws. In other words, he's not just throwing hard because that is all he knows.
Zach Lee (McKinney, Texas); committed to LSU: Like Hendrix, Lee plays baseball. Lee, however, is still learning to control his arm especially on shorter, underneath throws. The ball comes out of his hand with flames on it and his physical stature and strength are apparent when he sets his feet, stands in there and fires the ball. He is capable of placing the ball anywhere on the field and to some spots even when his feet are not set.
Best dual-threat skills
What Scouts Inc. looks for: These prospects can be every bit as dangerous with their legs and overall athleticism as they can be with their arms. Oftentimes at this stage, dual-threat QBs are better athletes than passers. Some of these players are a candidate to move to another position down the road.
Robert Bolden (Orchard Lake, Mich./Saint Mary's); committed to Penn State: Bolden plays in the Wing-T offense with few passing opportunities and not many shogun snaps. Still, in our opinion he possesses the best combination of athleticism and passing upside in this class. He is tall, has a powerful arm and is deceptively speedy and elusive much in the same way Terrelle Pryor is.
Devin Gardner (Inkster, Mich.); committed to Michigan: Many of the comparisons to Vince Young are derived from Gardner's low, three-quarters delivery. However, his size and feel for the game are reminiscent of the former Texas signal-caller as well. With quirky mechanics, Gardner's methods may not always be pretty, but he is just what the doctor ordered for Rich Rodriguez and the Michigan Wolverines.
Barry Brunetti (Memphis, Tenn./University); committed to West Virginia: Brunetti may possess some of the best skills as a passer among these dual-threats. However, he lacks the same ideal measurables in terms of height, standing at 6-foot, and top-end speed. He is a dual-threat who is a passer first, runner second. Brunetti has terrific velocity on the football and enough elusiveness to be a quality runner out of the shotgun.
Best intangibles
What Scouts Inc. looks for: A player with the ability to succeed on toughness, leadership, savvy and creativity. Some guys have great tools along with intangibles and others lack great measurables and physical gifts, but find ways to win regardless. Intangibles are extremely difficult to define, but you know it when you see it.
Devin Gardner (Inkster, Mich.); committed to Michigan: This kid really works to be good; it's important to him and he is highly competitive. He likes the idea of having to compete for respect and is always working to get better. Sure, he has the physical tools and size to succeed. He has also demonstrated a tremendous commitment to the sport.

Nick Montana (Westlake Village, Calif./Oaks Christian); committed to Washington: He had to inherit some of these traits from his dad, right? There is no doubt Montana has some savvy to him and if he puts in the time and works to be good at the next level he has a high ceiling for development. Of course, you couldn't ask for a better pedigree.
Phillip Sims (Chesapeake, Va./Oscar Smith); committed to Alabama: This kid is very competitive and very tough. Sims has proven capable of handling a lot from a scheme standpoint at the prep level, which should give him a leg up once he enrolls at Alabama. He can manage and run the offense and knows where to go with the ball and how to get into the right play.
Most underappreciated
What Scouts Inc looks for: These guys have high level skills but aren't generating the buzz of some of their quarterback counterparts in the 2010 class. Look for these prospects to come in to their own at the next level.

Sean Mannion (Pleasanton, Calif./Foothill); committed to Oregon State: This future Pac-10 signal-caller is highly underrated as a passer and deceptive athlete. He's a typical Beaver recruit — a good player not enough people are on. Credit Mike Riley and his staff.
Chase Rettig (San Clemente, Calif.); committed to Boston College: If Rettig can consistently perform mentally and physically on par with his ability level, Boston College may have a steal on its hands.
Steve Kaiser (St. Louis/De Smet Jesuit); committed to SMU: You think SMU has made a surge now? Kaiser could end up being the next Timmy Chang or Colt Brennan for June Jones. Watch out Conference USA!
Tom Luginbill is the National Recruiting Director for ESPN's Scouts Inc.