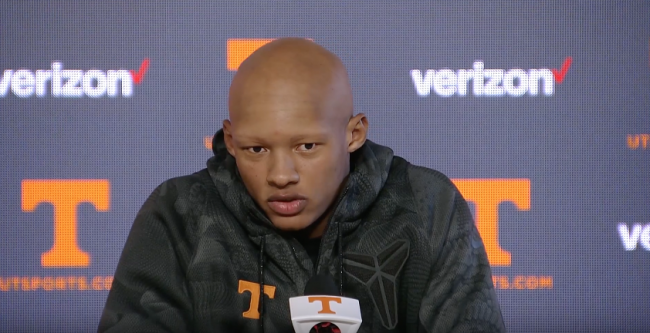 KNOXVILLE, Tenn. — Tennessee football head coach Butch Jones and seniors Joshua Dobbs and LaTroy Lewis spoke to reporters at Monday's press conference in the Ray and Lucy Hand Digital Studio.
Tennessee (8-4) will play Nebraska (9-3) in the Franklin American Mortgage Music City Bowl on Dec. 30 at Nissan Stadium in Nashville, Tenn. The game will feature a 3:30 p.m. ET kickoff on ESPN. The Vols are ranked No. 21 in the latest College Football Playoff Rankings. The Cornhuskers are No. 21 in the latest Amway Coaches Poll and No. 24 in the latest AP Top 25 Poll.
Jones and the players spoke about the Music City Bowl and also about the recent wildfires that have impacted Gatlinburg and other parts of Sevier County.
Butch Jones | Head Coach
"First and foremost, our thoughts and prayers are with everyone in Gatlinburg and we are looking into doing some different things as a football team in moving forward. The way this state, this community, has embraced them is truly remarkable. From my perspective and our football family, our thoughts and prayers are with everyone associated with that tragedy.
"I would personally like to thank Scott Ramsay from the Music City Bowl. I know our players our looking forward to playing in-state with a very, very good opponent. When you look at Nebraska just from the outside, obviously, they sit at 9-3. Two of their losses have come to two top-10 football programs. They started the season off 7-0. Two historical teams, two historical programs that are going to come together; so we are excited about that with a quality opponent and it's going to be a great challenge in moving forward.
"Currently with our football program is our players getting ready to go through final exams. Our staff and myself are in the middle of recruiting. Actually got back in around 4 a.m. this morning, and we'll head right out after this press conference entering into the beginning stages of bowl preparation. We did practice yesterday. I thought it was a very spirited, competitive practice. These practices are going to be critical for the development of our younger players but also for our seniors. It's very important these individuals finish their career the right way.
"Our time as a football, and Team 120, is very limited but there's a lot of things we have to get accomplished throughout the course of bowl preparation which will really heat up after this week, heading into the stages of early next week. That's when we will really start our bowl preparation.
"I know there's been a lot of questions in terms of the program. I'll tell you this. I will thoroughly examine everything in our football program in moving forward. Every amount of time I'm not recruiting, not in a home, not in a high school, I am examining that and will continue to do that. That's a process. You have to take the emotion out, you have to look at where you're at, you have to look at how far you've come, and then you have to look at your deficiencies as a football team and a football program in being nine-strong from positioned groups and everything associated with that. I'll continue to address our football program over the next few weeks and upcoming months as well."
#4 LaTroy Lewis | RS Senior Defensive Lineman
Lewis said that the younger players on the team will have an opportunity to continue to improve with this month's bowl practices. Lewis is part of a UT senior class that has led the Vols to three-straight bowl appearances. Tennessee last played in three-consecutive bowls following the 2002, 2003 and 2004 seasons. Lewis spoke about the importance of finishing the season with a win.
"It's important, it's definitely important. We're still focused on Team 120, but moving forward that's huge momentum for Team 121 and the great things I think they're going to accomplish. It's definitely setting a standard. It's the last three years in a bowl game and I don't think that's something to take lightly and not feel accomplished about. We're proud about that, especially our senior class, talking about the legacy we've been able to bring and leave and excited about the things to come."
#11 Joshua Dobbs | Senior Quarterback
Last week, Dobbs, some of his teammates and UT dancers and cheerleaders visited with the people of Gatlinburg who have been affected by the wildfires. The senior quarterback has used his platform to inspire and help others and he and his friends jumped at the opportunity to give back to the community. Dobbs and his fellow seniors will suit up one more time for the Big Orange in the Music City Bowl, capping an impressive four-year stretch in which they helped return Tennessee to national prominence.
"Before the season everyone has their expectations and goals. Everyone wants to win the championship. There is no sense in shying away from that. The key to that is you have to focus on each game and you can't look at the big picture. You have to focus on the small details. Each practice, each game and taking advantage of those opportunities add up in the end. As for moving forward, that's what this team needs to continue to do. We have had a lot of growth over these last four years. It has been really cool to continue to grow and to continue to take steps in the right direction to get Tennessee football where it should be. That's the goal. Every time you step on the field you have to play your best because you're going to get the other team's best shot. You can't take any opportunities for granted."