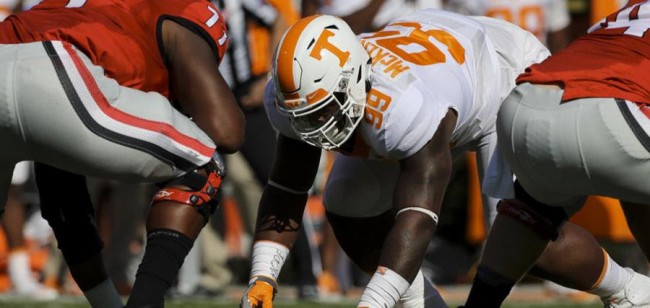 Derek Barnett, Joshua Dobbs, Kahlil McKenzie and Jack Jones took part inTuesday's Tennessee Football media session
Oct. 4, 2016
KNOXVILLE, Tenn. — As preparations for Saturday's showdown with No. 8 Texas A&M continue, four members of Team 120 spoke to reporters on Tuesday at the Ray & Lucy Hand Digital Studio. Defensive lineman Kahlil McKenzie, offensive lineman Jack Jones, defensive end Derek Barnett and quarterback Joshua Dobbs each met with the media during Tuesday's session.
No. 9 Tennessee (5-0, 2-0 SEC) meets the Aggies (5-0, 3-0 SEC) for just the third time in program history and for the first time under the SEC banner. Kickoff is set for3:30 p.m. ET on CBS with Verne Lundquist, Gary Danielson and Allie LaForce calling the action.
Tennessee is 5-0 for the first time since 1998 and is seeking its third consecutive victory over a ranked opponent in as many weeks. Should the Vols be able to escape College Station with a win, they will have defeated ranked opponents in three consecutive weeks for the first time since 1991 and will have won road games in consecutive Saturday's for the first time since 2006.
Saturday is Tennessee's first-ever visit to College Station as each of the last two meetings between UT and Texas A&M have come in bowl games (1957 Gator Bowl and 2005 Cotton Bowl). The Aggies, off to a 5-0 start for the third consecutive season, are the SEC's top offensive team as they average a league-leading 521 yards of total offense per game.
Check out Tuesday's sound bites from Rocky Top:
Kahlil McKenzie | Defensive Lineman | Sophomore | Walnut Creek, Calif.
Coming off of a pair of thrilling comeback wins over Florida and Georgia, Tennessee has been the subject of praise of the national media and social media. Sophomore defensive tackle Kahlil McKenzie says that the Vols have been able to maintain their focus on the game in front of them thanks in part to their desire to continue their historic success.
"I think that's kind of been what has been driving us a little bit. Every college football player literally dreams to play football at 3:30 on CBS or be on College GameDay or play in the biggest football game ever. All of these things that we have been experiencing are all things that everybody wants to ever be a part of. I mean we won on a Hail Mary. I couldn't even tell you what type of feeling that is as a football player. These are all types of things that not everybody gets to experience. That's the cool thing about it. That's motivating us to keep what we are doing going."
Jack Jones | Offensive Lineman | Sophomore | Murfreesboro, Tenn.
Sophomore offensive linemen Jack Jones and Chance Hall have played well since stepping into the starting lineup. Jones has started at right guard since the Ohio game and Hall started at right tackle in UT's wins over Florida and Georgia. Jones attributes the line's improving play to the unit's committment to hard work.
"I think we have a group of guys that comes in and works very hard every day and that starts from the five that are starting on Saturday and that goes on to the rest of the group. I think it really doesn't matter what group they have in there. I just know whenever I'm in there, I'm going to go hard and I'm going to lay it out on the line. I know that's how everyone is and especially Chance out there with me. I do feel really comfortable playing next to him. I feel like we are on the same wavelength."
Derek Barnett | Defensive End | Junior | Nashville, Tenn.
Despite helping Tennessee to its first 5-0 start since 1998, SEC Defensive Player of the Week Derek Barnett is keeping his emotions steady and his work mentality the same week to week. Hailed by his teammates as a defensive leader – both physically and mentally – Barnett is keeping his focus solely on this weekend's matchup against No. 8/7 Texas A&M and Aggies quarterback Trevor Knight, while he continues to climb the UT career charts with 24.0 sacks (4th) and 41.5 tackles for a loss, third-most in Tennessee history.
"I just look at it as it's like a long journey. One game is not going to win the whole season. So, I take it one game at a time and that's been what Coach Jones is stressing to us. After every game, there's always something I could do better. You know, I didn't play my best game against Georgia. I was still a little sloppy on some techniques as well. I need to keep working on my hands this week and there are always things that I can improve with every single game. I think the entire team has been doing a good job of doing the same thing as well."
Joshua Dobbs | Quarterback | Senior | Alpharetta, Ga.
When quarterback Joshua Dobbs leads the Tennessee onto the gridiron at Kyle Field on Saturday he will be leading a unit facing off against one of the toughest defensive lines in the country. Led by star defensive ends Myles Garrett (the NCAA's active leader in career sacks with 27) and Deashon Hall (the reigning SEC Defensive Lineman of the Week), the Aggies rank first and third in the SEC, respectively, in tackles for loss and sacks per game. Dobbs was asked Tuesday if he will be especially aware of the threat of the Texas A&M pass rush comeSaturday.
"Your awareness level is always high. We face really good defensive lines week in and week out in the SEC and obviously we have another tough challenge coming up. Your awareness is definitely really high, especially when you're facing two high caliber defensive ends. They also have some very good interior defensive linemen across the board. They have some depth and we understand that we're going to have to execute and play our game if we're going to be successful."
More Sound Bites
Defensive lineman Kahlil McKenzie
(On what Derek Barnett's attitude is like on the field)
"Derek is businesslike and he's a leader. That's the approach he takes. Everybody looks up to him. He is great to have on your side and in your room. As a young guy, he has helped me a lot since I have been here in all aspects of football and life. Derek is just someone who is going to lead through actions more than he is through talking. Kind of like Curt (Maggitt), when he did talk, everybody listened. No matter who you are, you stopped and you listened to him."
Offensive lineman Jack Jones
(On how the offensive line has improved as the season has progressed)
"It's a hard position because on the offensive line – and this is how it is and we embrace it – you never get a pat on the back for doing well. You get a pat on the back for when you mess up. Like I said, that's how it is and we embrace that. But I love the challenge and I know our guys do and we've really grown. I know we had some early adversity. We've really grown through that."
Defensive end Derek Barnett
(On studying film of opponents and offensive tackles)
"I watch a good amount of film. Coach [Jones] pushes me a lot. He's always on me and we're always taking ball nonstop throughout the week about who we're playing. I basically just look at their sets, are they a puncher, where their hands are, how physical they are and just try to pick up on any little things as possible to give me a little advantage."
Quarterback Joshua Dobbs
(On what kind of confidence the team can take from a series of come-from-behind wins)
"It gives you confidence, but it also raises the question of 'If you can do it when you're down 14, why can't you just do it from the beginning of the game?' It might change the whole outcome and complexion of the game. That's what we're trying to get across and that's what we're trying to understand is that we need to come out stronger in the first half and not make uncharacteristic to put us in large deficits that we have to fight out of. Just execute from the beginning of the game and play a full 60-minute game.