in progress.
Player interviews before practice
Video
Notes
DB Baylen Buchanan was limited during the open portion. Nothing new with Tyus Fields, Eric Gray or Trey Smith.
Pruitt works on the far side of the field with the DBs pretty often and can be relatively inconspicuous during open periods, which is usually just position-specific drills. Not today.
Pruitt was working really closely and vocally with his young defensive line for most of the first of three open periods. Spent some brief 1-on-1 time working with Michigan transfer Aubrey Solomon after a drill.
Observation, not a value judgment: I'm not sure I heard a word on the practice field from Tyson Helton a year ago. Jim Chaney is as loud as any coach on the field. Earlier today, Ty Chandler called him "a character." Just a total departure from a personality standpoint.
-David Ubben
The Vols continue to cross-train offensive lineman, something Marcus Tatum discussed during player availability earlier today. Tatum and Jahmir Johnson are working at guard and tackle, but notably, when Tennessee did 5-man line work Wednesday, both were at tackle, flanked inside by Jerome Carvin (LG), Ryan Johnson and Riley Locklear (RG).
Ty Chandler remains the most natural pass-catcher of the group. It will be interesting to see what Eric Gray's addition to that unit will look like in the fall.
Pruitt worked some on the side with Michigan transfer Aubrey Solomon. The former 5-star continues to rep with the 1s — perhaps a sign of UT's confidence he'll win his waiver appeal? I don't know.
I saw Jarrett Guarantano hit Deangelo Gibbs and Josh Palmer in-stride on deep 9-routes. Tennessee has some interesting pieces at receiver but the group remains very redundant. When the Vols spilt into possessions, Jordan Murphy is the only wideout in the slot who has ever caught a pass in college.
edshirt freshman defensive lineman Kurott Garland made his first appearance of the spring, running laps with trainers in the indoor facility.
-Simonton
Tennessee coach Jeremy Pruitt on Monday bemoaned the inability of his defense to control the line of scrimmage during Monday's full-pads work, suggesting he was unhappy with the play of the defensive line.
Tennessee's offensive line appeared to do less shuffling during drills on Wednesday with most of the important players sticking in the same positions.
Emmit Gooden, normally at nose tackle and sporting a noticeable cast on his wrist/hand, was working at defensive end with redshirt freshman Kingston Harris working at nose tackle and Solomon completing the first trio. Rocker was hard on Harris and made the group do the rep two or three times before he was pleased enough to roll in another group. The second group had redshirt freshman Greg Emerson at nose flanked by sophomore John Mincey and converted tight end LaTrell Bumphus.
Georgia transfer Deangelo Gibbs, who played defensive back in his two seasons with the Bulldogs, certainly looks to be making the transition to offense rather smoothy for the Vols.

He's shown to have pretty good hands and his natural athleticism stands out watching him run routes, and on Wednesday he made an impressive one-handed snag while appearing to keep a foot down inbounds along the sideline. The catch drew some audible reaction from his teammates.

Gibbs also had a nice catch on a long throw from Jarrett Guarantano as Tennessee worked on the downfield passing game on Wednesday.
-P. Brown
Pictures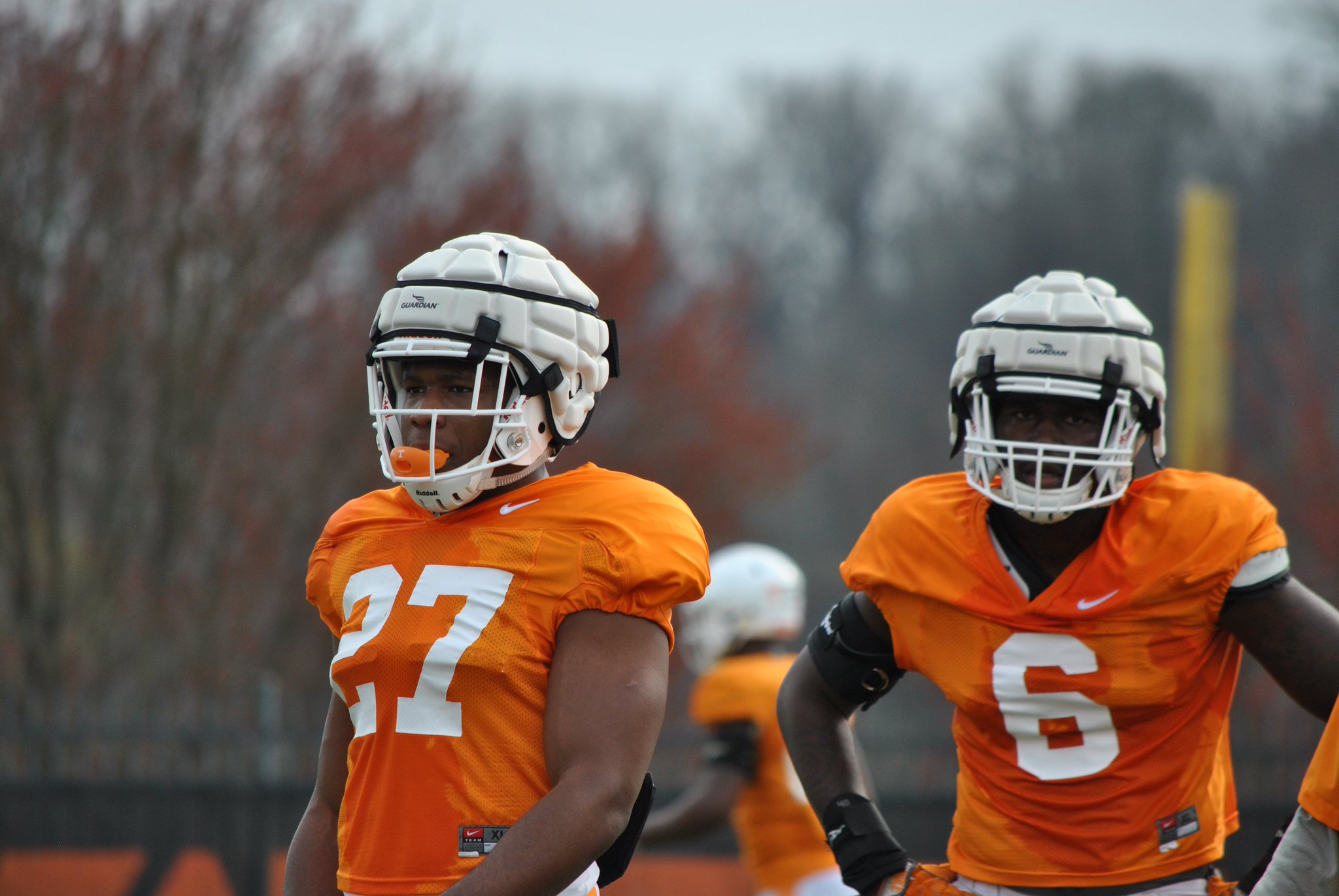 Last edited: