Positionally, Wanya Morris and Nathan Niehaus spent time at left tackle, Jerome Carvin and Jahmir Johnson at left guard, Riley Locklear and Ryan Johnson at right guard and Marcus Tatum and K'Rojhn Calbert at right tackle.
Trey Smith was out there observing again today, but unlike Thursday, was also sporting a helmet while watching. Finally, Brandon Kennedy got some work in today. He was mainly with the secondary group, taking split reps with guys like Ollie Lane, Eric Crosby and Jarius Abercrombie.
Jarrett Guarantano was fairly sharp overall, but struggled to connect with Jauan Jennings. On three straight occasions, they duo couldn't get on the same page. Jennings had a drop, Guarantano threw high and then Jennings slipped on the final attempt. Among the receivers, two things stood out Saturday: Deangelo Gibbs is smooth, both running and receiving, while UT doesn't have a ton of options at the slot right now. I'm sure they'll move guys around, but during routes on air, the only two scholarship guys taking reps inside are Jordan Murphy and Jacquez Jones.
In terms of just the eye test, freshman Jackson Lowe looks good. Also, James Brown is finally participating with the unit after missing the last two seasons with injuries.
At linebacker, Will Ignont continues to assert himself as the leader of the group, barking instructions and making sure the young guys like Quavaris Crouch and JJ Peterson keep up. Crouch went through a couple drills 2X, with coaches really harping on his footwork.
Pruitt was quite complementary of Bryce Thompson, Kenneth George (twice in fact for using his hands) and Maleik Gray, who was with the corners today after working at safety on Thursday.
-Simonton
Peterson isn't 100 percent — Vols coach Jeremy Pruitt said on Thursday he is "banged up" — and headed to join the players working out on the side as the Vols went into their team periods as the open-viewing portion of practice concluded.
Gooden and redshirt freshman Kingston Harris look to be getting the most work at the nose tackle spot, while Michigan transfer Aubrey Solomon is working as a defensive end alongside Harris and Ja'Quain Blakely. Converted tight end LaTrell Bumphus and redshirt freshman Greg Emerson were getting work at the defensive end spots with another group during three-man drills.
After getting nearly all of his work during position drills in Thursday's opening practice at left tackle, five-star freshman Wanya Morris looked to work exclusively at right tackle during drills on Saturday.
Tennessee's quarterbacks were sharp during Saturday's routes-on-air periods with few football hitting the turf as the Vols worked mostly on the short passing game with offensive coordinator Jim Chaney harping on their ball placement.
Redshirt freshman JT Shrout, in limited viewing, appears to have upped his consistency in terms of his accuracy.
Jarrett Guarantano also put some good zip on the ball and appears to have quickened his release.
Freshman offensive lineman Chris Akporoghene and redshirt defensive lineman Kurott Garland, mentioned on Thursday as players who were temporarily being held out of practices for injury reasons, have yet to begin practice.
-Patrick Brown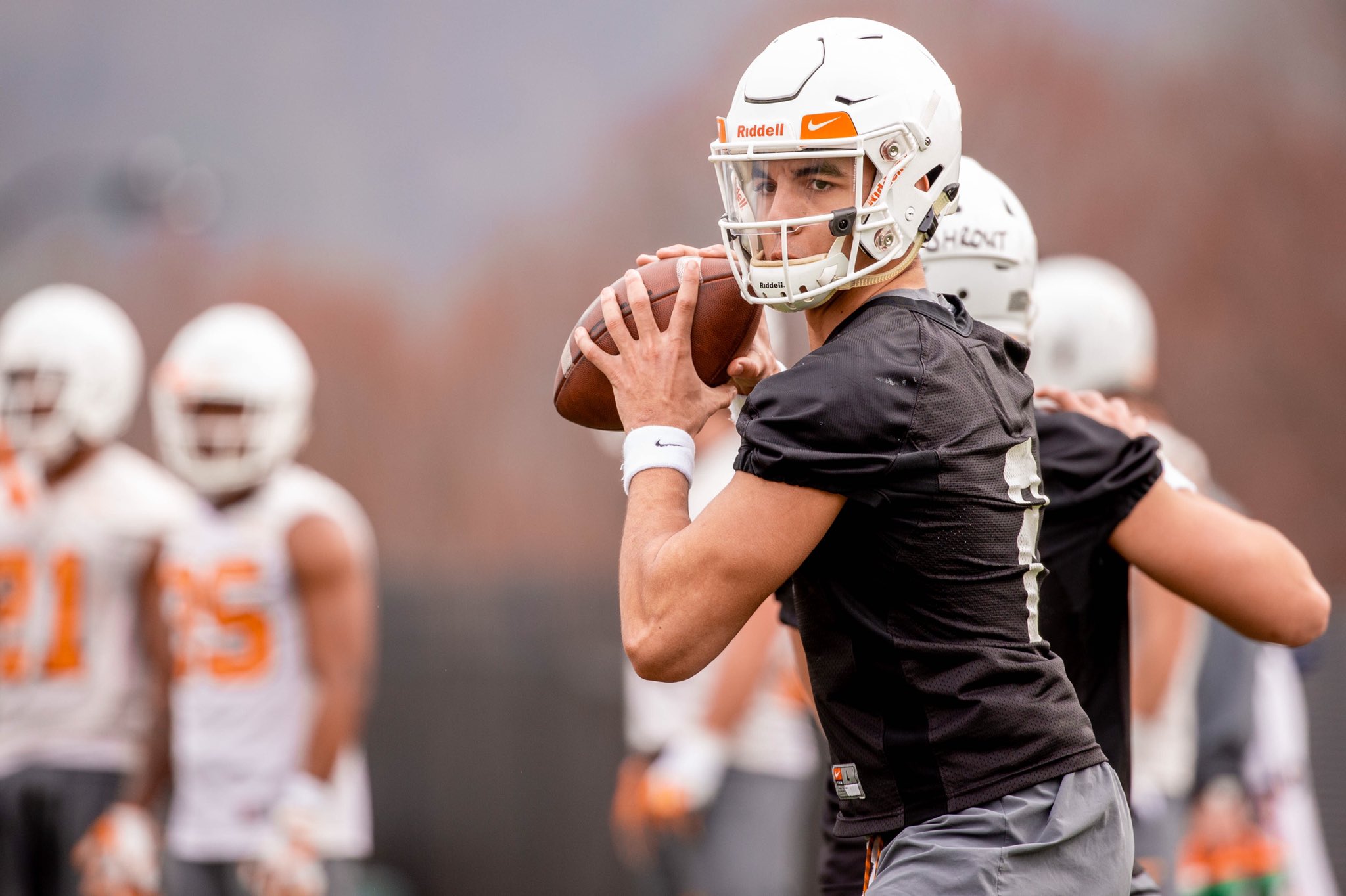 Last edited: