I've enjoyed UT basketball for many years. I used to keep up with Bernard King's points while listening to John Ward on the radio as a young boy. I enjoy reading the many comments posted on this forum by people more knowledgable about basketball than myself, but rarely post. However, I thought I would show this because there may be some other stats junkies like myself.
I've been impressed with the consistency of this team. I thought it would be interesting to divide each game into "quarters" by recording the score at the 10:00 mark of each half from the ESPN game flow chart. So, I put together just a few stats by "quarter" (first 4 rows) and cumulative by "quarter" (next 4 rows). You'll find rows showing: 1) points for, 2) points against, 3) difference between the two (+ for UT outscoring), and 4) number of games UT was positive - even - negative for that period of time. I don't want to get too long, but I'll post an example of how to read it below the charts if this isn't clear.
I find it very impressive we have only been outscored in 18 of 88 ten-minutes stretches.
I can't swear for complete accuracy, but I'm sure someone will let me know if it's not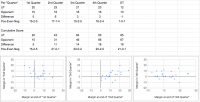 For example, reading the 2nd Quarter column shows the results from 10:00 left in the first half until halftime. The numbers above show UT averaged outscoring their opponents 23-16 for these 10 minutes, for a 6 point margin (all numbers are rounded - it was 22.5-16.2 rounded to one decimal place). The last row in the first grouping says we outscored our opponents 17 times, tied them 1 time, and were outscored 4 times during this "quarter."
The second set of numbers show the average score at halftime as 43-31, for an 11 point advantage (again rounding issues), and we have been ahead in 21 games, tied 0, and behind in 1 game at the half.
In the charts, Margin refers to the amount UT is ahead (- if behind). So the five dots to the left of the y-axis on the first chart show we've been behind after the first "quarter" 5 times, but have outscored or tied our opponent during the 2nd "quarter" in each of these 5 games. Taking the upper left dot on the first chart, we were behind by 10 at the halfway point of the first half, but outscored our opponent (West Virginia) by 20 during the last 10 minutes of the half.
Hope that's clear.