Hadn't noticed this before. LOVE the various VOLS logos.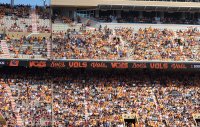 I feel there is an effort to help fans fall back in love with the Vols.
The announcement when the stadium opened was like boarding a plane. It was just different, and fun.
Things are different y'all.
I know, lame. But things are changing. For the better.