Joined

Sep 7, 2004
Messages

1,453
Likes

5,269
Tennessee vs The Maxims vs South Carolina

- or -​
Vanderbilt University at Knoxville vs the Maxims vs South Carolina​
For those of you wondering, the alternate title is my opinion of the black uniforms. I had to remind Elder Son&Heir, who was attending the game with me, to slap sh*t out of me if I started yelling, "Anchor Down!"
As a famous
summa cum laude
graduate of the University of Alabama once said, "And that's all I'm gonna say about that."
In the classic western
True Grit
(the real one, not the Coen brothers version, which was a very good movie in its own right, but...) John Wayne's character, Marshal Reuben "Rooster" Cogburn, snarls at a Texas Ranger played by Glen Campbell, "LaBouef, you get cross ways of me and you'll think a thousand of BRICK have fell on you!"
Chief Rooster Shane Beamer led his flock of poultry into Neyland Stadium on Saturday intending to get cross ways of HeadVol Heupel and The Mighty Vols. By the end of the first quarter, the flock had been plucked and Smokey was looking up recipes for fried chicken. After the Vols stormed out to a 28-0 lead in the first canto, Beamer and his Booted Bantams must have felt as if a thousand of brick had landed on them.
Halftime was dedicated to Brave Sir Aldra of the Concussive Hit. One of the most beloved Vols of all time, Al Wilson embodied everything we fans want our Vols to be. He was a leader, his "motor" ran the entire time he was on the field and he saw that field as his personal domain. Anyone entering that domain with ill intent would be grateful if the impact only
felt
like a thousand of brick! Seeing him on Shields-Watkins Field Saturday, one came away with the notion that, even at 44, he could strap it on and still dominate. After the presentation of the certificate confirming his enshrinement in the College Football Hall of Fame, Al thanked the fans by turning to each side of the stadium, bowing and touching his heart. In many ways, Al Wilson IS "The Spirit of The Hill." Thanks for the memories, #27. And Godspeed in everything you do.
********​
They were part of the biggest battle in American history. On 26 September 1918 the First US Army launched an offensive along a sector of the Western Front stretching from Verdun west for twenty miles. Ten American divisions totaling some 280,000 men plus support troops would kick things off.
They were all part of the American Expeditionary Force, or simply the AEF, had been formed due to the will and force of one man: General John J. Pershing. Pershing had insisted that as American combat troops deployed to France to help the British and French fight the Germans, those Americans would fight only as Americans and only under American command.
In the depths of the Argonne Forest a newly-minted battalion commander, Major Charles Whittlesey, and the men of the 1st Battalion, 308th Infantry, 77th Division waited for the morning. Whittesley was a Harvard graduate and had been a very successful attorney in New York before the war.
Major Charles Whittlesey's battalion would jump off at dawn with the rest of the 77th Division, in the heart of the vast Argonne Forest. Already, a thick fog and chill air were making the Major's head cold worse and he could barely speak above a whisper
Any major attack during the Great War was a catastrophe for the attackers and the Meuse-Argonne Offensive was no different.
Whittlesey's battalion had moved out in the same thick fog and under heavy fire but made good progress. His appointment with destiny would come in a few days.
The attack quickly degenerated into a tangle of units, as untested leaders and doughboys alike got lost, got hit, got wounded, and got killed.
By midnight, the lines had moved a little but not enough to satisfy General Pershing and he issued orders that the attacks continue "regardless of losses."
Nobody really knows how many doughboys were hit on the 26th of September. Estimates range to over 20,000 or so which would rival the Civil War battle of Antietam as the bloodiest single day of combat in American military history.
… And that was just the first day of an operation that would last until the Armistice on 11 November.
Whittlesey's battalion got cut off during that advance but was able to re-establish contact quickly. His runner during that time, Jack Herschowitz, later recalled, "Oh, he was a great guy. He was from Massachusetts, and what a tall guy and a fair officer – he liked his men. … (H)e was always in front, what a good officer, and me, I'm right next to him because I'm his runner."
Herschowitz was detailed to find regimental headquarters along with an officer and one other soldier. The trip back was no picnic, Jack Herschowitz earned a DSC during a fire fight along the way.
On 2 October, Major Whittlesey's battalion jumped off again. They were accompanied by the 2nd Battalion under Captain George McMurtry. The two battalions had been badly chewed up and no replacements had come up. On paper, the battalions should have numbered about 1600 men. As it was they totaled less than half that. Whittlesey and McMurtry were forced to send a company each off to the left to secure that flank as the French who were supposed to be there, weren't. The two companies promptly lost contact with their parent units.
Their objective was a position on the slope of a hill above Charlevaux Creek just below an old mill of the same name. By late afternoon, they were on the objective and sent runners back to Regimental to tell them where they were. The two commanders arranged their men in a rough oval spread out large white panels to identify them to any allied aircraft and settled in to await relief. The men had left their overcoats and blankets behind to be brought up by support troops. Rations were short and water was a problem until they found a spring. That evening, division sent out a battalion to make contact with the isolated Americans. Less than one hundred men from one company straggled into Whittlesey's lines. They also had no contact to the rear. The total number of effectives available to Whittlesey was about 550.
The next morning patrols were sent out to try and re-establish contact with headquarters. All returned with the same story, there was nobody in any direction who didn't
sprechen
anything but
Deutches.
They were surrounded.
Distracted and disorganized, nobody at regimental, brigade or divisional headquarters noticed that an entire battalion had disappeared for over a day. Once they figured that out, it was a question of what to do about it. They still didn't quite know where Whittlesey's unit was.
As news of the isolated men spread, and made its way to the Home Front, relief of the besieged became a priority of American First Army.
Part of the effort to break through to Whittlesey was an attack by the 328th Infantry of the 82nd Division. A lanky Corporal by the name of Alvin C. York was an automatic rifle squad leader in that attack.
In an epic small-unit battle, Whittlesey and his dwindling band of soldiers resisted German attack after German attack, turned down an offer of "honorable surrender" and hung on by their fingernails until a relief operation finally broke through FIVE DAYS LATER. Whittlesey, McMurtry, Captain Nelson Holderman, Sgt. Benjamin Kaufman and Pvt. Archie Peck were awarded the Medal of Honor. Whittlesey accepted on behalf of his men.
Of the 550 men present on 2 October, only 194 were still standing at the end. The rest were either killed, wounded or missing.
After the relief, the agony went on. The offensive finally began to gain significant ground as the German army began to collapse in late-October, but casualties were still horrific. Many a doughboy who had survived earlier fights died in the last hours of the war as American units scrambled to cross the Meuse River and take Sedan before the Armistice. It was pointless. The documents had already been signed and generals had shaken hands. With typical Great War perversity, the war would end on a schedule.
At 1100 on 11 November "the eleventh hour of the eleventh day of eleventh month" the guns fell silent.
The killing was over. The dying and suffering went on.
Near Romagne, France is the Meuse-Argonne American Cemetery. 14,246 doughboys lie there. It is the largest American military cemetery in Europe. In his
Final Report
General Pershing noted that in the last six weeks of the war, the AEF averaged 6,000 - SIX THOUSAND – men killed in action PER WEEK. A high percentage of those fell in the tangle of the Meuse-Argonne.
Major Charles Whittelsey came back to New York and tried to pick up where he left off, but the memories of those days cut off behind enemy lines would haunt him. His dreams were tormented by scenes of brave young Americans shot down, immolated by flame throwers, disintegrated by artillery shells or dying in anguish in the aid station near his P.C. He did what he could to aid his fellow veterans and was part of the Honor Guard for the Unknown Soldier in the company of George McMurtry and Sgt. York among others as the procession ran from New York to Arlington. Each time he did something like this, the nightmares got worse.
At the ceremony at Arlington, Whittlesey sat with George McMurtry with a silent Alvin York nearby. Whittlesy turned to McMurtry, "George, I shouldn't have come here. I cannot help but wonder if that might be one of my men from the Pocket. I shall have nightmares tonight and hear the wounded screaming once again."
His friends urged him to get away. A vacation might be just what the doctor ordered. On 26 November 1921, he boarded ship for a trip to Havana. The first night out, as they neared the Virginia Capes, Whittelsey had dinner with the captain and several couples. After dinner, one of the couples found him leaning against the railing. They exchanged pleasantries and bade each other good night. Somewhere along the way that night, he simply jumped over the side and was never seen again.
In his cabin were found eight letters. To a friend he wrote, "Just a note to say good bye. I'm a misfit by nature and by training and there's an end of it." Another was addressed to George McMurtry who read it and then burned it, probably at Whittlesey's request.
*******​
So, how did the Vols do against The Maxims?
1.
The team that makes the fewest mistakes will win.
The first quarter Saturday was - simply put - a firepower demonstration by Our Beloved Vols, the likes of which has not been seen in Neyland Stadium in many a year. The Chickens drove down to the UT 2 midway through that quarter only to be thwarted when Jaylen McCullough stepped in front of a Jordan Burch pass in the end zone. Allowing any opponent, not to mention an SEC one, to forge a 28-0 lead in the first quarter is virtually always a fatal mistake. After that, it was merely a question of how long that headless bird could run around before being put in the fryer.
2.
Play for and make the breaks. When one comes your way … SCORE!
The Chickens coughed up a fumble and then had the above pass interception in the first canto. Both resulted in Tennessee touchdowns.
3.
If at first the game – or the breaks – go against you, don't let up … PUT ON MORE STEAM!
The Vols were never in any danger after South Carolina's first possession which went exactly nowhere.
However …
After that overwhelming display, even Vol QB Hooker admitted in a post-game interview that the Vols took their foot off the gas. HeadVol Heupel now tried to gear his offense to chew up time. This writer couldn't help feeling at the time that was a mistake. As the game progressed, Elder Son&Heir grew weary of me repeating, "Dammit! Just run the offense!" Fortunately, this was South Carolina and not Alabama or Florida, both of whom are perfectly capable of matching Tennessee's single quarter effort. I'm sorry, Coach, but if the Vols win by 70, they win by 70. As Tom Osborne once said, "Well, if they didn't want us to win by 70, they shouldn't have let us win by 70."
4.
Protect our kickers, our quarterback, our lead and our ballgame.
Given that this is still very much the same team as last season the question has to be asked, "Who ARE those guys?" Just shows what a little inspiration, some good coaching and engendering a belief in themselves (that last discussed
ad nauseum
on these pages last year) can do. That being said, allowing Hooker to be sacked six times is troubling at best. Another issue is that he stands flat-footed too often in the pocket. Hopefully, an off season under the guidance of Sir Peyton of New Orleans can correct that.
5.
Ball! Oskie! Cover, block, cut and slice, pursue and gang tackle … THIS IS THE WINNING EDGE.
Tennessee may not yet be ready to challenge the elites of college football on a regular basis, but by The Almighty they seem to be headed in that direction.
6.
Press the kicking game. Here is where the breaks are made.
Velus Jones has emerged as a dandy return man with Paxton Brooks on kickoffs helping keep opponents backed up. Some of the "yips" mentioned previously still persist and that has to be addressed.
7.
Carry the fight to South Carolina and keep it there for sixty minutes,
More like the first quarter with some isolated glimpses later on. The team took the entire third quarter off managing only ONE first down whilst allowing the Feather Merchants to score two touchdowns.
Next up is the return of Lane of the Burning Mattress and his Ole Miss Baby Blues. This promises to be a "track meet" and whoever scores last will probably walk away with the win.
Suggested Reading:
Henry Berry,
Make the Kaiser Dance
(Jack Herschowitz quotes)
Joe McCarthy, "The Lost Battalion"
American Heritage, October 1977
Thomas M. Johnson,
The Lost Battalion
Edward Lengel,
Never In Finer Company
and
To Conquer Hell
(suicide note and other quotes)
Laurence Stallings,
The Doughboys
Major Charles Whittlesey (left) on the site of his battalion's epic stand. (US Army)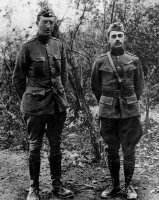 Last edited: