Joined

Sep 7, 2004
Messages

1,803
Likes

7,980
Tennessee vs The Maxims vs Missouri​
a/n: I apologize for my tardiness but I had to track down my Muse which was shacked up with a Skunk Ape in the middle of the Great Dismal Swamp.
Last week, yours truly stated: "As the first half unfolded, your Fearless Scribe had a thought that Vol fans may, just may, have been getting a glimpse of what Tennessee could look like in a couple of years assuming the team continues to improve and really begins to learn HeadVol Heupel's system. That's a big assumption, but if true, the Vols could well be on the way to being one scary football team in a few years."
Long-suffering Vol fans got more than glimpse Saturday afternoon. Tennessee rolled in to the Show Me State as 3-point underdogs with doubts being raised on these very pages about quarterback Hendon Hooker, HeadVol Heupel's coaching ability, the contents of Smokey's water bowl,
ad infinitum, ad nauseum
. Tennessee left Missouri with a 38-point victory that wasn't that close! Now, the issue for Heupel and crew is to keep these kids grounded, put Mizzou in the rear-view, and focus on the upcoming tilt with a flock of Carolina poultry.
As problems go, that's a nice one to have.
Reality check: We simply cannot declare that Heupel is the Second Coming of Neyland in Glory based on five games. We have felt this way before only for the team to implode and the University to announce yet another coaching search. Mizzou was obviously not prepared for Tennessee's brand of play and kept shooting itself in the foot much as the Vols did against Florida.
Bearing all those caveats in mind, seeing the Vols absolutely dominate an SEC team was one helluva lot of fun. Also, your Humble Scribe stands by last week's assessment: IF they can recruit the right talent AND get those kids to "buy in" AND continue to develop the talent they do have, Our Beloved Vols
will
be one scary football team in another year or so.
*******​
26 October 1942, VF-10 Ready Room, USS Enterprise, near the Santa Cruz Islands, South Pacific Theater of Operations
Swede was right royally p*ssed off.
The day before his and seven other F4F-4
Wildcat
fighters of USS
Enterprise's
(CV-6) Fighter Squadron (VF-10 or Fighting 10) as well as five SBD
Dauntlesses
from Bombing 10 and three TBF
Avengers
from Torpedo 10 had been launched on the orders of Admiral Kinkaid on a seek and strike mission toward a reported sighting of the Japanese fleet. The fact that none of the planes involved had anywhere near the range to reach the contact area was lost on the Admiral. It was a wild goose chase.
It was after sunset before they headed back and only a few of the pilots had ever made a night landing, let alone been trained to do so. Worse than that, the Admiral had moved the task force away from "Point Option" without telling anyone. Point Option was a designated spot in the ocean the flyers were briefed to return to and it was sacrosanct that the carriers be there. Oh, and he ordered strict radio silence and ordered the "YE" homing beacons turned off as well.
For the returning planes, the fleet could literally be anywhere in a roughly 100 mile radius. Swede later recalled, "To leave us out there at Point Option without any word was criminal."
What had been a fairly neat formation of 15 or so aircraft quickly became a milling mob as every pilot had a serious "whatinthehelldoIdonow" moment.
Racking his brain, Swede suddenly recalled having seen a small oil slick behind the carrier, the result of a leaking bearing seal. He descended to wave top level hunting for that faint sheen of oil. Orbiting, he turned on his landing lights as his friend and room mate "Whitey" Feightner dropped down and flipped on his lights as well. And there it was. Swede and Whitey turned to follow the slick and the rest of the planes, low on fuel, followed them.
The SBDs salvoed their bombs to increase range but two of the eggs were actually armed and exploded as they hit the surface riddling the planes that dropped them with shrapnel. Both SBDs would be forced to ditch and their crews picked up later.
Swede and the remaining planes found the carrier and began to land. Swede's landing was fine except his wingman was tucked in so tight and it was so dark that the wingman didn't see that they were on final. After his Wildcat stopped, Swede saw his wingman's prop whirling just short of his right wing. Despite that all six fighters (one guy had suffered a mechanical failure and bailed out, never to to be seen again) made it down and cleared the wires as the SBDs came in. The first landed and moved forward. As the second landed the third plane ignored a wave-off and crashed into him. The third plane's propeller chewed up the tail of the second and missed the rear gunner by a matter of inches. During the time it took to clear the crash, the three Avengers ran out of fuel and ditched with a gunner from one of those planes being killed. This goose chase of a mission cost one fighter, four SBDs and three Avengers, not to mention the lives of one pilot and a gunner, all without the Japanese having to fire a shot.
Swede wanted to storm up to "Flag Country" and vent his spleen on the denizens therein, but needed to get below and start the planning for tomorrow's missions. It promised to be a long day.
Hailing from eastern Montana of sturdy Czech stock, Swede had joined the Naval Aviation Cadet Program in 1937, earning his commission and his wings in 1939. He was then assigned to the USS
Yorktown's
(CV-5) Scout Bombing Squadron, VS-5. By the time of Pearl Harbor he had two years under his belt and was flying the Douglas SBD Dauntless dive-bomber.
On 7 May 1942, the Battle of the Coral Sea was joined. It would be remembered in history as the first naval battle where neither fleet ever sighted the other. Swede took part in the morning attack on the Japanese carriers and pressed his attack on the light carrier
Shoho
planting his 1000 lb bomb square on the flight deck along with approximately 10 others.
Shoho
succumbed to the damage and Cdr. Bob Dixon, leading
Lexington's
Dauntlesses, radioed, "Dixon to carrier! Scratch one flattop!" Pressing his attack through intense anti-aircraft fire and getting a confirmed hit on
Shoho
earned Swede the Navy Cross.
That afternoon, Swede was assigned to lead seven other SBDs on what was termed an "anti-torpedo bomber patrol." This foolish misuse of strike aircraft was compounded when Swede's flight was jumped by a formation of Japanese "Zero" fighters. The Zeros were 100 mph faster than the SBDs, lighter and more maneuverable and much more heavily armed. Four of the SBDs were blasted out of the sky on the Zeros' first pass and the rest scattered. Swede found himself boxed in by three Zeros. He had practiced defensive tactics and now put those to use. In a wild furball, Swede used his two .50 caliber nose guns and relied on his rear gunner's twin .30 guns to keep the nimble Japanese fighters at bay. Swede later recalled seeing all three Zeros on fire as they flew away, but the Navy only gave him credit for one. Either way, this action earned him a second Navy Cross for the day.
In return for the
Shoho,
Japanese carrier planes sank the
Lexington
and seriously damaged
Yorktown.
However the Japanese suffered heavy damage to their two surviving carriers and withdrew so the battle is scored as a strategic American victory.
Upon arrival in Pearl Harbor, Swede was assigned to the fresh Air Group 10 and his skill against the Zeros saw him tapped to transition to the F4F Wildcat fighter. Those belonged to VF-10, the "Grim Reapers" led by Jimmy Flatley. Swede was still training on the stubby Grumman fighter when
Yorktown
pulled out to join
Enterpris
e and
Hornet
for the Battle of Midway.
Yorktown
was lost in the battle.
Enterprise
went on to support the Guadalcanal landings in August and returned to Pearl after being damaged in the Battle of the Eastern Solomons. Her tired Air Group 6 was landed and Air Group 10 came aboard. She departed Pearl Harbor to join up with
Hornet
in time for the upcoming battle.
Swede only got a couple of hours sleep after his harrowing landing on the 25th. The first sighting of the Japanese carriers came in at 0740. This was passed up the line and the ever pugnacious Halsey radioed back, "ATTACK-REPEAT-ATTACK." Admiral Murray, aboard
Hornet,
didn't hesitate and ordered her to launch everything she could. Her 58-plane strike force passed a Japanese strike force on a reciprocal course totaling 115 planes. Neither side deviated from their assigned missions.
Kinkaid dithered and finally ordered a modest 16-plane strike of his own. Disturbingly, he ordered them to proceed without forming up with the
Hornet
strike force, diluting the American effort. The
Enterprise
strike was then spotted by Zeros escorting the second Japanese strike force and savaged, eight planes were shot down and another forced to turn back with damage.
While all this was going on,
Enterprise's
radar spotted the incoming Japanese. Again Kinkaid dithered. Swede was raging in his cockpit sitting on deck with the rest of VF-10. They needed to launch rightthehellnow in order to gain altitude and hit the Japanese from above with the sun at their backs. Finally, as the Japanese were passing over
Enterprise
(which hidden under clouds) toward
Hornet
the word to launch was given. Swede launched, firewalled his throttle and tried to catch up.
Swede found a string of "Val" dive-bombers and shot down the last in line just as the formation broke apart and executed a textbook attack which scored several hits on
Hornet.
He then spotted the following strike and repeated the feat, bagging another Val. Turning back towards
Enterprise
, he spotted a formation of "Kate" torpedo bombers headed for her. He lead his section, call sign "Reaper 7" into the attack. Swede followed the Kates as they went into the clouds and fog and opened up at point-blank range. Five Kates fell to his guns probably saving the carrier. The action was so intense he actually turned off two of his .50s to conserve ammo turning them back on to blast the last of them. He got part of a sixth Kate but she also flew into AA fire from the battleship
South Dakota
and the destroyer
Smith.
The Kate crashed into
Smith
killing 57 of her crew. Swede would be haunted ever after by the thought that he may have contributed to those deaths.
Hornet
was left a burning, drifting, hulk that was finally sunk by Japanese destroyers in the wee hours of the 27th.
Swede's actions that day, with seven confirmed kills, earned him a third Navy Cross.
Swede was sent to Henderson Field on Guadalcanal along with most of Air Group 10 and later was transferred home and spent the rest of the war training new fighter pilots in the deadly arts of air combat. He stayed in the Navy after the war, serving as Air Boss of the
Essex
during the Korean War and ended his career as Captain of the super carrier USS
Constellation
during Vietnam. Passed over for promotion to admiral, Swede retired from the Navy on 1 July 1970.
Captain Stanley W. "Swede" Vejtasa launched on his final patrol on 23 January 2013. His indomitable spirit guards us yet.
********​
So, how did the Vols do against The Maxims?
1.
The team that makes the fewest mistakes will win.
Tennessee scored on all but one of its offensive possessions and on that one they drove down to the 1-yard line before turning the ball over on downs. For their part, the Tigers were penalized NINE times, three of those resulted in Tennessee first downs.
2.
Play for and make the breaks. When one comes your way … SCORE!
Tennessee's offense took advantage of every weakness demonstrated by the Tigers. The defense played lights out and minus a few big plays throttled the Cats.
3.
If at first the game – or the breaks – go against you, don't let up … PUT ON MORE STEAM!
The Vols took the opening possession and drove down the field culminating when Hooker found a streaking JaVontea Payton for a 35-yard touchdown strike. Mizzou took the next possession and drove down for a field goal. This is the point where previous teams might have started to doubt themselves. But not this time. Tiyon Evans capped a 75-yard drive by blasting through for an 8-yard TD and Mizzou was, for all intents and purposes, done.
4.
Protect our kickers, our quarterback, our lead and our ballgame.
Hendon Hooker answered a lot of the questions Saturday. Now, does that mean the legacy of Sir Peyton of NOLA's legacy is endangered? Erm, no. He is still adapting Heupel Ball and there will be hiccups along the way, but, by The Almighty, when he's on … !!!
5.
Ball! Oskie! Cover, block, cut and slice, pursue and gang tackle … THIS IS THE WINNING EDGE.
Tennessee racked up two interceptions. The one in the first quarter resulted in a UT touchdown. The one in the third ended inside the Mizzou 1-yard line on downs despite three different Vols landing in the end zone. Shades of the 2011 LSU game! Your Scribbler found himself screaming, "How many effing times do we have to score this TD?" Well, in the opinion of the zebras, one more than Tennessee had. Seeing Vol defenders flying to the ball and to the opposing quarterback brought a smile to this old graybeard's face.
6.
Press the kicking game. Here is where the breaks are made.
It is great to see a game where Tennessee's punter is only seen during warm-ups! To offset that, though, the kickoff coverage guys allowed a 100-yard return for a score. I am confident, though, that Coach Ekeler will have a few Words of Prayer with his charges this week.
7.
Carry the fight to Missouri and keep it there for sixty minutes,
Saturday was the most complete game we have seen from Our Boys in many a year.
Q: Has Tennessee turned the corner?
A: No, but we can see it from here.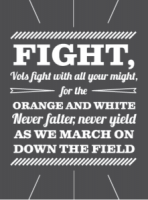 Suggested Reading:
Ted Edwards,
Seven at Santa Cruz
Richard B. Frank,
Guadalcanal
Samuel Eliot Morison,
The Struggle for Guadalcanal
E.T. Wooldridge (ed.),
Carrier Warfare in the Pacific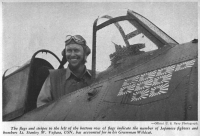 Last edited: