Top-25 Matchup coming up in Columbia!
MATCH CENTRAL: #12 UT at #19 South Carolina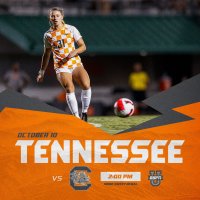 KNOXVILLE, Tenn
. – No. 12 Tennessee is headed to Columbia for a Top-25 matchup at No. 19 South Carolina on Sunday. The game is set to kick off at 2 p.m. ET and will be broadcast on ESPNU.
The Vols and Gamecocks each enter the contest with a 4-1 record in SEC play.
UT is 11-1-0 on the year with its only setback coming against Arkansas in the SEC opener. In their most recent outing, the Vols defeated Florida at home, 2-0.
South Carolina is 9-3-0 overall and fresh off a 2-1 loss at Ole Miss on Thursday. The Gamecocks were picked to finish third in the SEC as voted on by the league's coaches in the preseason poll.
UT owns a 13-10-3 all-time record against USC. The last time Tennessee faced South Carolina was Nov. 6, 2020, when the Vols took a 1-0 victory at home to clinch an SEC East division championship.
UP NEXT:
Tennessee will return home to host Mississippi State at 8 p.m. ET on Friday. The game will be streamed on SECN+.
FASTEST TO 11:
This is the quickest any Tennessee has made it to 11 wins. The previous best start to a season was 2017 in which UT managed nine straight wins, but they were followed by a tie and a loss.
BY THE NUMBERS:
Tennessee has allowed the fewest goals in the SEC (6), has recorded the most shutouts (8), and has the best overall win percentage (.920).
PROTECTING THE NET:
Before giving up a goal at Arkansas, UT's defense tallied 633 scoreless minutes. Through 12 games, the back line has limited opponents to a combined 6 goals, 45 shots on goal and 22 corner kicks.
DIPASUPIL TAKES THE LEAD:
With a goal and an assist against Florida, junior
Claudia Dipasupil
took the lead in total points with 17. She has six goals and five assists on the season.
EVERYONE IS DANGEROUS:
Thirteen different Vols have scored at least one goal this season, and 13 of UT's 35 goals have been scored by players coming off the bench.
SECOND HALF TEAM:
Tennessee is outscoring opponents 23-3 after halftime, has scored seven goals during the final 10 minutes of regulation and has landed two golden goals this season.
AGGRESSIVE OFFENSIVELY:
UT is first in the nation in corner kicks per game (9.42), third in total shots per game (22.50), and is fifth in shots on goal per game (10.50). With 35 goals on the season, the Vols are 12th in the nation in scoring offense at 2.92 goals per game.
FINDING THE NET:
Through 12 games, UT has scored 35 goals, surpassing the total number of goals scored by Tennessee over 15 games during the 2020-21 season (30).