Joined

Nov 30, 2010
Messages

6,117
Likes

38,029
Clips
Video
Notes
Class of 2025 quarterback Deuce Knight of Lucedale, Miss., and Class of 2024 cornerback Cameron Keys of Lynn Haven, Fla., are among the players in attendance for Tennessee's practice this morning. Knight received an offer from the Vols in June, while Keys picked up an offer from Tennessee last month. Both of them have been to UT at least once before.
callahan
When the offensive tackles joined the tight ends for some combo-blocking drills, Crawford was first up at left tackle and Mincey first up at right tackle. Then it was Campbell at left, where he seems to be settled in for now, and Davis at right. Junior college transfer Larry Johnson III is at right tackle and the Vols have redshirt freshman Brian Grant and freshman Shamurad Umarov working at left tackle.
Got a first real look at Tennessee's new-look tight end group during the aforementioned drill, and the Vols have a pair of impressive-looking newcomers there in UC Davis transfer McCallan Castles and freshman Ethan Davis, a former Top247 prospect.
Another new face at tight end is walk-on Ole Miss transfer Luke Shouse. He spent the past three seasons with the Rebels and was an offensive tackle at one point, but dealt with injuries and didn't play in any games.
Dealing with the slick surface gave several Tennessee pass-catchers trouble during routes-on-air work. The Vols primarily focused on option routes based on simulated coverages they'll see and the timing and rhythm seemed to be pretty good. There were misses here and there from the quarterbacks.
One wideout who stood out to me was Chas Nimrod. The redshirt freshman is leading the line at one of the outside receiver positions with Bru McCoy out this spring – McCoy still has a sling on his left arm – and looked really crisp and confident in Thursday's brief viewing. Nimrod was flawless in his route-running as he got in and out of breaks really well to earn praise from the coaches and showed good hands, in particular snagging a dart from Joe Milton III that was thrown behind him – he just effortlessly twisted his body and plucked the football easily on a crossing route.
Ramel Keyton looks solid on the other side. In the slot, Squirrel White looks explosive and Dont'e Thornton looks athletic – it's an interesting dynamic watching him at 6-foot-5 and 205 pounds run routes after the 5-foot-10, 165-pound White – but is still learning some technical things after coming over from Oregon. Kaleb Webb and Nathan Leacock look the part, but also look to still be learning and searching for consistency, which is common for young players.
Defensive end Tyler Baron is limited this spring, but still going through individual drills even though we didn't see him involved on 11-on-11 work on Tuesday. He has a sizable brace on his right arm, it's worth noting.
Running backs worked on some pass-catching with the quarterbacks before the Vols headed outside. One route was a quick little flip-screen where the backs stepped up to pass-block after a play-action fake, turned around and caught basically an option pitch from the quarterback – remember this when Tennessee breaks that out in a game next season. Position coach Jerry Mack was giving Cameron Seldon a lot of individual coaching throughout this drill as the freshman continues adjusting to life in the backfield.
p.brown
This morning was the first day with shoulder pads on. The team was wearing helmets, shoulder pads and thigh pads, otherwise known as 'shells.'
I thought the quarterbacks had a pretty good day, overall. It's the first day in shoulder pads and some rust or acclimation would be understandable. But for the 20, or so, minutes we were out there – we saw some really good throws (on-air) and good-looking drop backs from both of Tennessee's top-two signal-callers.
Milton looked crisp with his throws, connecting on several post and corner routes to Ramel Keyton and Squirrel White down field. The senior was sharp in his check downs as well, as the running backs joined the quarterbacks immediately following team stretch for some work in that regard. The freshman – Iamaleava – was second in line behind Milton for most of our time out there. HE, too, made some good looking throws with no defense, but did miss two (one high, one behind) during the viewing period.
The offensive line continued to cross-train with Andre Karic at guard and John Campbell at tackle. Both are still going with the second group, but they will get their chances with the ones as well as the days move along.
Brian Jean-Mary was extremely animated with sophomore Elijah Herring while doing a drill during individual. The sophomore was taking on a blocker, keeping extension with his arms, shedding the blocker and ripping through with his eyes up field. It was not up to the standards for the coach and he was asked, rather aggressively, to do the repetition again.
This is getting repetitive, but we continue to be impressed by what Keenan Pili is bringing to that group. The former

BYU standout will not be an All-SEC player in Orange, but he's just what the Vols need right now.

Doneiko Slaughter is looking more comfortable in his backpedal and appears to be making corner his home. Brandon Turnage, who was watching from the sideline, is missing some critical reps – as is DeShawn Rucker. There's a lot of opportunities for those freshmen corners to get some work in this spring.
e.cain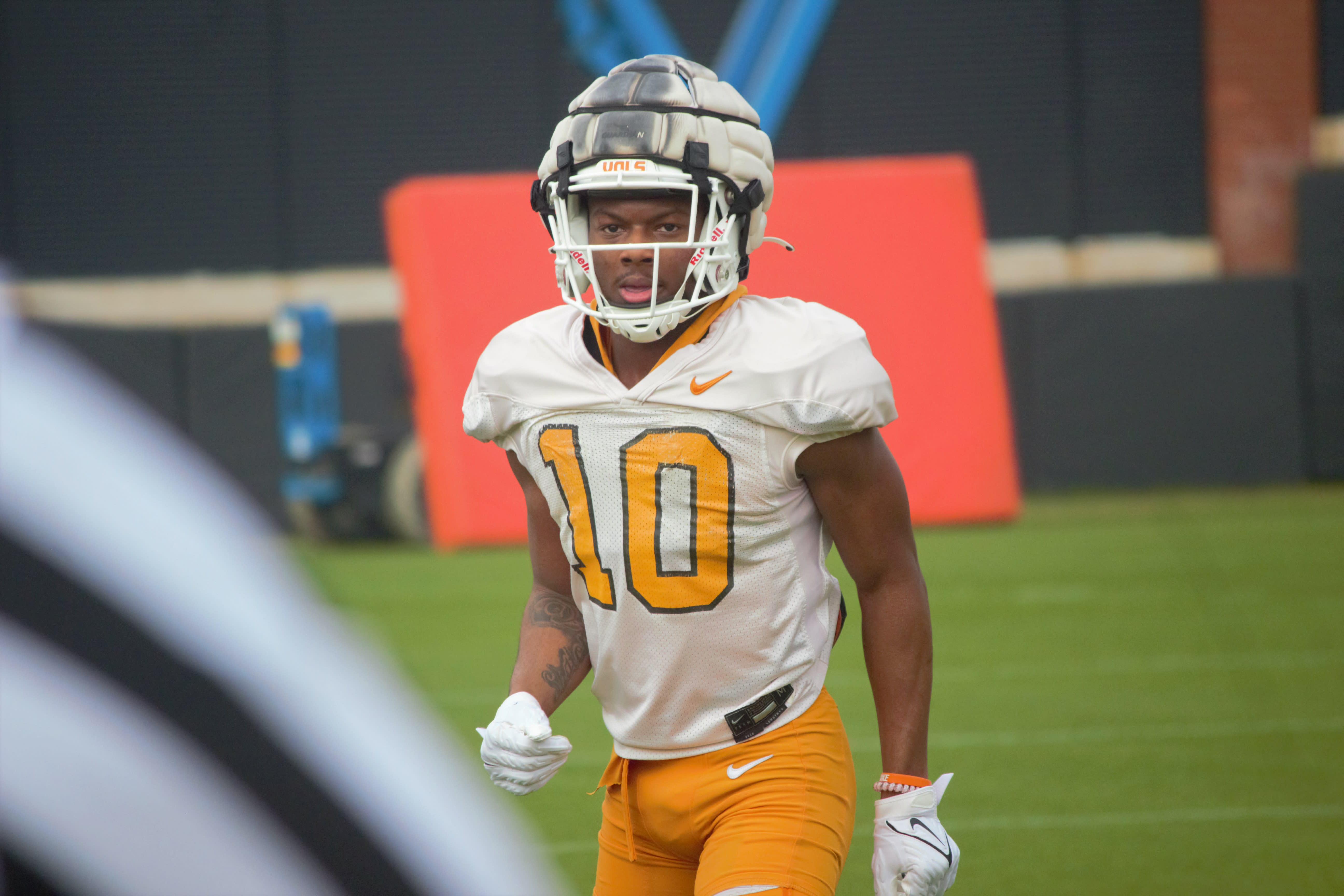 Last edited: