SOLD
2019 Season Football Tickets in Section X2 with parking and the cushions for sale. Although grandfathered, this section requires a $500 per seat donation for new applicants if available. Eight games in 2019 with first ever meeting with Brigham Young University.
Two season tickets, two seat cushions and a parking pass for $1400.00 If a person does not want seat cushions and parking, price will be reduced to $1,150.00.
Tickets will need to be ordered by April 30. I will accept credit card through PayPal for payment.
If interested call
(865) 230-8993
.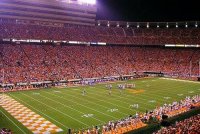 Last edited: