Can you pass the mustard?
Joined

May 29, 2009
Messages

34,185
Likes

97,753
Date:
Saturday, October 9th
Game Time:
12:00 pm ET
Venue:
Neyland Stadium, Knoxville TN
Network:
ESPN 2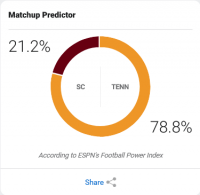 Tennessee returns to Knoxville following a historic crushing of Missouri in Columbia last weekend. The Vols offense has seldom appeared more dominant and they had little trouble dispatching the Tigers in emphatic fashion, giving several starters a short day of work as the back-ups got plenty of run. This week, we go from Tigers to Chickens as first year coach Shane Beamer brings his squad to square up against the Vols.
Keys to Victory:
1. Expose the D:
South Carolina has a solid defense that you would expect from a Will Muschamp assembled team... at least on paper. Georgia is obviously a powerhouse this year and they dropped 41 point on them, which is their scoring average. Their other games have been against Kentucky, EIU, ECU and Troy. ECU is highest in scoring offense at 52nd nationally... Kentucky at 78, Troy 96 and what the heck is an EIU? I think South Carolina gets the benefit of being good on paper but will be exposed in reality.
2. Turnover Margin:
South Carolina does have a ball hunting defense that is 4th in the nation, creating 14 turnovers, with 9 INT's and 5 fumble recoveries. Hendon Hooker will need to continue his trend of taking care of the football and be sharp in the passing game to avoid turning the ball over to a decent SC secondary.
3. Play it Again:
SC is 72nd in the nation in rushing defense and the Vols just rushed for over 450 yards at Mizzou. Do the thing.
4. Score over 30:
Which came first, the chicken or the egg? Three USCe opponents are within the top 12 of total defense nationally. Is that because they played South Carolina, or is South Carolina's offense limited by those defenses? Look for USC to score a bit above their average which means the Vols will need to be around 30+ on the day.
Prediction:
South Carolina is back to having a scholarship QB playing football for them and not a GA, which is cool, I guess. GA Zeb Noland actually has a higher QBR than former highly rated recruit Luke Doty. Ultimately, I think the USCe offense is better than they have been but the Tennessee offense overwhelms them as the Vols stack drive upon drive.
TN 41
USC 24