Can you pass the mustard?
Joined

May 29, 2009
Messages

34,305
Likes

98,646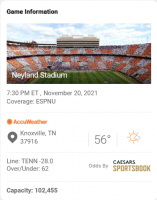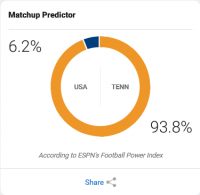 Tennessee is back in action this week against the South Alabama... umm... give me a sec.. Ok, it's the Jaguars. It's another cat so let's get to it.
Keys to Victory:
1. Old Man Bentley:
It seems like a decade since Jake Bentley came to South Carolina and proceeded to average things up to the shock and awe of the announcers who kept going on and on about how he should have been in high school. I can't recall, but I think he was held back a year, making it ridiculous since he was like any other freshman. Now, wee young Bentley is a grizzled old man playing in his
6th season
of college football for his 3rd team! He's always been average, and that's what you've got here. He may not even be playing... heck, I don't know. Some dude named Trotter trotted out for the last two games. Was he benched, injured... don't care. Vols.
2. Name Your Score:
Expect Heupel to pull a score from a hat with numbers ranging between 40 and 77 in pregame. The key will be trying to hit the exact number. It's going to be tough.
3. Development:
This should be a game to allow for the younger players to show what they've got and reward them a bit for not taking their ball and going home to the transfer portal. Expect Heupel to go full-on for a half or through mid 3rd quarter... and then go full-on with the back-ups. The defense especially needs repetitons... though it seems like just about every able bodied man is out there already. See what Milton has. Give him a chance to show progress. If he leaves, we are in dire straits for next season, and he's always one play away, so let's see if he is developing or if we really need to take another 1-2 QB's from the portal. Shoot... maybe Old Man Bentley can squeeze out another year.
Prediction:
It's been a little while since we've been able to walk into a known win. This should be it. Enjoy it. There will be more of the same next week.
TN 63
USA 24