A nomad searching for home
Joined

May 29, 2009
Messages

35,413
Likes

111,456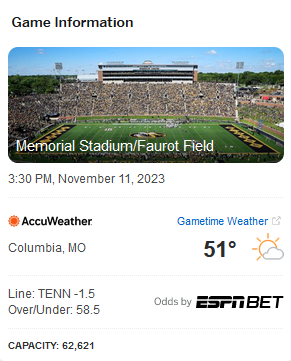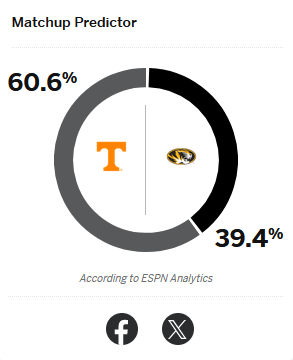 Missouri features a much improved team this season but lacks any real quality wins. Basically, they are Kentucky over the past decade. Their best win is over a 6-3 Kansas State team which isn't bad, but they are not beating anyone with a pulse either. Sure, they played LSU and Georgia tough, but ultimately fell two scores short in both games, so wake me up when you are ready to impress me. Dooley had a ton of close games too.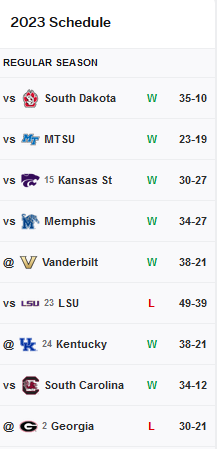 The trouble is, this game comes down to match-ups and Missouri has the tools to carve up a suspect Vol defense. Brady Cook is very good at QB and Luther Burden, the consensus 5* WR from two years ago is all that he was billed to be. Although he is a little banged up from the game against Georgia, he will likely not be limited at all.
On the defensive side of the ball, Missouri is solid in run defense, but that has not meant much for Texas A&M or Kentucky when facing the Vols. I look for Tennessee to continue to do what they want. They are somewhat less effective against the pass and Missouri defensive backs play very physical so officiating will play a very large part in this game. If it's a fairly called game, there should be an over/under of 2.5 PI calls against Missouri, but we've seen how this goes.
Prediction:
The past three weeks have me feeling like the Tennessee offense has hit it's stride. Regardless, I have nightmares of bad quarterbacks lighting up this defense, and Brady Cook is the best the Vols have seen yet. The DL will need to keep constant pressure on Cook to keep him from picking them apart. This has the potential to be a low punting, high scoring game where the last team with the ball gets the win. I think I'm going with that.
TN 41
Mizzou 37