1/16th Cherokee... probably
Joined

May 29, 2009
Messages

32,930
Likes

85,627
Date:
Saturday, October 25th
Game Time:
12:00 pm ET
Venue:
Memorial Stadium, Columbia, MO
Network:
SEC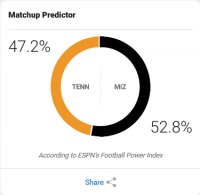 Tennessee continues it's season on the road this week, traveling out to Columbia Missouri to take on the Tigers. Both teams sit at 2-2 and are trying to claw their ways from the bottom of the division to eventually challenge Georgia and Florida which are head and shoulders above the rest. The Fighting Drinkowitz's are in their second season and are still struggling to find their feet after transitioning to a new defense. Sal Sunseri says that can be tough. Tennessee, on the other hand is trying to get their Heuped up offense on track. Who will win the day?
Keys to Victory:
1. Pound the Ground:
Missouri is 129/130 in rushing defense... and this is after facing only a single SEC (KY) opponent. Opponents are getting a whopping 6.2 yards per carry. Traditional powerhouse Southeast Missouri State, who remains winless stacked up 294 yards on the ground. Central Michigan had 174... including -67 from their QB, so they would have been over 200. I'm not even going to tell you what KY and BC did. Missouri gives up an absolute ton on the ground. Even more fun is they give up huge plays. With the Vols inability to connect with the deep ball in any consistent way this season, look for Heupel to absolutely run the living daylights out of Mizzou. I expect Evans to go over 200 yards and Small to get between 75-125, depending on if he breaks a big one. Provided Hooker is good to go, he will be able to add another 75 yards. No matter how they get it, the Vols will rush for nearly 350 yards.
2. Wear them Out:
This is a sub-point of the first one. If Tennessee is able to sustain drives on the ground, they will keep the pace as fast as they can go which will keep the Mizzou defense grasping for fake cramps all day long. By the time the mid-3rd quarter hits they should not be able to keep up with the Tennessee offense and like a slow train coming, they aren't going to be able to stop the Vols.
3. Connor Downer:
Connor Bazalek is a pretty good QB who the offense of Mizzou runs through. He is not the nimblest of foot which is a big plus, however he takes care of the football and is efficient. He won't hit a lot of big plays but he can keep the chains moving and before you know it he's got 300 yards. The scoring offense is 20th nationally putting up 38 ppg, so they are going to score. TN DC Tim Banks needs to keep pressure on him and keep him guessing without leaving the short passes open for quick passes, which they will be inclined to take if we are giving it. I look for us to play a "bend but don't break" defense that tightens up when crossing mid-field. The more Mizzou has to lean on their RB Tyler Badie, the better. Badie is a good back, but Connor is the strength of the offense.
4. Execution:
So much of this season has come down to failure to execute when in position to make a play or senseless penalties. The players need to make the plays when they are position to make them. They have to cut out penalties because the margin of error is slim this season.
5. Mays the Force be with Us:
The quick degradation of the Tennessee offense when Cooper Mays got injured last week was shocking and disturbing. No matter what the reports are this week, there is no way he is 100% this week. The fact that we don't have the ability to plug someone else into his place is even worse. Thanks to the OL who decided to transfer out last year... much love and crap. Anyways, we need Cooper to be at a functional level or for the coaches to have someone prepared to go. This is an SEC roster... is there no one else?
Prediction:
This is a fun one that has some back and forth before the running game completely takes over an exhausted Mizzou defense in the third quarter. Much like Florida did against us, Tennessee weathers the storm and gets stronger as they go. Tennessee rushes for 350 and doesn't pass more than 20 times, most of which are shorter extensions of the run game. They go deep 5 times and connect on 1-2.

TN 41
MIzzou 31