Joined

May 29, 2009
Messages

31,034
Likes

68,866
Date:
Saturday, October 12th
Game Time:
12:00 pm ET
Venue:
Neyland Stadium, Knoxville, TN
Network:
SEC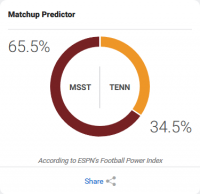 Tennessee remains at home this week after a bizarrely satisfying defeat to the Georgia Bulldogs, 14-43. In the current state of affairs, it was unreasonable to expect a victory vs. the number 3 team in the nation, but there were a lot of positives to be taken from the game that gives fans and players hope for the future. Now, can they translate that hope towards a 12:00 pm kick-off vs a "just good enough to beat you but not good enough to get you hyped" Mississippi State team? Let's take a look.
Mississippi State is coming off of a bye-week and doesn't have a quality win under their belt, unless you want to count Kentucky, and I'm not sure that you do. Kentucky is 2-3 with victories over a bowl of warm cole slaw and a pile of dirty laundry. They lost everyone last year and it's showing. Mississippi State also lost to Kansas State who has not been very good and got obliterated by Auburn. One thing is sure... there are a lot of flaws to be found in this team, though the same can be said for the Vols.
Keys to Victory:
1. Exploit the Defense:
The Tennessee offense has not been explosive this year. It's barely been functional most of the time, but there are opportunities to be found here. Mississippi State is giving up 4.57 yards per carry and has yielded 12 rushing touchdowns. That's including games against the Louisiana Cajuns and mighty Toledo. Holy Toledo! If the Vols can establish the run, and Chaney does not fall in love with the passing game too much, they should be able to keep the chains moving. Miss State is 85th in passing defense, but they are giving up over 8 yards per attempt and over 14 yards per completion. That's not a recipe for winning. True freshman Bo Nix absolutely torched them for 16 yards per attempt. Look for Chaney to exploit the weak pass defense... possibly a bit too much to the cost of the run game. Regardless, Tennessee can get yards and points with solid play on Saturday.
2. Mystery Box:
Miss State has a bizarre penalty for violations costing 10 players a total of 8 games each on the season. The coaches get to decide who sits and when, and they don't reveal this until gameday. Ultimately, it's like a mystery prize box. Sources expect most if not all players to play against Tennessee (of course), but there may be considerable rust. Not really sure what we will get here.
3. DL and LB Play:
Unfortuntately, Miss State does not give up a lot of TFL, which is a bad deal when combined with the lack of the TN DL to get any pressure on the QB. Look for Moorehead to keep the defense on their toes with lots of RPO action. The thin Tennessee LB core will have their hands full all afternoon and blitzing will be risky as they will look to keep our LB's in coverage as much as possible. Miss State does not do a good job getting to the QB (a bit worse than Tennessee) and is tied for the same TFL per game average. This game will very much be won on which defense comes up with just enough stops to keep the score card in the right balance.
4. Maurer's Development:
Tennessee needs Brian Maurer to continue to grow into his role as the starting QB. Miss State DC Bob Shoop has had a week to pick apart tendencies and will look to apply pressure (if they can get it) and confuse him. Maurer had a solid first start vs. Georgia, and the good news is he should have better opportunities to shine this week. He can't get greedy though and needs to wait for the game to come to him, because there are certainly going to be opportunities to be had.
Prediction:
This is a very interesting match-up between two teams who need a win. On the surface, everyone expects Mississippi State to win this game. However, most everyone looks at stat lines and sees Tennessee at 1-4 with a bad loss to UGA. Tennessee fans know better. The UGA game was better than it appeared and the team that showed up last week is miles away from the one who showed up Weeks 1-4. Is this the Tennessee team we get for the rest of the way? Impossible to tell, but if it is, this game is going to be much closer than others think... maybe tilted into the victory column. I think Tennessee has a nightmare with the Mississippi State offense, similar to how Florida was able to create mismatches all over the field, but Mississippi State does not have the Florida defense. I think Tennessee sustains plenty of drives and Chaney delivers the biggest offensive performance so far, outside of Chattanooga. My head is leading Mississippi State, but this week, I'm going with my heart.

TN 38
Miss State 37