Lived through Night of the Living Mad Cow
Joined

May 29, 2009
Messages

29,854
Likes

59,059
Date:
Saturday, November 9th
Game Time:
7:30 pm ET
Venue:
Kroger Field, Lexington, KY
Network:
SEC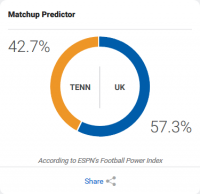 Tennessee heads up I-75 this weekend for their yearly showdown against Kentucky. The Vols had an efficient, if nothing else, performance against UAB and kept things rolling in the right direction in the second half of the second year of the Jeremy Pruitt era. Traditionally, you can count on Tennessee getting a win from Kentucky but in recent years, you have generally also been able to count on a physical, well contested game as well. Tennessee is arguably Kentucky's biggest opponent, our Florida, if you will, and they want nothing more than the opportunity to kick the Vols while they are down. This should be a pretty good game. Let's see how it may shake out.
Keys to Victory:
1. Bring down Bowden:
End thread.
Seriously... it pretty much hinges on this, but let's dig deeper. After injuries to QB's Terry Wilson and Sawyer Smith, Kentucky made the bizarre decision to bypass anyone else on the roster who called themselves a quarterback and toss WR Lynn Bowden in the backfield 3 games ago to become the ultimate Wildcat wildcat. Somehow... against any reason whatsoever, this has kind of worked. However, I'm not sold. Let's see what he has done in this time.
First of all, he is a token passer. He'll throw the ball to keep the defense honest, but if the DB's are still playing defense on the WR's there is nothing to be concerned about here. He'll be lucky to top 70 yards passing on the night. But you say he rushes for miles and miles. Yes... against Arkansas 196 yards (123/130 rushing defense) and Missouri in a rain storm, which always favors the rushing game. Against UGA he went for 98 yards as Kentucky went scoreless. Make no mistake... this is a very talented player who will get a lot of yardage on Saturday (8.0 ypc so far), but Pruitt has got three games on tape of this extremely limited offense and it's going to come down to assignments and execution. There is no mystery and little schematics... go tackle the guy and don't get tricked.
The Tennessee rushing defense has been strong and has only improved. We've only allowed more than 4 YPC on three occasions... with UAB and SCAR getting under 3.0 and Miss State 3.3. Even mighty Bama only got 4.1. Against the odds, these Vols can play run defense and that is THE key in this game.
The defense can key on Bowden and as long as they are not blowing other assignments, they are going to shut down this offense. What if QB Sawyer Smith is back for this game? Well, his passing is marginally better than Bowden, if you can believe that. The question is what would they do with Bowden then? Would he go back to WR or stick around as a RB? He would certainly continue to get wildcat snaps at times. Personally, I probably like Tennessee even more with Sawyer Smith at QB.
2. Pound the Ground:
Much like Kentucky will seek to dominate the line of scrimmage, the Vol OL needs to do the same on their side of the ball. It's a bit of a concern with our OL being a bit banged up. Wright has a tender ankle. Morris has a shoulder and Brandon Kennedy is being monitored in practice. The KY pass defense is really good... 180.5 YPG, 14th nationally, so expect to see a steady dose of Chandler, Gray, Jordan and a bit of Jennings at QB. Fortunately, Kentucky gives up nearly 5 YPC and this is against only two ranked opponents (UGA & FL). Tennessee should... and NEEDS to find success in the running game, running for over 5 YPC to keep the offense moving.
3. Mistake free QB Play:
Tennessee has started 3 or 4 different QB's in the last 4 weeks (I can't recall if JG or Maurer got the Miss St. game, but I think 3 is the answer). It's anyone guess who Pruitt will put back there... but I'll give my best guess. I think Coach Pruitt is going to go into this game with a grind it out mentality. He will be extremely risk adverse, so Shrout will not play unless absolutely needed. How does he feel about JG? Is the hand a fumble concern? Is his sometimes erratic decision making going to keep him benched? What type of confidence do you have in Maurer who has skill but has turned it over near the endzone 3 times? Maybe Jennings to keep the ball out of the air... Overall, I expect it to be Maurer on a short leash. Jennings will get wildcat packages to see how effective that can be as he will minimize interception risks. JG is likely to play, but if Maurer does not take risky plays and can actually finish a game, JG may not.
The QB will need to be a game manager. This may be hard for Maurer to do, but it's very much what JG does well. There cannot be interceptions or untimely fumbles. This will be a field position game and we can't afford to give up a short field off of turnovers. Speaking of turnovers, Kentucky has 9 fumbles in 8 games, so statistically you could expect a turnover here, but probably not an INT due to the lack of passing. Tennessee has 13 INT's though, so I'd like to see them give it a try.
Prediction:
I just don't think these Wildcats are that good. They have victories over Toledo, EMU, Arkansas and a very uninspired Mizzou in a rainstorm. Yawn. We may have caught a little lightning in a bottle last season to beat their most talented team in forever, but this Tennessee is decidedly better and this Kentucky team is decidedly worse than last year's versions. Kentucky will likely run the ball for more yards than Tennessee because that is literally all they will try to do, but the Vols can actually pass the ball too which gives them an edge. Tennessee has beaten two teams that have beaten KY (SCAR & Miss State). Unless the Tennessee OL begins to drop like flys and our QB's lose their minds, the Vols are able to slow down a simple offensive scheme and generate enough offense to walk out of Lexington with the win.
TN 24
KY 10