Joined

May 29, 2009
Messages

30,418
Likes

63,819
Date:
Saturday, October 10th
Game Time:
3:30 pm ET
Venue:
Sanford Stadium, Athens GA
Network:
CBS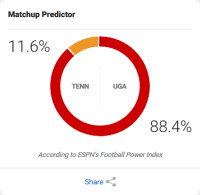 Tennessee heads down I-75 this week, winners of 8 in a row to test their mettle against the Georgia Bulldogs. On paper, Georgia has more talent, having brought in some of the best classes in the nation over the previous few seasons. The good news is that Tennessee is closing that gap. The Vols are not yet at that level, but every year, they add more and more pieces and are finally more than just schedule fodder for the Bulldogs.
Keys to Victory:
1. Turnover Margin:
Tennessee is going to need some breaks. So far this season, they are +3 in turnovers, giving the ball up 0 times. Georgia has 4 takeaways with 2 turnovers lost. The Vols need to be on the right side of this margin at the end of the game. JG has done a good job taking care of the football, especially the last game, although he almost had a horrible mistake when he was getting hit. He needs to make the right decisions all night long and not become the next mark on safety Richard LeCounte III's hit list.
2. Outrush UGA:
I'm not sure when the last time Tennessee outran Georgia... maybe with Dobbs... but it's not been very often over the past decade. Zamir White is a great RB but he is not at that level (yet) that they have been churning out in recent years (Gurley, Chubb, Swift, etc.) And for the first time since Jalen Hurd, the Vols have some dudes who can peel off yards themselves. Both teams feature massive and talented Offensive Lines that can clear the way for their RBs.
The Vols are averaging 182.5 yards per game at 4.35 yards per carry.
The Pups are averaging 161.5 yards per game at 3.61 yards per carry.
Nice little edge for Tennessee, however...
The Georgia defense is giving up a paltry 58 yards per game, 2.32 YPC.
Tennessee is giving up 107.5 yards per game and 3 YPC.
That's a clear edge for Georgia, and I'm not sure that there is much difference between our relative opponents.
3. Clean up the Defense:
While Tennessee improved on defense last week, there were still too many breakdowns in the secondary, with Alontae getting burned badly while trying to jam a receiver and another WR dropping a wide open pass in the middle of the field that should have scored. Georgia will not make these mistakes. If Tennessee can't get this dialed in, they will be made to pay. George Pickens is the best WR outside of Bama the Vols will see all year and they are going to have their hands full with him. I expect UGA to try to fully exploit the short range passing game with plenty of slants and begin taking shots downfield if we begin to sit on the routes. Vol fans need to hope Shawn Shamburger is not only available, but rust free because we will need his edge. Aside from that, the Vols have relied on a pretty vanilla defense so far this year so it will be interesting to see if we have anything dialed up for Stetson Bennett or if we are content to let him try to make the throws. He can be slippery to get hold of and is a wee little thing, but he has been efficient with the ball and hasn't made a lot of mistakes. I'd love to see our DL get in his face and see Pruitt bring DB blitzes off of the edge.
4. Surprise, Surprise?:
This is the type of game where Pruitt is likely to take a chance or two with an unexpected onside kick, fake punt or some tomfoolery with a TE. He's been talking a big game about not playing and coaching with fear. This is a great chance to steal an edge when the opponent is not expecting it.
Prediction:
Contractually, Tennessee must lose this game, playing in the 3:30 CBS time slot. I'm already stressed just thinking about the theme music. Expect UGA to have the most 20% full stadium you've ever seen. I think it's a solid game, but it's too early for the Vols to win this one. It's not out of the realm of possibility, but I just can't get myself into the realm of PROBABILITY, and that's where I try to get my predictions to land.
TN 20
UGA 24