Joined

Sep 13, 2011
Messages

4,606
Likes

19,654
I think yesterday Kingston reported to us that Heupel was unhappy with the QBs –
Clearly that's not something we want to hear but I'm making it a practice this time around to investigate these sorts of unpleasant reports and not just go with the knee jerk dismissal,, regardless of the source. That said, I think most will agree that obviously, Kingston hates us. jmo.
Heupel has a unique offensive system and this post is not really about that. His former QB, though, at UCF, Dillon Gabriel, was put forward as perhaps a model for what we might need as a QB with Heupel now here at Tennessee. I pointed out that Gabriel had never beat a top 40 defense and that his passer rating against top 40 defenses was abysmal. He has had 5 such games in the last 2 years at UCF and lost all 5.
So rather than break down Heupel's offense and share some of the less favorable critiques of that offense I thought it might be a more POSITIVE exercise to see how many top 40 defenses we might face this year. While I don't anticipate widespread agreement I'm expecting we may have a top 40 defense ourselves this year and the idea that Heupel may not be happy with our QBs after 6 practices would support my theory that Tim Banks, Rodney Garner, Willie Martinez, and their guys are already kicking Heupel's butt and that may be the true source of his unhappiness. jmo.
I know, the first reaction many are probably having is, us? A top 40 defense this year? How old are you?
Our defensive line last year was ranked by Football Outsiders as 45th best in the nation. For reference, Ole Miss's defensive line last year was ranked #116. I think we have some really good guys up front and most have played a lot of football. We're not running Pruitt's defense anymore. With Pruitt the production load was placed on the linebackers. I think with Banks that shifts to the defensive line. jmo.
Here is a profile of the 3 levels of our defense over the years. I think 2011 and 2015 would be a good example of what I expect from our defensive line this year. Note: if the DBs have the longest production bars that suggests to me that the opposing offense is often getting to the 3rd level and that correlates to us having a bad defense that year. jmo.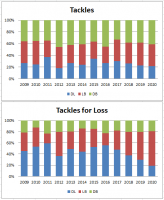 In trying to project who on our schedule might have a top 40 defense this year I looked at recent history and I looked at who teams lost from last year. Pitt loses the most, including 2 NFL bound defensive linemen. Missouri is starting over with a new DC and 2 new position coaches on that side of the ball. I think UK may be trending down on defense. jmo.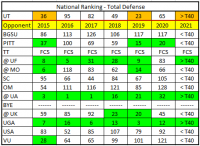 Assuming it's not the QB and the problem is the offense itself then I'm estimating 9 of the teams on our schedule will be below the top 40 for defense this year. In the last 2 years Heupel's offense has a 88.9% winning rate against defenses not in the top 40 which suggests Hank's assessment that this is an 8 win team this year is dead on. jmo.