Joined

Apr 22, 2016
Messages

4,527
Likes

8,368
(Edited to include UK)
In the new format which will likely be 3-6-6 (because money), the common denominator for opponents in every model I've seen are Bama and Vandy, so we're not getting out of those 2, it seems (not too sad about Vandy).
It is very possible in a pod system, UT could be paired with Alabama, Vandy and Auburn. I have seen another scenario where UT is paired with Alabama, UF and Vandy. And the final and probably best one I have seen is with Alabama, Vandy and USCjr. Which would you prefer?
Florida: Personally, I say the less UT has to play Florida, the better. We're cursed against UF. Even Alabama I feel like we can beat them somewhat consistently once Saban is gone. I want UF to only be a bi-annual concern. However, I feel I'm in the minority here. Some Vol fans are apparently masochists when it comes to Florida.
Auburn: They would be better imo. They are also technically a more historic rival. We recruit head to head with the War Tigers more than Florida for ATL talent, and they are definitely not a program who is consistently good enough to beat us 11 years in a row.
USCjr: This is a team that is tough to beat on the road (kind've), but we dominate them at home (they have 3 wins in Neyland all-time and all 3 were close wins). We recruit against them a lot as well for Carolina talent.
UK: The best outcome, of course. Our most historic opponent, along with Vandy. UK's program has improved, as well as the interest for the game. But I am confident we will continue to dominate UK. It seems we always play well against them, home or away.
Links/Pics:
UT plays Auburn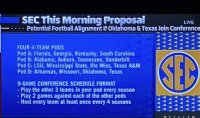 UT plays Florida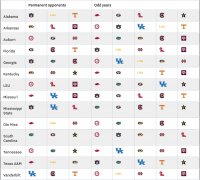 UT plays USCjr
What SEC football schedule format is best? Here's our rivalry model

UT plays UK
Which new SEC schedule format should Tennessee football fans want?
Last edited: